06/04 - 10/04/02
back to homepage / zurück zur Homepage
06.04.02 Damvix - Arçais - Turquant:
In Arçais we rented a small canoe and paddled around the canals of the Marais Poitevin for nearly three hours. Equipped with wine, cheese and bread, we made a 40 min break for lunch in the middle of the canoe tour at a picnic area. In the afternoon, we drove to Turquant, in the Loire valley.
06.04.02 Damvix - Arçais - Turquant:
Um die Landschaft des Marais Poitevin (Sumpflandschaft) zu erforschen, ist das Boot das richtige Mittel. Also ging es ab nach Arçais, wo wir uns ein Kanu gemietet haben. Ausgerüstet mit den wichtigsten Sachen wie Wein etc. paddelten wir für fast drei Stunden durch die Landschaft, inklusive einer Mittagspause von 40 min. Abends Weiterfahrt nach Turquant, im Loire-Tal.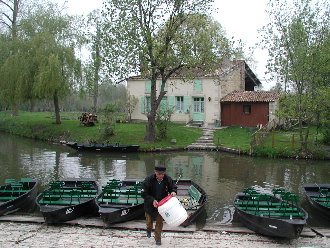 Here began our canoe tour on the Marais Poitevin in Arçais / Hier in Arçais haben wir uns ein Kanu gemietet, mit dem wir durch die Kanäle des Marais Poitevin rumgedüst sind.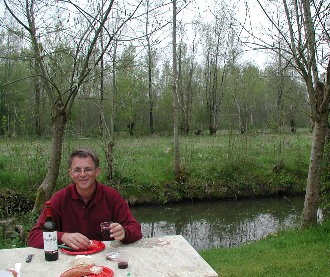 We had brought along all the basics for a French picnic: a bottle of red wine, delicious cheese and baguette. / Wir hatten alles dabei für ein richtiges französisches Picknick: Baguette, Käse und natürlich eine Flasche Rotwein.
---
07.04.02 Turquant - Chinon:
We wanted to repeat the walk of the evening before to take some pictures. We decided to go for a visit (€ 4,60 each) of the Troglodyte des Pommes Tapées. It is about the producers of the once common dried whole apples which are given a tap after drying in the oven for about 5 days. There we also were given a lot of information about the troglodyte dwellings. Unfortunately, at the end of the tour it was raining pretty bad, so we had to go straight back to our RV... Drive to Chinon to the Camping de l'Ile Auger (€ 9,34 with 8 Amp electr.) wo meet with our friends Mike and Terri who arrived at about 2 pm. We spent the whole afternoon talking, talking, and talking until the evening when the skies cleared up and we were able to walk up to town and enjoy a great French menu at the Restaurant La Grappa, Rue Voltaire.
07.04.02: Turquant - Chinon:
Wir wollten heute vormittag eigentlich den Spaziergang des Vorabends wiederholen, um einige Bilder zu schießen. Wir entschlossen und zum Besuch des Troglodyte des Pommes Tapées. Es handelt sich um die Produktion von Dörrapfel, die insbesondere Ende des letzten Jahrhunderts dort getrieben wurde. Nachdem sie ca. 5 Tage im Ofen trocknen, werden sie anschließend plattgehämmert. Wir bekamen bei dieser Tour auch viel Info über die Höhlen und deren Bewohner. Leider mussten wir danach direkt zurück zu unserem Wohni, denn es regnete - ach nee - wieder in Strömen. Fahrt nach Chinon zum Campingplatz Ile d'Auger (€ 9,34 inkl. 8 Amp.-Strom), um uns mit unseren Freunden Mike und Terri zu treffen. Wir haben den ganzen Nachmittag viel zu erzählen gehabt, erst abends konnten wir endlich zu Fuß rüber ins Dorf und haben dort sehr gut im Restaurant "La Grappa", Rue Voltaire, gespeist.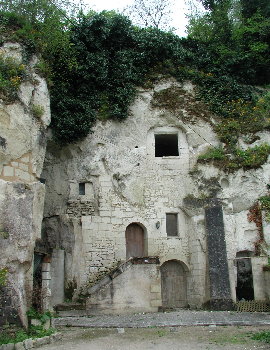 . . . . . .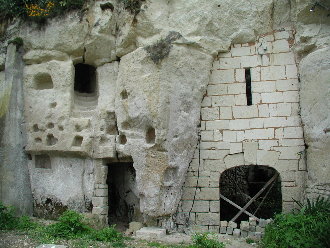 Turquant: troglodyte dwellings -homes carved out of rocky outcrops- that were used since the twelfth century. Turquant: Troglodytenwohnung (Troglodyten sind Höhlenbewohner), die seit dem 12. Jh. benutzt werden. Die Räume sind durch den Abbau von Tuffstein entstanden und als Wohnung gestaltet worden.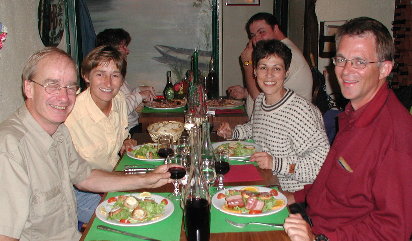 With our friends Mike and Terri in Chinon. / Mit unseren Freunden Mike und Terri in Chinon.
---
08.04.02 Chinon - Sanziers (Notre Dame du Puy):
Walk up to town and to the Chapel Sainte Radegonde. On the way we stepped in some abandoned cave dwellings. The castle of Chinon looked somewhat better from the outside than from the inside. For lunch we had some typical French galettes (like crêpes, but not sweet) and than drove on to Notre Dame du Puy, or more exactly Sanziers, a very small village where we stayed at a vineyard and mushroom growing farm (Domaine de Maur). The wine tasting took a lot of time and we hardly could stop for dinner.
08.04.02 Chinon - Sanziers (Notre Dame du Puy):
Spaziergang durch das Städtchen und zur Kapelle Sainte Radegonde. Dabei konnten wir mehrere verlassene Höhlenbewohnungen betreten. Das Schloss von Chinon sieht von Außen beeindruckender aus als von Innen. Mittags konnten wir die typisch französischen Galettes (wie Crêpes, aber nicht süß zubereitet) ausprobieren. Danach Fahrt nach Notre Dame du Puy, eigentlich eher Sanziers, ein ganz kleines Dorf, wo wir bei einem Winzer und Pilzzüchter (Domaine de Maur) gestanden haben. Wir haben fast alle Weine ausprobiert, und natürlich haben wir die "Weinprobe" beim Abendessen weitergeführt.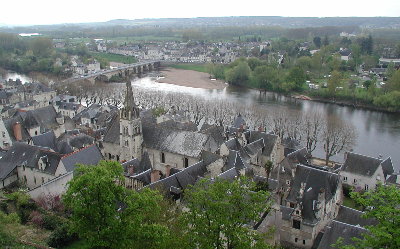 . . .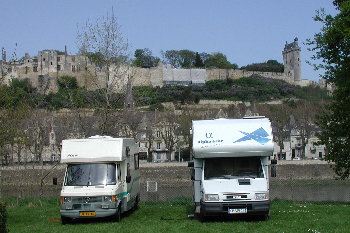 Chinon seen from the castle and from our campground / Chinon: vom Schloss aus und vom Campingplatz aus gesehen.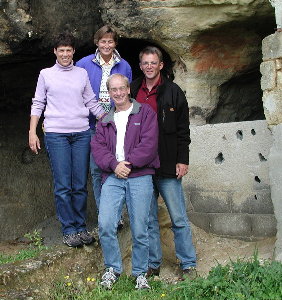 We all together in front of an abandoned troglodyte in Chinon / Wir alle zusammen vor einer ehemaligen Höhlenwohnung, Chinon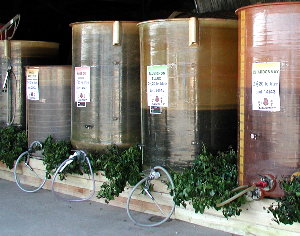 Sanziers: wine tasting / Sanziers: Weinproben ohne Ende
---
09.04.02 Sanziers (Notre Dame du Puy) - Montreuil-Bellay:
After spending the night at this mushroom growing farm, we of course had to visit the underground mushroom growing area and corresponding museum. This took several hours, but after coming back to the surface we were immediately lead to the bar again, where we had to drink wine. When the owner took off for lunch we decided to have our lunch outside. Mike prepared the mushrooms we were given the day before, and they were so well tasting that even Julia ate some. Then we drove to Rochemenier, a former sort of village with a small underground farming community. For the night we stayed at a scenic RV parking area at Montreuil-Bellay along the Thouet River.
09.04.02 Sanziers (Notre Dame du Puy) - Montreuil-Bellay:
Nachdem wir nun die Nacht bei einem Pilzzüchter verbracht haben, mussten wir uns natürlich die unterirdische Pilzzüchtung mit Museum anschauen. Das hat eine längere Weile gedauert, aber als wir wieder oben waren, wurden wir sofort aufgefordert, ein paar Gläschen Wein zu trinken. Ein Glück, dass der Besitzer weg musste, so konnten wir uns auch draußen hinsetzen und mittagessen. Mike hat die Pilze, die wir am Tag zuvor bekommen hatten, vorzüglich zubereitet, da hat sogar Julia was davon gegessen. Dann sind wir nach Rochemenier gefahren, eine Art ehemaliges Dort mit Untergrund-Bauernhöfen. Übernachtet haben wir in Montreuil-Bellay an einem schönen Stellplatz am Thouet-Fluss.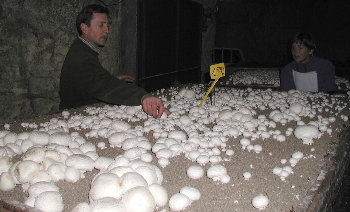 Mushroom plantation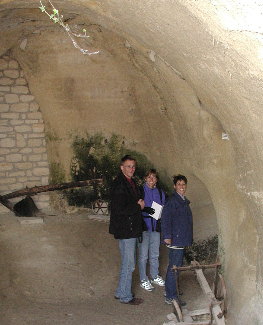 Rochemenier
---
10.04.02 Montreuil-Bellay - Chenonceaux:
After a long walk through town, Mike and Volker were finally able to get some baguette at a supermarket. After breakfast we all strolled through the town to visit the castle, which we did only from the outside because it was closed for lunch time. We continued our Loire adventure tour driving to Chenonceaux where we arrived in the evening.
10.04.02 Montreuil-Bellay - Chenonceaux:
Mike und Volker haben es nicht einfach gehabt, heute Baguette im Dorf zu finden. Nach dem Frühstück sind wir dann alle durch das Dorf gelaufen, haben das Schloss aber nur von Außen sehen können, denn die hatten wegen Mittagspause geschlossen. Wir haben dann unsere Loire-Tour mit der Fahrt nach Chenonceaux. Dort haben wir auf dem Stellplatz für Wohnis übernachtet.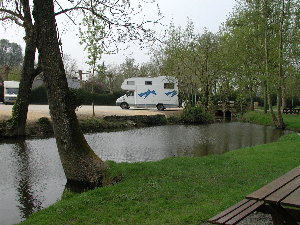 Our camping area in Montreuil-Bellay just below the castle and on the River Thouet. / Unser Stellplatz in Montreuil-Bellay: unter dem Château und am Ufer des Thouet-Flusses.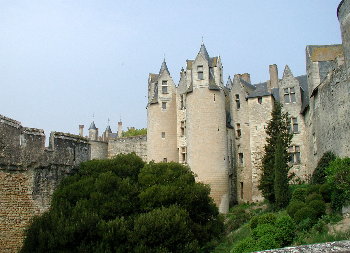 Château de Montreuil-Bellay
back to homepage / zurück zur Homepage
to previous page / zur vorigen Seite . . . . to next page / zur nächsten Seite