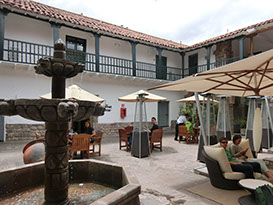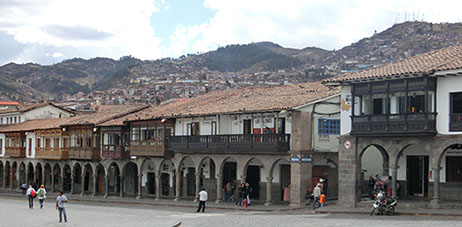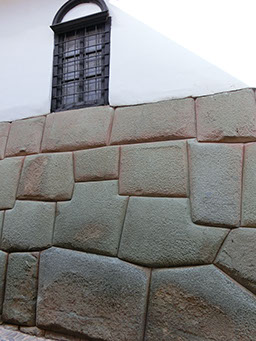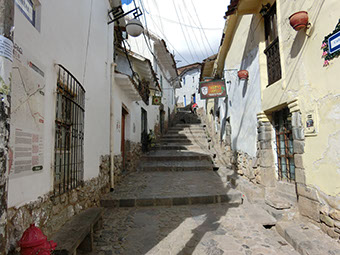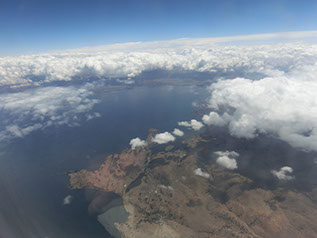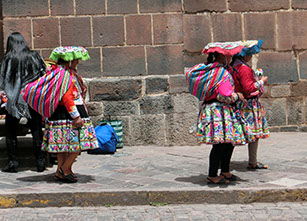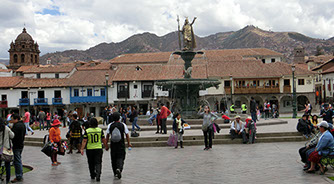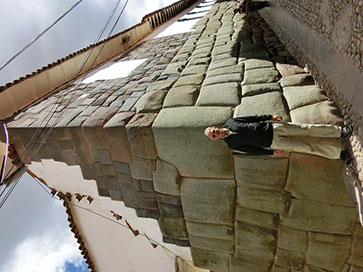 Our hotel Casa Andina Private Collection is housed in a former colonial mansion which was built in 1599 and comprises six courtyards.
Our first two nights were in the corner and the last night was in the Imperial room next door with the balconies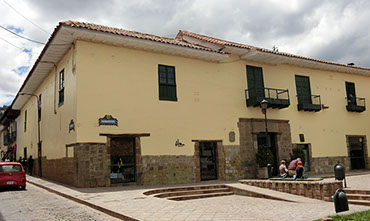 <-- I cannot get over my excitement about the masterful stonework of the Incas! -->
A street going up to the Sin Blás quarter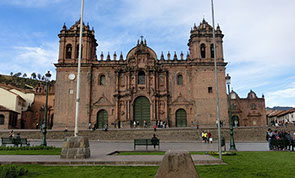 Flighing over Lake Titicaca Lake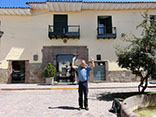 Qoricancha Inca Temple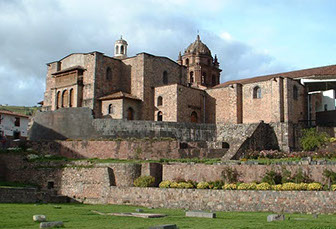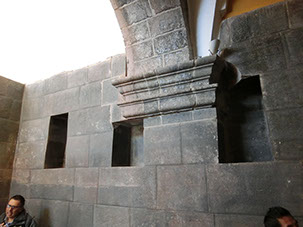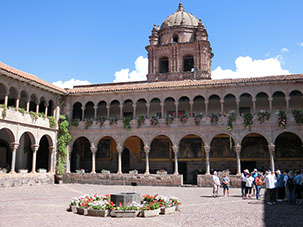 The colonial church and convent of Santo Domingo were built on Qoricancha Inca stones which was once the richest temple in the Inca empire. It was built in the mid-15th century in the reign of the 10th Inca Túpac Yupanqui. Today's site is a bizarre combination of Inca and colonial architecture.
Tambomachay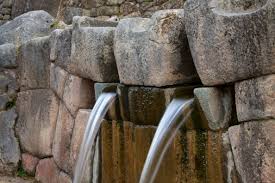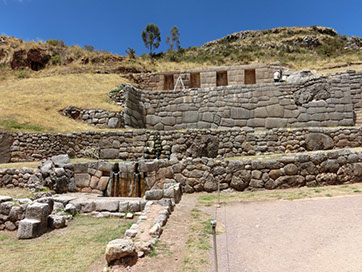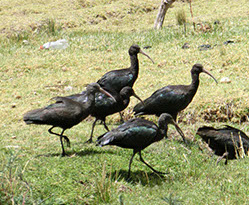 Q'enqo
A large limestone rock riddled with niches, steps and symbolic carvings, including the zigzagging channels. Below there is a subterranean cave with altar hewn into the rock
Sacsaywamán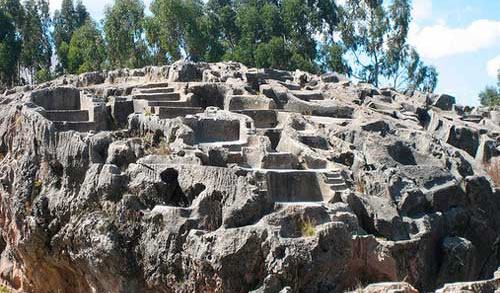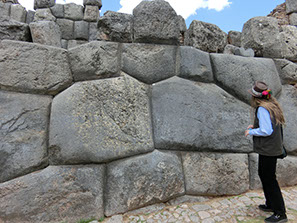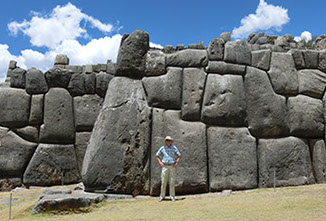 There are huge stones, one weighst more thatn 300 tons! This immense ruin is just above Cusco.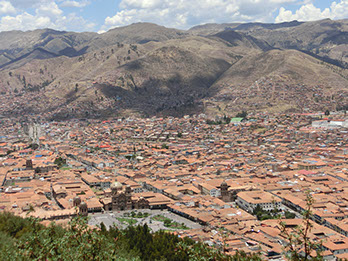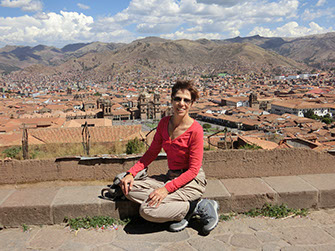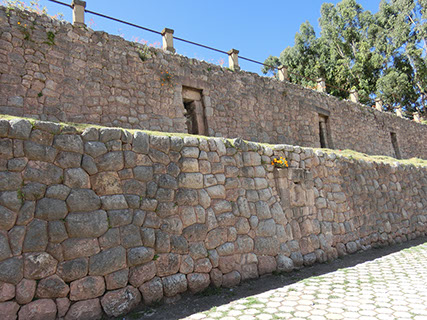 Everywhere in Cusco you will find rests of Inca walls with trapezoidal doors, here at the Mirador de San Cristóbal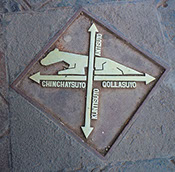 According to local lore Cusco city is said to be laid out in the shape of a puma crouched over the Saphi river. And its streets denote its body parts. For example: Pumakurko street stands for the "Puma's Spinal Column". The head is supposed to be located in Sacsayhuaman or "speckled head"! Furthering that myth, brass plaques embedded on the pavements indicate one's location and orientation in reference to the Puma. Standing in the Plaza de Armas we are at the belly of the Puma, and the arrows pointed 'Chincaysuyo' (Northwest), 'Qollasuyo' (Southeast), 'Kuntisuyo' (southwest) and 'Antisuyo' (Northeast).

Mirador Iglesia de San Cristóbal
This can be done at San Blas artists' and hippies' neighborhood:
Machu Picchu
The landscape, the vegetation and the citadel make up for the magic of Machu Picchu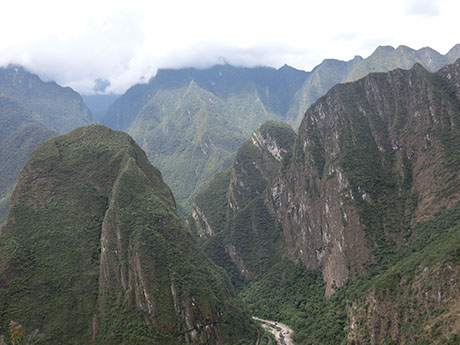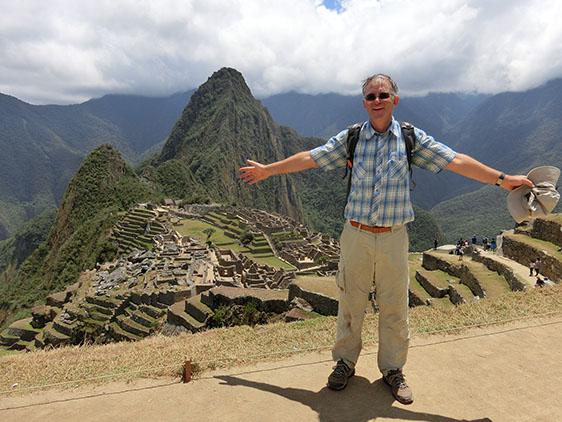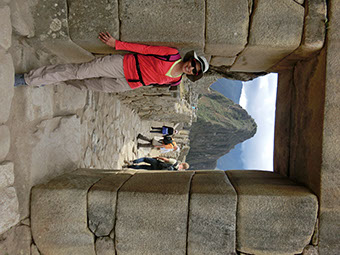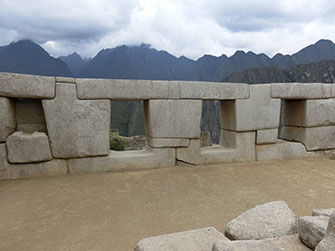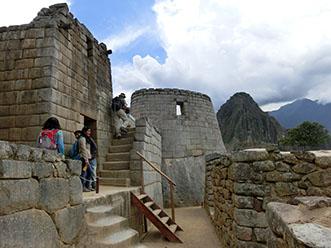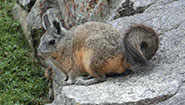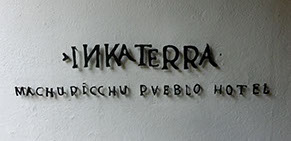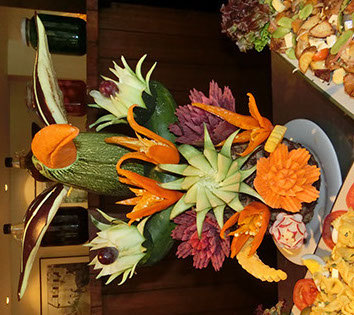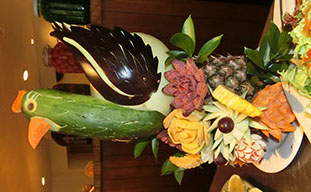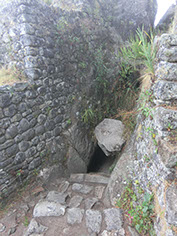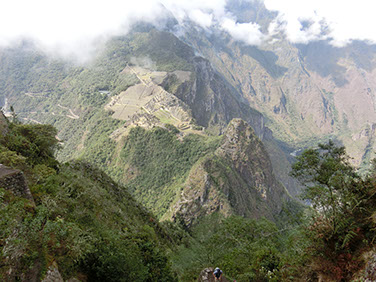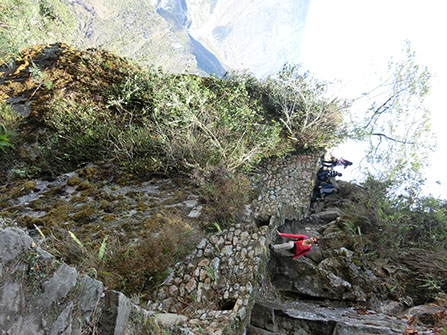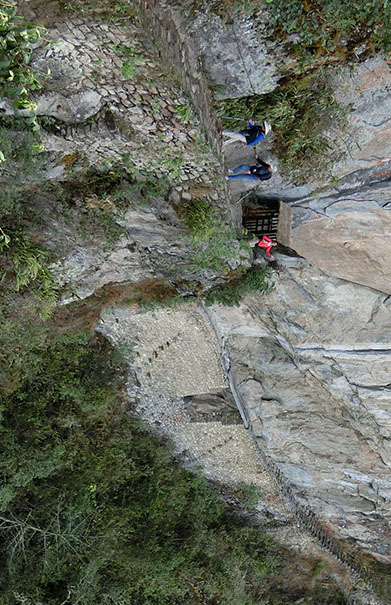 Volker made the ascent of:
It is unbelievable what the Incas built: here a path in the steep rock!
The beautiful decoration of the buffet at the Belmond Sanctuary Lodge Machu Picchu -all made of vegetables and fruit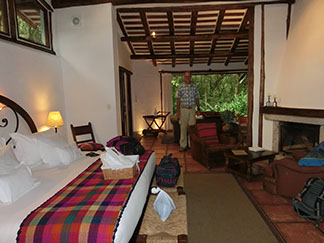 Our dream casita #83 at Inkaterra Hotel Machu Picchu:
with living room, bar with pisco and a fridge full of complimentary drinks and snacks, private pool, private garden, bathroom and toilet with view to the jungle, private wifi etc. etc.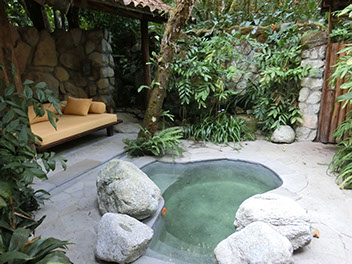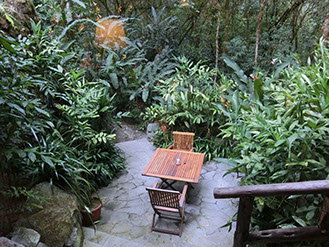 Sun 4/10/2015: La Paz - Flight to Cusco, elev. 3400 m - cloudy 19ºC
We had to have our breakfast at 7am as our pickup time was 7:30am. Breakfast in this hotel is like in "Fawlty Towers" and we call the guy in charge of it , of course "Manuel"! At 7.30 there is no coffee, no bread, but we found it very funny. Flight to Cusco with Amaszonas 500. As usual the flight time was changed to later but then we flew earlier. We knew there is a Priority Lounge at the International Terminal, but it was not easy to find and when we finally got there, the lady in charge was sleeping in a corner, everything abandoned, strange. But when we arrived she got up and slowly, yes slowly, after a while, she got things done. Julia bought a nice jewelry just before boarding getting Volker very nervous. Arrival in Cusco with -1h. Our hotel Casa Andina Private Collection is an old colonial house, and especially our room # 207 with balconies to the square Plazuela Limacpama is, although when busses drive on the road the whole building rumples. We walked to the restaurant Limo on the main square Plaza de Armas (very good S/. 200). After lunch we walked around and back to the hotel. At 5:30 Julia had a massage at Siluet Sauna in Quera 253 (S/. 80). In the evening we took a taxi to the Plaza Regocijo and walked back to the hotel where we had a Pisco Sour and a Chilcano before going to bed.
Mon 5/10/2015: Cusco Sightseeing tour - morning sunny, afternoon cloudy 18ºC
Sightseeing with guide Oda (very good!). We went to visit Qorikancha. After that we went to Tambomachay, then to Pukapukara, Q'enqo and Sacsaywamán. Then to the Cathedral. Lunch at Trujillo Restaurant where we ordered much to much (very good S/. 130) so we had to recover from that by making a siesta. After that we went to the Inca Museum (S/.10 p.p.) housed in an old house behind the Plaza de Armas. Coffee and some shopping around the main square.
Tue 6/10/2015: Cusco - sunny 20ºC
Today we had no guiding tour, so we went on our own to San Pedro Market, up to Iglesia de San Cristobal, then to Plaza San Blas, Stop at the Café Punchay. In the evening we had a very good light dinner at Incanto (S/. 120) -here again there was an Inca wall with doors and niches! We have to pack for tomorrow as we are only allowed to take one little bag for one night.
Wed 7/10/2015: Cusco - Machu Picchu
Pickupt at 7:20. Drive to Poroy. 3,5 hours train ride Vistadome, departure at 8:25 (you have to show your passport). Beautiful scenery from arid area to jungle, passing through canyons, viewing glaciers and magnificient vegetation. Arrival in Aguas Calientes or Machu Picchu Pueblo at 12:10 pm. Our luggage was taken over by bell boys from the Hotel Inkaterra Machu Picchu and we went up with the bus to Machu Picchu . Lunch at the Belmond Sanctuary Lodge Machu Picchu (included in our package, 40US$ and really worth it!). Entrance to the ruins with passport! After that, guided tour of Machu Picchu until 4:15pm. After the tour we went to our hotel and what was our surprise when we got our amazing room #83 with a suite and private pool, private wifi, bathroom and toilet with view to the garden, the best hotel room we ever had! We spent an hour in the pool. We also enjoyed a very good dinner in the hotel restaurant (excellent and also included in our package).
Thu 8/10/2015: Machu Picchu - Cusco
Wake up at 4:30am. We had signed up for the ascent of Wayna Picchu. But only Volker went up so early, Julia decided to stay and enjoy the hotel. We meet upstairs at 9:30am and went to the Inca bridge then still a stretch of the Inca trail before going back to Aguas Calientes and taking a shower at our hotel (yes, they have this pleasant service that you can take a shower after check-out) and having lunch at the café Inkaterra (menue S/. 54 p.p.). Our train back was at 3:20 pm, we were at the train station one hour before. At 7 pm we were in Poroy, our transfer was waiting for us, we were tired of being sitting all this time although we had a little entertainment in the train with a devil's dance and a fashion show. Back to our Hotel Casa Andina Private Collection where we got the Imperial Room #208. Volker had a snack and a beer at the bar downstairs while Julia tried to catch up with the website.