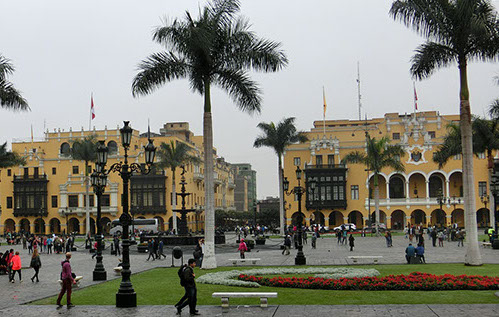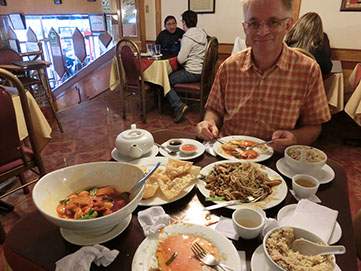 Enjoying huge portions of Chifa food in China town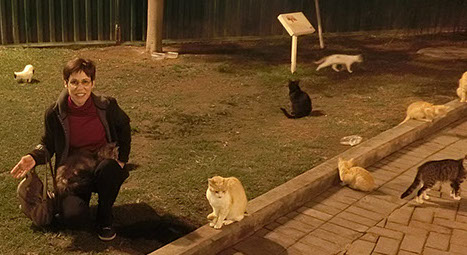 Cats everywhere, they only want to be cuddled!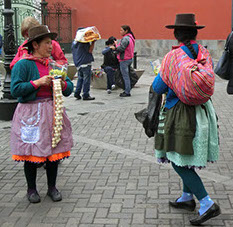 Monasterio de San Francisco with Catacombs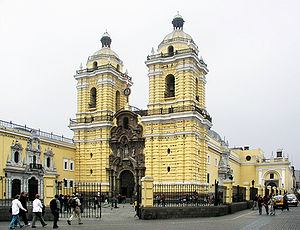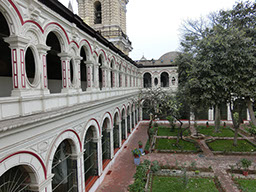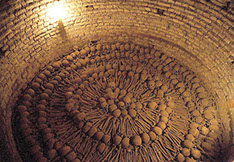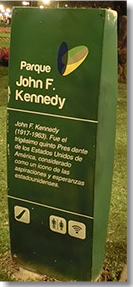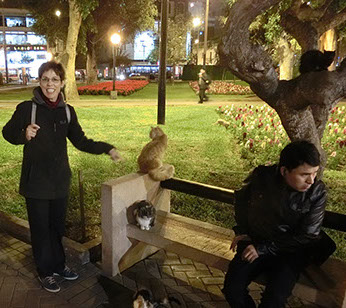 Kennedy Park, or better Cat Park!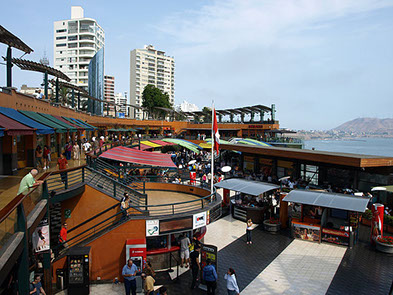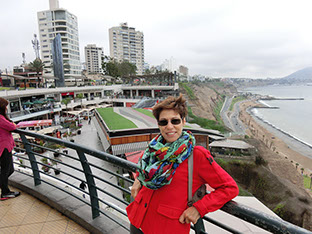 The very nice Larcomar Shopping Center built in the cliffs with views to the Pacific Ocean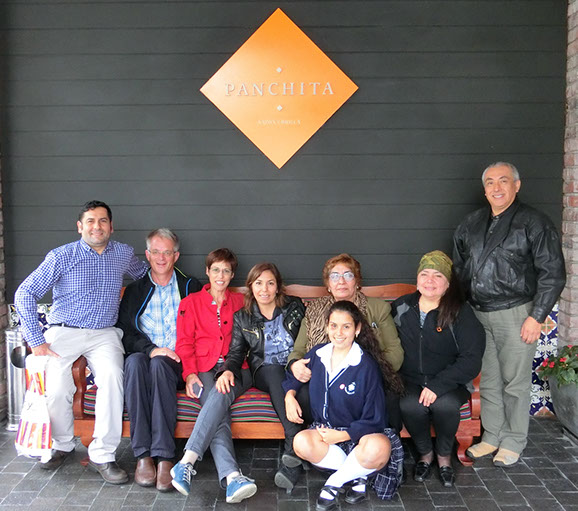 Fernando, Volker, Julia, Patty, Amparo, Fernanda, Mapi, César
10 Peruvian Nuevo Soles (S/.) = 2,77 €
Mon 14/09/2015: Flight from Faro to Lima
First flight from Faro to Lisbon at 06:05 landing at 06:50 in Lisbon. First we had some nice croissants and "Paul" at the new airport food court. Then we took a a taxi Parque das Nações (15€!) and we walked first around the Oceanário and the Museo de Ciências Vivas. There was an interesting kind of garden with rivers and mills to play and trigger but it looked a little abandoned. Then we passed the Teatro de Camões. It was nice walking so early in the morning with this beautiful day. Back with a taxi (4,95€). Our flight to Bogotá TP191 was delayed from 11:20 to 11:50, they had changed the airplaine, so our seats were not exit anymore but in the middle row in the second segment. These seats were very tight. But we were lucky that the flight was not full and we could have a whole row for ourselves for this 9h20' flight. Arrival in Bogotá at 15h15, very nice and modern airport, we went to the pleasant LAN lounge, had good Malbec Argentinian red wine before taking our flight to Lima AV131 at 17:44 arriving in Lima 20:40. Unfortunately, only Julia's bag arrived... Our guide, Gerard Rosas was waiting for us and the driver Cristian drove us to our Hotel Radisson Miraflores. We went to bed at 23:45, so this was a 25 hours' day.
Tue 15/09/2015: Lima - cloudy 20ºC
We were awake at 4:00am. Delicious buffet breakfast at 6:30. Sightseeing of Lima from 10am to 1pm where we basically visited the Cathedral which houses the remains of conquistador Francisco Pizarro and the Monasterio de San Francisco with the compelling catacombs that hold skulls and bones laid out in geometric designs. There is also a library with really oldown books but they are not very well conserved, especially that there is no A/C and the air is very humid here in Lima. It was a little too much church stuff for my taste and, as we were close to the Chinese town, instead of driving us back to the hotels, we asked the guide to drop us there so we could go to a "Chifa" Restaurant (Peruvian-Chinese restaurant). We went to
San Joy Lao

located at Jiron Ucayali 779 - Calle Capón - Lima, tel. 01-426-7799, where we had a huge menu for 2 with Kan Lun Wan Tan with a delicious sweet sour sauce with lots of meat, shrimps, vegetables and fruits, also noodles with chicken, chaufa rice with pork and all this for a total of 68 soles - this could have been enough for 4 people! After that we went to the Museo de la Inquisición. I, Julia, had visited this museum in 1977 and had a vivid memory about it. The Spanish Inquisition once plied its trade in this graceful neoclassical structure. There are only guided tours in Spanish, entry is free. After this we took a taxi back to the hotel (20 Soles) You have to ask the fare in advance as there are no meters! Back at the hotel, we made a siesta and then set off again at 7 pm to the Kennedy Park, a cat park! Then Volker had a banana split before we walked back to our hotel where we decided to have a pisco sour before going to bed (we have a voucher for 10$ for the bar...) and again it was 11pm before we were ready to go to bed. We didn't see the sun today, I hope it will come out tomorrow.
Wed 16/09/2015: Lima - cloudy 22ºC
Today we took our breakfast a little later and went to the really well done Larcomar Shopping Mall built in the cliffs on the coast with views over the Pacific Ocean. At 1pm we met with my ex-family. It was a fantastic very cheerful reunion at Panchita, Calle 2 de Maio 298, Lima, Telefon:+51 1 4478272, delicious food, we had absolutely delicious food: tacu-tacu and cau-cau , escabeche de carne de res. Fernando took us to a handicraft market where I ordered earring for my sister. Then we walked home and called it a day.