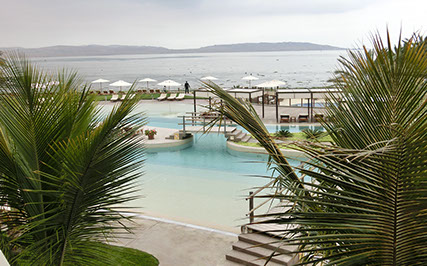 Volker observing the rich bird life with a Pisco Sour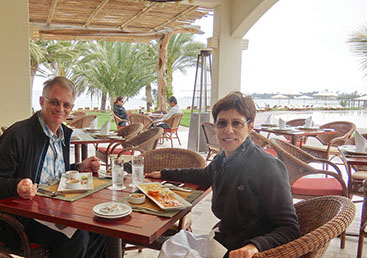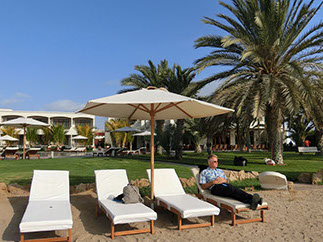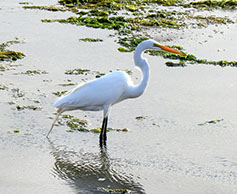 Some rooms have the pool coming directly to their terrace ->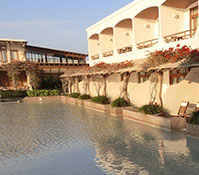 Having a delicious lunch at the hotel restaurant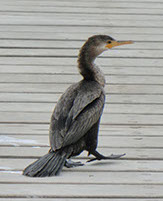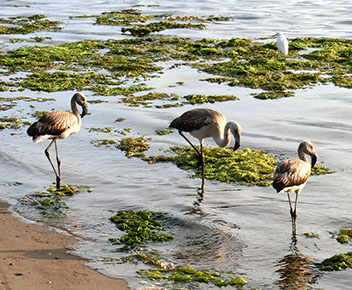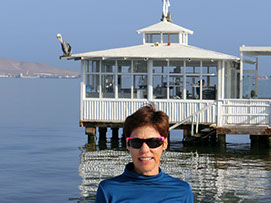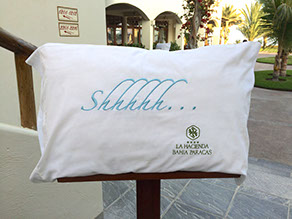 Who knew that you can earn a fortune from bird poop? The "guaneros" that live on the Islas Ballestas outside of Paracas, have known for decades. They are the people who collect bird droppings, a natural resource used as fertilizer, and sell it. Peru is the biggest exporter of this product.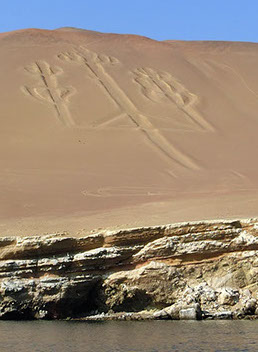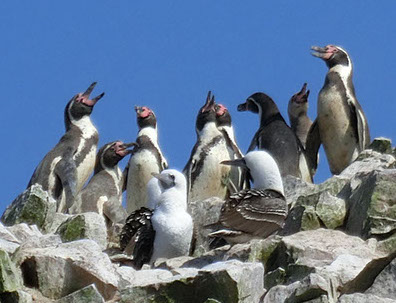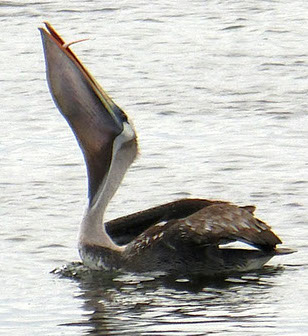 A pelican still working on his food partly hanging out of his bill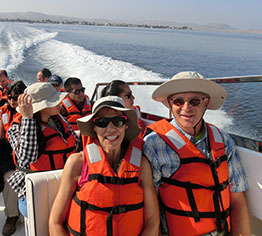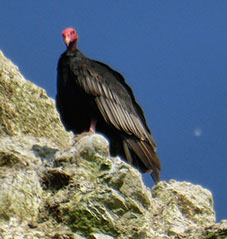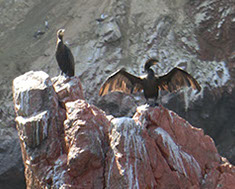 "El Candelabro" a large-scale prehistoric geoglyph which might or not be related to the Nasca lines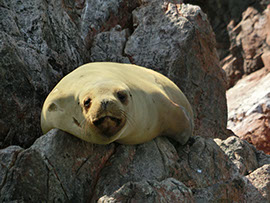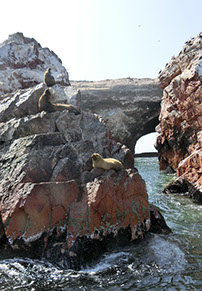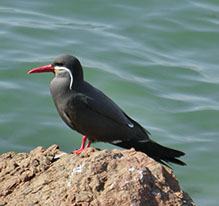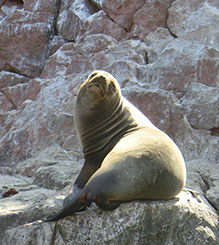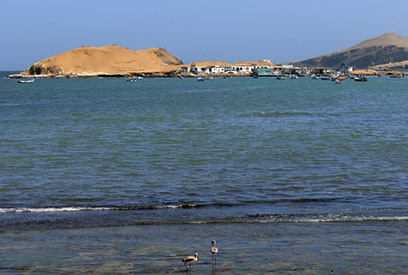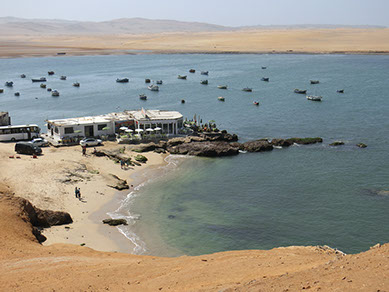 Our nice restaurant: La Tia Pilly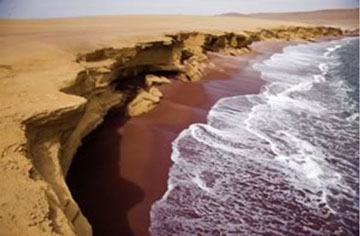 This pelican came up to our restaurant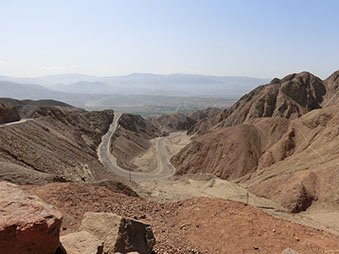 Stretch of the old Panamericana Sur before arriving to Palpla south of Nasca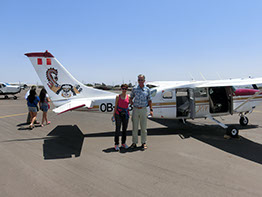 With the airplaine we got a fabulous view over the most famous figures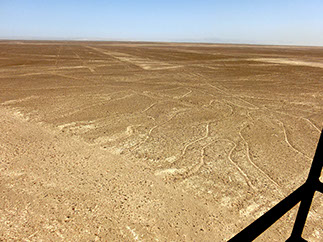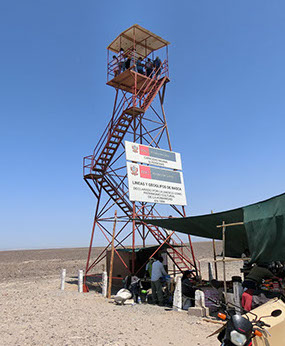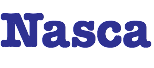 From this lookout tower which was built by Maria Reiche who discovered the Nasca figures you can overlook 2 figures: tree and hands. Picture on the left is the tree (seen from above)

The lines are almost imperceptible at ground level.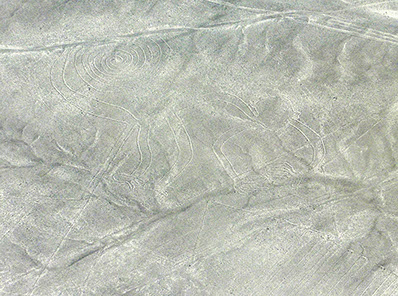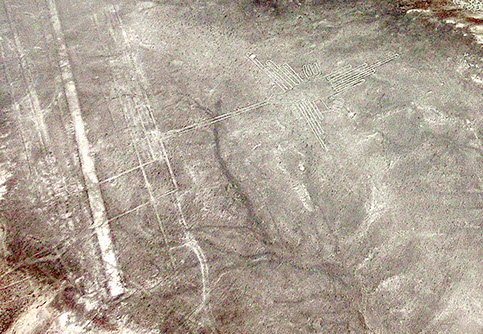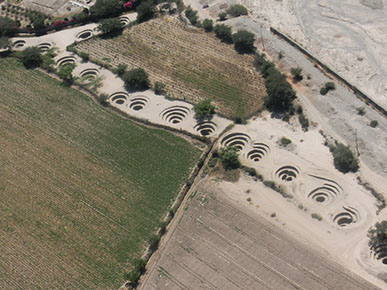 As you can see from this picture of the hummingbird, there are many other lines and geometric lines spread across across 550 sq km of arid, rock-strewn plain in the Pampla Colorada.
The impressive 30-plus underground Cantallo Aqueducts and their spiraling windows, which are still in working order!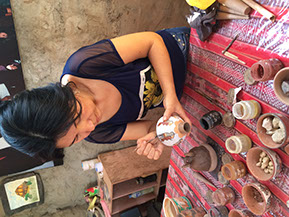 The thin Nasqueño pottery is made only by hand and the colours come from the different minerals found in the desert.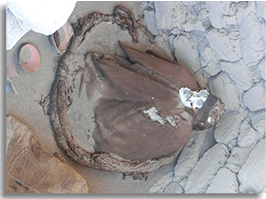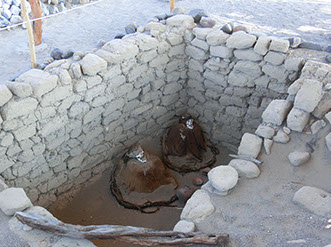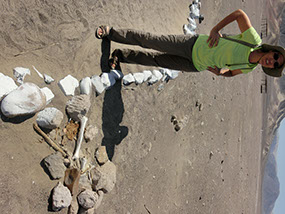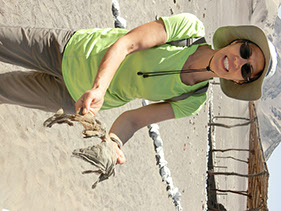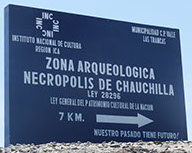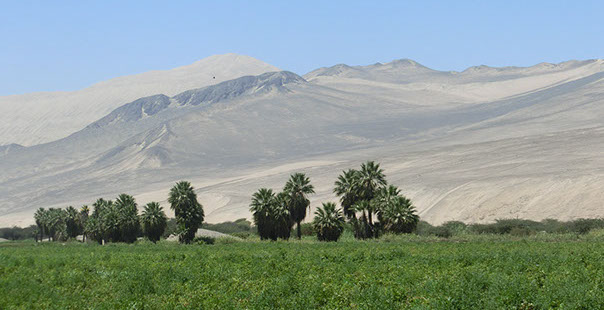 There are still cloth fragments, pottery and bone shards on the grounds
Cerro Blanco, 14km east of Nasca, is the highest sand dune in the world: 2078m above sea leven and 1176 from base to summit. It really stands out from all other mountains around. This picture was taken from the village of Vista Alegre where we tried to see the Ocogalla Aqueduct.
Visit of the El Telar Lines where I, Julia, could finally see how the lines look from the ground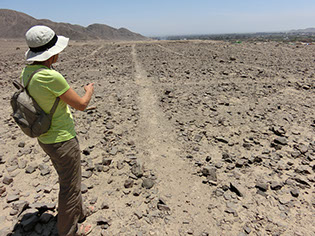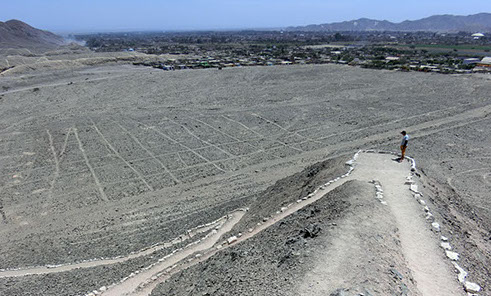 Thu 17/09/2015: Lima - Paracas (El Chaco) windy and cloudy
We got up at 4:45. Pick up at 6:00. Bus to Paracas at 7:00, arrival at 11:15. Drive through rough desert, very poor region. A driver welcomed us and drove us to our luxury La Hacienda Bahia Paracas (room 2216). We had a very good lunch at the Restaurant with beautiful view over the bay (scallops and tiradito). Julia immediately booked a massage at the spa and we enjoyed a very relaxed afternoon sitting on our balcony and on the beach looking at all the sea birds: Peruvian pelican, flamingos (different from the ones we have on the Algarve, smaller and clumsier), ibis. We then visited the fantastic private museum of the hotel which features artifacts of different pre-Columbian civilizations in Peru. We then finished the day having a drink at the Marineros Bar.
Fri 18/09/2015: Paracas - Islas Ballestas - sunny 19ºC
Our fantastic tour to the Ballestas Island began at 8am. And, of course, we had to get up at 6am... for the first time I could have slept longer... The boat ride took 1/2 hour to the Islands where they used to export guano and where there are millions of birds and sea lions. When we came back we had a swim in our hotel. Then we decided to take a taxi and go to Lagunita. The concierge of our hotel called a taxi who took us there and back (S/. 80 + 10 tip). The driver was very nice and he showed and explained us many things, and we invited him to have lunch with us at La Tia Pilly (we had delicious cebiche and corvina, S/. 190) which was the restaurant with the best view. Back at the hotel we had a drink at the bar before going to our room and sitting on the balcony.
Sat 19/09/2015: Paracas - Nasca - very sunny and hot 35ºC
We left the hotel to Nasca at 7:00 after being the first ones to have breakfast in our hotel and having to see the "shhhh"-pillows for the second time... Our first stop was at the Maria Reiche Museum. She was a German mathematician and long-term researcher of the Nasca Lines. She died in 1998 and her house was made into a small museum. You can see how she lived, amid the clutter of her tools and sketches. Then we drove to the Mirador, an observation tower from where we could see two figures. Incredible how one figure, the lizard has been cut by the Panamericana! We then drove to the airport and had our flight over the figures. Finally, my dream came true, after 38 years! My poor husband had a hard time because the airplane makes a lot of turns to show the figures. The flight has a duration of about 35 minutes. After that we visited the Cantallo Aqueducts and then went to to see a lady who showed us how the Nasqueños made their ceramic pots -poor lady, her family was just sitting down in the kitchen to have lunch when we arrived, and she had all the patience with us to show everything; we didn't buy anything, because it's so fragile but we left a tip... Check-in at the Andina Hotel (ok, nothing special, but quiet) and made a siesta. Afterwards we had dinner at the "Restaurante La Encantada" just across the street (very good, Papa a la Huancaina, Lombo Saltado and passion fruit juice S/. 190).
Sun 20/09/2015: Nasca - Arequipa - very sunny and hot 33ºC
We hired a taxi who took us to Chauchilla Cemetery, 30km south of Nasca. Dating back to the Ica-Chinca culture around AD 1000, there are mummies arrange inside a doze of tombs, but there are still cloth fragments, pottery and bone shards on the grounds outside the demarcated trail. Then we tried to go to the Acueducto de Ocogalla and the driver drove to the village of Vista Alegre, where we walked to an abandoned aqueduct, which was also interesting to see that it had still water. Later we met a man who told us that there is a nicer, well kept aqueduct further up where he would take us, but we wanted still to see some other sights in Nasca so we decided to skip that one and drove back to Nasca. We visited "El Telar", a geoglyph found in the town of Buena Fe. Back to the hotel, a quick shower, a quick lunch across the street at the Maison Blanche (S/. 42), transfer to the bus terminal where we waited for our bus to Arequipa. It was supposed to leave at 3 pm and we actually left at 5:40, arriving in Arequipa at 2:35am.