View from the 37m high tower on the jungle at the Reserva Nacional Tambopata - Posada Amazonas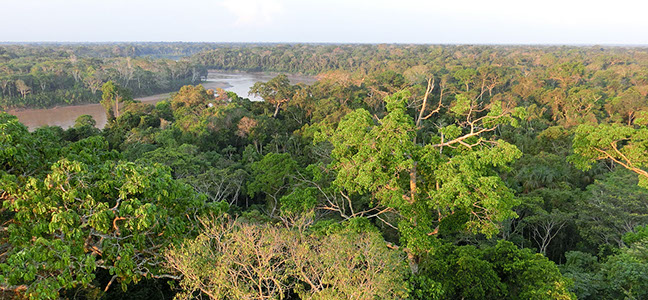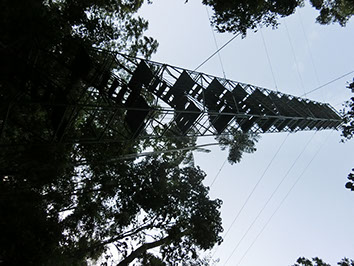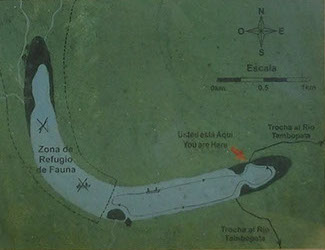 Tour with a raft to Lake Cocha Tres Chimbadas, in the morning at 6am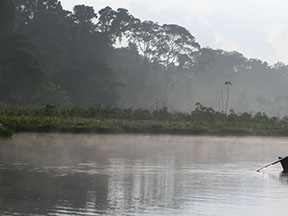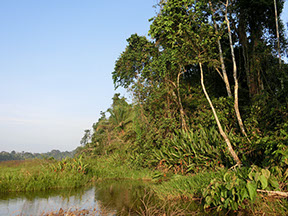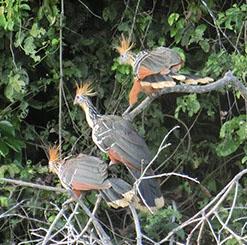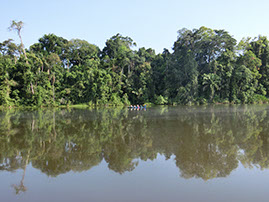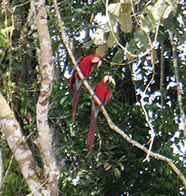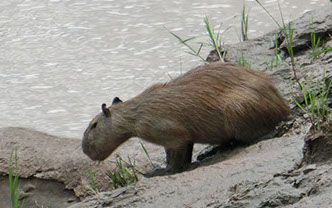 Capibara -this one was larger than the ones we saw in the Brazilian Pantanal!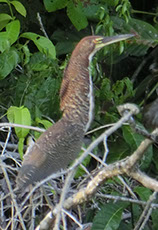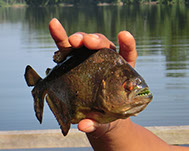 2 different kinds of pirañas: black piraña and yellow piraña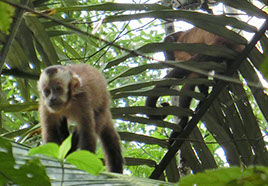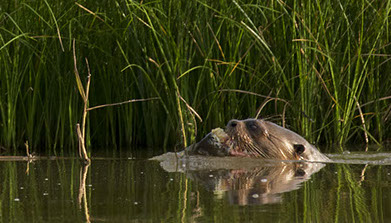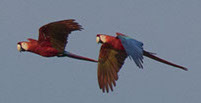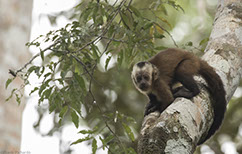 Frank, our guide who has a special talent to spot the animals by their sound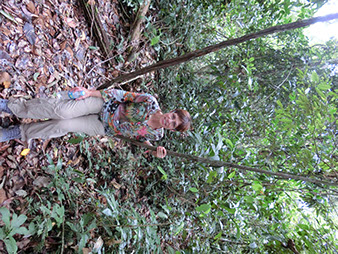 Julia as "Jane" on a liane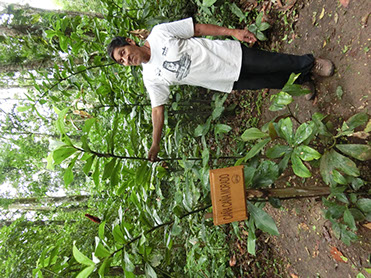 The Shaman of the Infierno Comunity explaining the plants in the Centro Ñape
Our uncosy open air bedroom at Posada Amazonas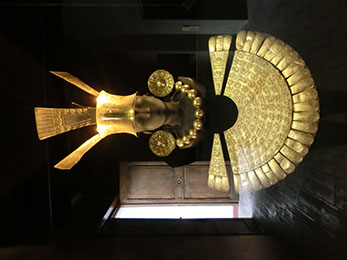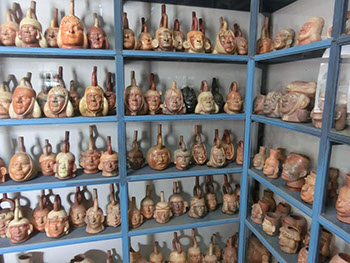 Even the restrooms were well-decorated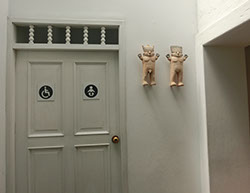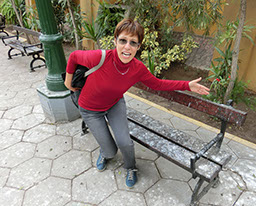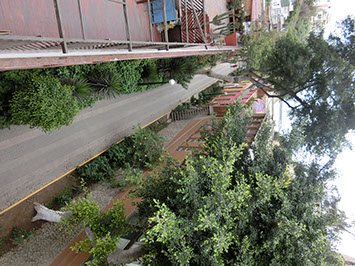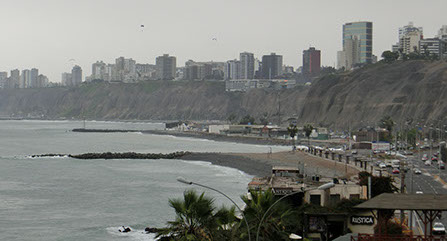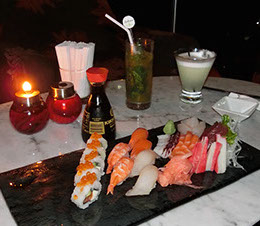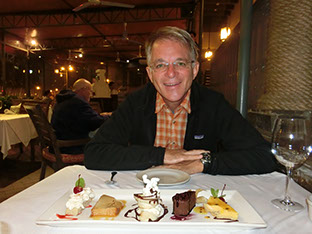 Bajada de los Baños: no way I will sit on this bench!
Sushi starter at the hotel bar and dessert at Restaurant Alfresco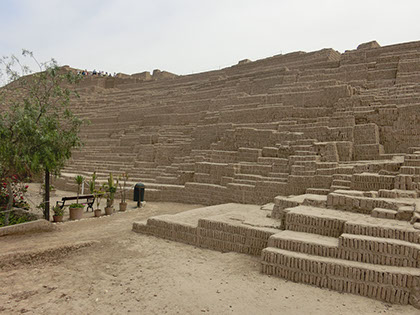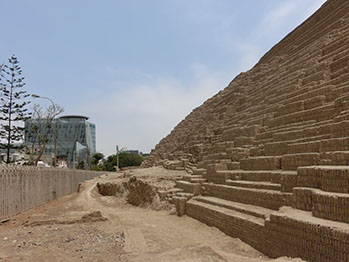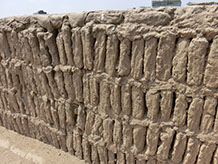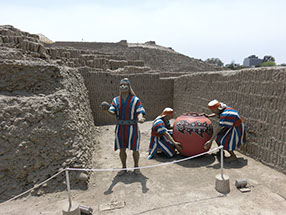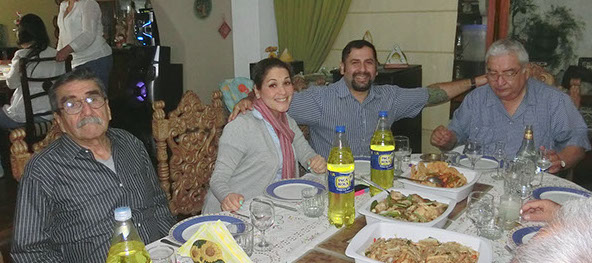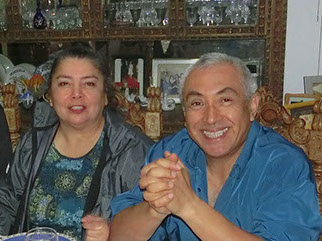 Carlos, Carla, Fernando, Julio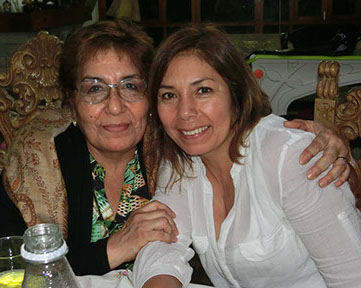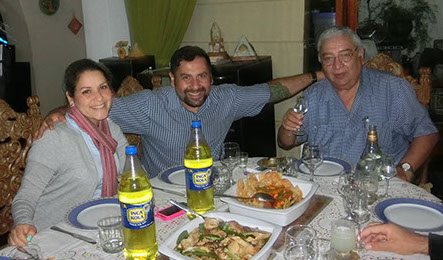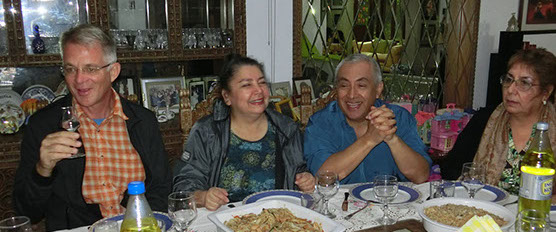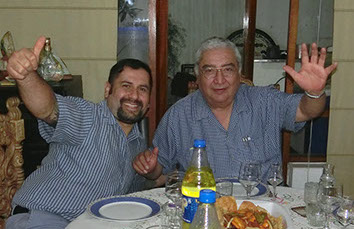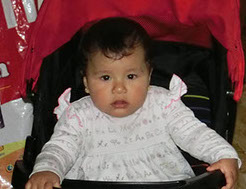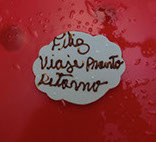 Carla, Fernando and Julio
Volker, Mapi, César, Amparo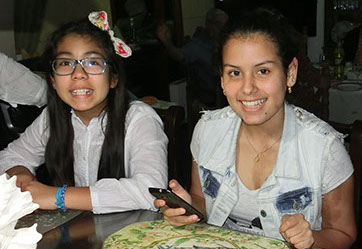 A delicious cake was served with a special inscription for us "Happy journey and come back soon"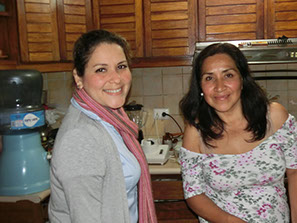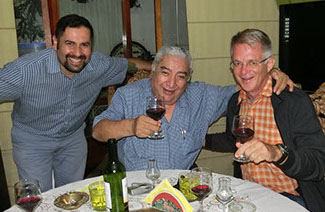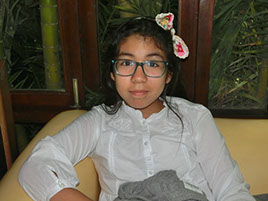 Carla, wife of Fernando, and Aracelly
Fri 9/10/2015: Flight Cusco - Puerto Maldonado - Reserva Nacional Tambopata, elev. 335 m - sunny very humid 32ºC
Pickup at 9:40am. Short flight with Lan Chile to Puerto Maldonado. Transfer to a place where we left our big luggage and only took the things for 3 days. Drive for 1 hours up to a pier where we continued with a speed boat on the Rio Tambopata. It is very warm and humid, we all sweat a lot. And we have to wear pants and long shirts as there are mosquitoes around! We arrived at 3pm, a walk of 10 minutes to the reception, our room #15. I was surprised to see that our "rooms" -if you can call it like that- are like open balconies with beds and a bathroom, no window, nothing! All the animals can just get in your room! Well, let's see how it will be. We did a first walk at 4pm where we went up the 37m high tower over the jungle canopy. Dinner at 7pm.
Sat 10/10/2015: Puerto Maldonado sunny - from very hot to cold - heavy showers, thunderstorm - 32ºC to 14ºC
Wake up at 4am, first tour at 5 am with the boat to a place where we walked to a lake Cocha Tres Chimbadas. There we went on a raft and saw giant river otters, fished pirañas, saw various birds. In the afternoon we went to see macaws but were lucky to see a big capibara. But, so incredible, the temperature suddenly fell from 32ºC to 14ºC and it became cold.In the afternoon we went to the so-called Botanical Garden with the boat: there was a shaman explaining the plants and how he prepared the potions for what ailing and ceremonies. In the evening we didn't go for the night walk. We went to bed at 8pm.
Sun 11/10/2015: Puerto Maldonado - rainy and cold 14ºC
Tour at 5am to see the macaws wake up at the salt lick. There we like 30 of them and some of the bigger green parakeets. Before lunch at 1pm we made a siesta and there was a strong rain with thunderstorm and our beds became wet! Today was a more calm day, as we were alone with our guide Frank. At 9 we went for a walk to the Kapok tree, very nice. In the afternoon we let at 2:30pm for a walk in the rain and went up the tower again.
Mon 12/10/2015: Puerto Maldonado - Lima, warm 24ºC
At 6:30 breakfast, 7:30am we left with the boat and then with the bus directly to the airport as there was a strike from people at Puerto Maldonado, we were even escorted by the police at the end. And the police were everywhere at the airport. Our flight was at 13:20 but it had 1/2 hour delay so we spent more then 2 hours in the VIP lounge (yes, there is a lounge in Puerto Maldonado! - not very exciting, but at least you can sit there ). We arrived in Lima at 5:30pm and were pretty tired. We got room 613 this time, a quieter room with 2 bed. We took a taxi (S/. 5) to the LarcoMar Shopping and had dinner at Mango's (very nice on the terrace with views over the bay - #)
Tue 13/10/2015: Lima - warm 23ºC
A free day! Without guided tours! We took our stuff to the laundry and then a taxi (S/. 20) to the museum Larco, located in the Pueblo Libre The museum has pre-Columbian ar and is housed in an 18th-century vice-royal building built over a 7th-century pre-Columbian pyramid. It showcases chronological galleries that provide a thorough overview of 4,000 years of Peruvian pre-Columbian history. It is well known for its gallery of pre-Columbian erotic pottery. Then we took a taxi (S/. 25) to Barranco to the Puente de Suspiros, had a coffee at the Café Bisetti (S./ 32 - didn't find it so special although it was highly recommended in the Lonelt Planet), walked down the Bajada de los Baños, to the beach, took a taxi to the Centro de Artesania to get the earrings I had ordered for my sister, close to Parque Kennedy (S/. 15) and bought a little more. Then we walked back to the hotel. Apero and sushis at the hotel bar (we have bar stress here with our US$10 per day voucher) and then crossed the road and had dinner at the AlFresco Restaurant (excellent, S/.100 only starter + dessert).
Wed 14/10/2015: Lima - warm cloudy/sunny 22ºC
Visit of the Huaca Pucllana, a great adobe and clay pyramid located in the Miraflores district of central Lima, Peru, built from seven staggered platforms. It takes its name from the Quechua word "pucllay," meaning "game," which in its entirety can be translated as "a place for ritual games." It served as an important ceremonial and administrative center for the advancement of the Lima Culture, a society which developed in the Peruvian Central Coast between the years of 200 AD and 700 AD. Lunch at the restaurant on the site. Then we took a taxi to a shopping center in Victoria where we bought a football shirt for Mario and back to our hotel (S/. 80). At 6:30pm Fernando fetched us and took us to Julio's place where we were invited for dinner. A lot of pisco sour, pisco pure, red wine, brandy and nice chifa food. We were warmly welcomed by the family and had a lot of fun and laughs. Fernando drove us back to the hotel at midnight.