Kilometer long parades in Puno where people wore wonderful costumes contrasting with the traditional dress worn by many women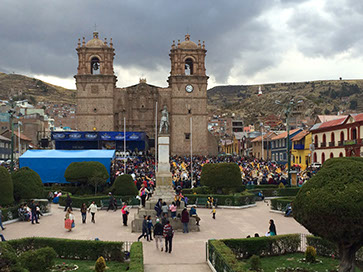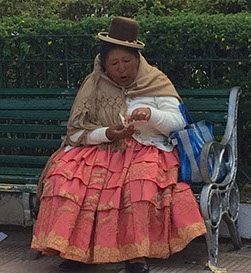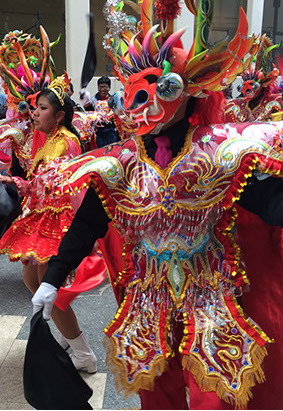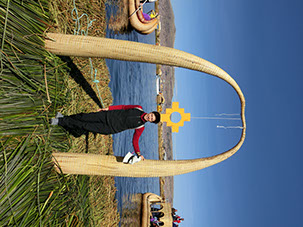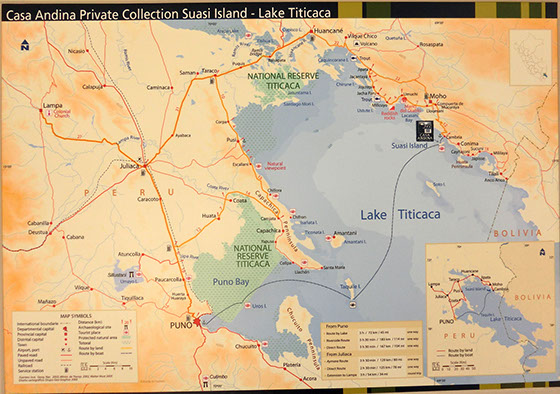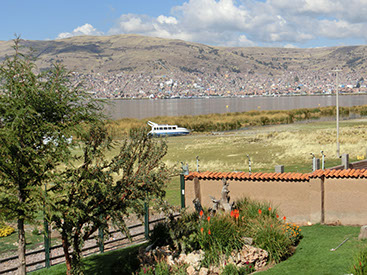 View from our hotel over the Titicaca Lake and Puno, Peru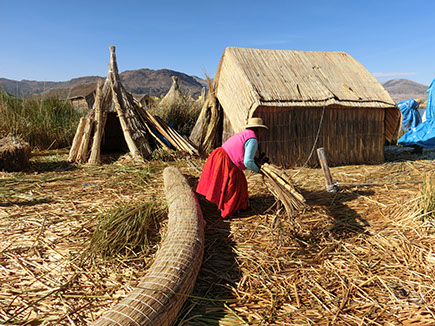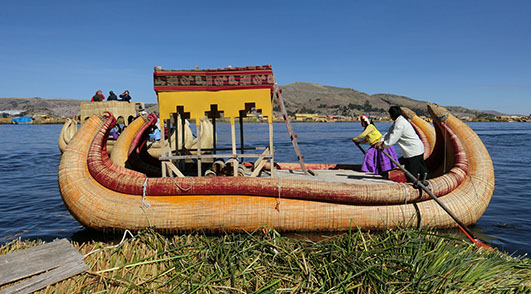 The floating islands of the Uros are constructed from many layers of the totora reeds. Also their boats are made of tightly bundled reed.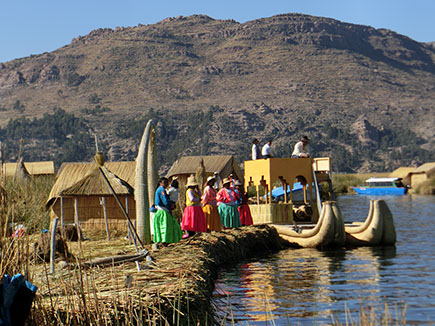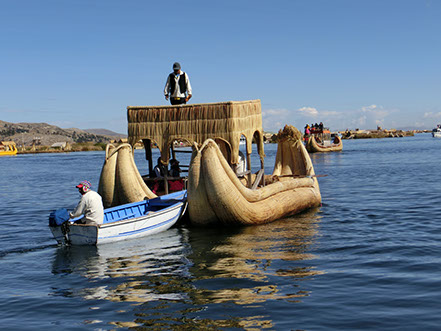 That's how the Uros actually move their boats!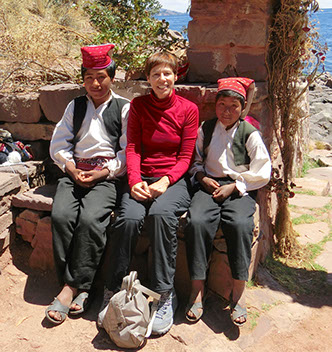 Men wear woven woolen hats which they knit themselves, a good example for western men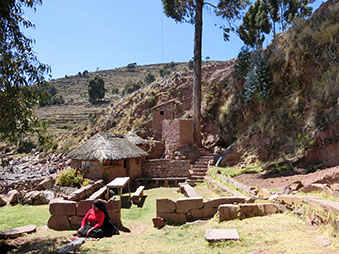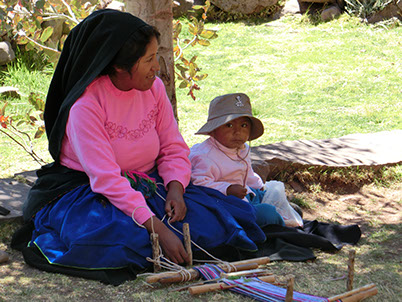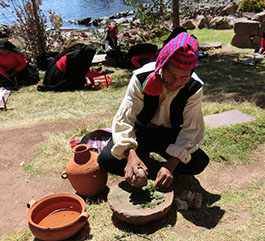 We are shown how a certain plant is mixed with water and becomes a shampoo to wash wool.
Taquile women weave thick, colorful waistbands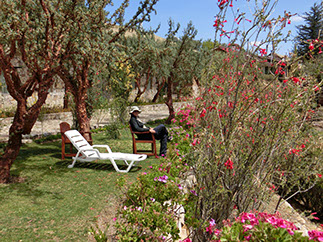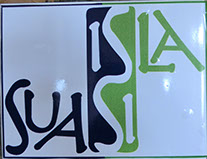 A paradise on 3860 m altitude!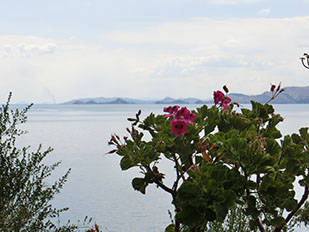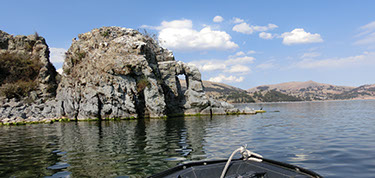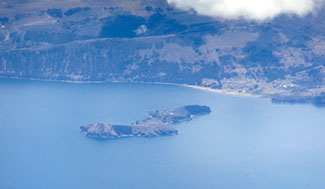 View on Suasi Island from the airplaine as we flew from La Paz to Cusco on 4/10/2015!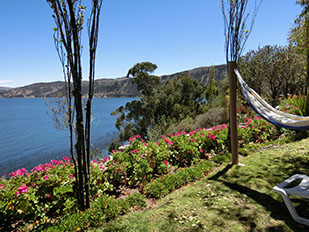 The interior of our hotel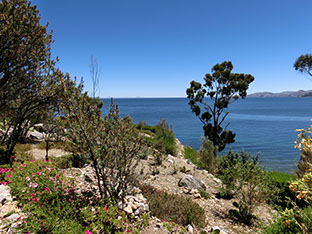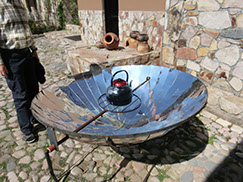 This device is used to boil the water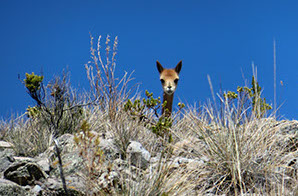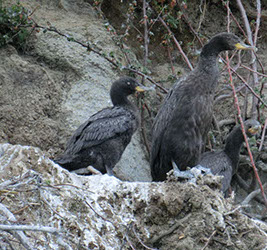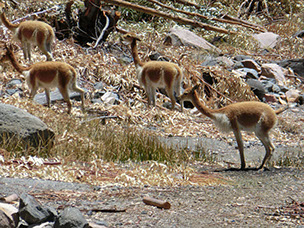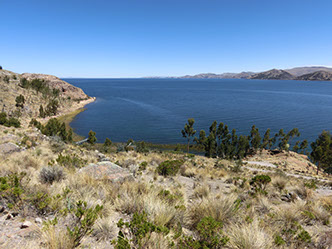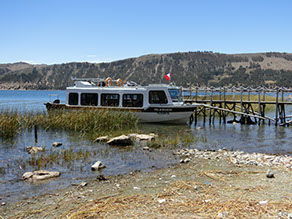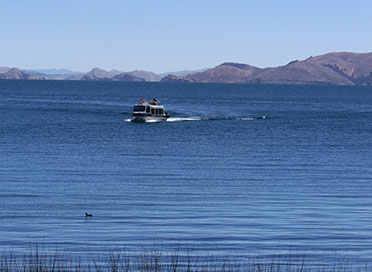 The speedboat coming to fetch us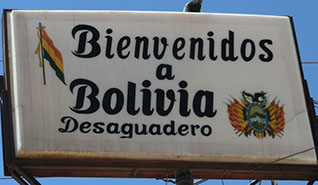 Crossing the border to Bolivia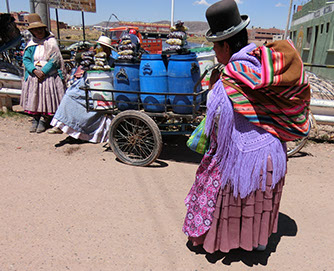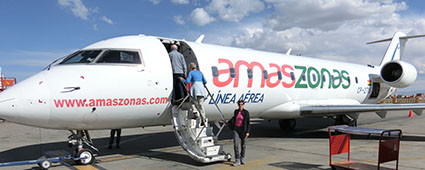 Flight from La Paz to Sucre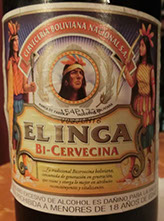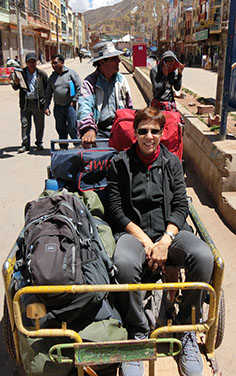 Our luggage transportation over the border Peru - Bolivia
The first beer in Bolivia, Sucre, feeling good at 1000 m deeper in Sucre
Fri 25/09/2015: Chivay
-

Puno (elev. 3850m)

- from sunny to rainy, snow, hail, thunderstorm, 15ºC
We left Chivay at 7am. Drive through the Altiplano, arriving in Puno at 1:30 pm. There was dancing like Carnival all over the city! Our Hotel: Casa Andina Private Collection, room 209 without see view, very bad internet, even worse than in Chivay. With a taxi to Plaza de Armas (S/ 10) where we had lunch at the good restaurant Mojsa (S/ 75). Julia caught a cold so she took a taxi back to the hotel (S/ 15) while Volker stayed and walked back all the way to the hotel!
Sat 26/09/2015: Puno - Uros' Islands - Takile Island - Isla Suasi - sunny 16ºC
At 7am we took off with a boat from the Hotel pier and in 10 minutes we were at the Uros' Islands. We were shown how they build their floating islands with the totora reeds that grow in the shallow of the Titicaca lake. We then a tour on their reed boat (S/10 p.p.). Then we continued with our boat to Isla Taquile, over 1 hour and 35 km east of Puno. We were shown what kind of hats men wear when they are married or not, how wool is washed with grass shampoo ;). Then after 1,5 hour we reached Isla Suasi where our hotel -or better ecolodge- Casa Andina. It's paradise here! After lunch, Volker went to a bird watching tour while Julia made a siesta, then there was a sunset walking tour and finally a nice dinner. Our room has a fireplace, and a man came to light it.
Sun 27/09/2015: Isla Suasi - Puno - sunny 16ºC
After breakfast we did some walking on the island and at 10:30 our guide took us to the museum and explained us a lot which made me, Julia, extremely tired!. At 12:30 pm we left the island with the speed boat. In 2:45 hours we were back in Puno at our Casa Andina Private Collection Hotel. We were happy when they handed us over and envelope with our electrical toothbrush we had left in Chivay, and they also found our computer mouse we had left in the room yesterday... At 16:45 we took a taxi and went into town, we ate a very good Chupe de pescado and Alpaca al Vino at the restaurant (
Mon 28/09/2015: Puno - Transfert to La Paz - Flight to Sucre - sunny 16ºC - 28ºC
At 8am a private transfer picked us up from the hotel and drove us to the Desaguadero. There we crossed the border with a tricycle (S/. 5 + 5 because of the waiting time), the border procedures were no problem at all, we were on the other side in 15 minutes but the Bolivian van wouldn't come. The Peruvian lady guide made us wait at the the wrong place and we waited for an hour while the Bolivian transfer was waiting for us at another place. Well, then we drove to La Paz where there was a road blockade just before the airport. With the help of a military relative of the driver we came to the airport entrance through the military driveway. This was exciting. Our flight was scheduled for 16:30 but our last call was at 16:00 and we really took off at 16:20! We even didn't finish our drink when we heard it was the last call. In Sucre our guide Erica was waiting for us and drove us to our Hostal La Merced (room 19, very nice). We still went for a stroll through town, Plaza 5 de Mayo and had dinner at La Plaza Restaurant (good meat!).