26/03 - 31/03/02
back to homepage / zurück zur Homepage
26.03.02: Alte - Estói - Parque Natural Ria Formosa
A short walk through Alte and down to a small waterfall started our morning. We continued to Estói where the Roman ruins of Milréu, dated from the 1st century AD, could be visited. After some exploration of these ruins we drove to Olhão, the second biggest city in the Algarve. There, we made a self-guided tour at the visitor center of the Natural Park of Ria Formosa. Before beginning this walk, we installed ourselves at the nearby campground. Our idea of barbecued fish for lunch made necessary a bicycle trip to the market hall in Olhão, just to find out that we were too late (it was already 1 pm). Luckily, the nearby grocery shop -Pingo Doce- had some fish on sale, even less expensive than the market price, especially the one we were looking for: the dourada, a kind of brass. (This we found out the next day).
26.03.02: Alte - Estói - Parque Natural Ria Formosa
Mit einem kurzen Spaziergang durch Alte und runter zu einem Wasserfall begann unser Tag. Daraufhin weiter nach Estói, zur Besichtigung der römischen Ruinen von Milréu, aus dem 1. Jahrhundert v.Chr. Danach ging es weiter nach Olhão, der zweitgrößten Stadt der Algarve. Unser Hauptgrund für dieses Ziel war jedoch der Parque Natural Ria Formosa. Nachdem wir uns im Besuchszentrum informiert haben, machten wir jedoch erst einmal Pause und bezogen einen Platz auf dem naheliegenden Campingplatz. Für das anschließend geplante Mittagessen fehlte allerdings noch der frische Fisch. Also ab nach Olhão mit dem Fahrrad und zur dortigen Markthalle. Zu spät - alle Geschäfte waren schon am schließen.(13:00 Uhr). Im Supermarkt fanden wir dann unseren Fisch - Dourada bzw. Wolfsbarsch auf Deutsch - im Sonderangebot (billiger als im Markt, wie wir den nächsten Tag feststellten). Am Nachmittag dann ein Spaziergang, der sich bis in die Abendstunden entlangzog, durch das Naturschutzgebiet.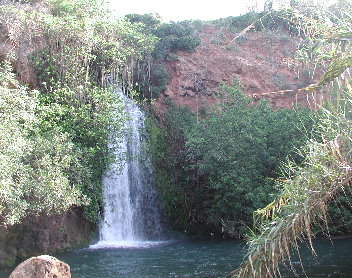 Waterfalls in Alte / Wasserfälle in Alte
The Roman ruins of Milréu in Estói with some fantastic mosaics / Römische Ruinen von Milréu mit tollen Mosaiken in Estói.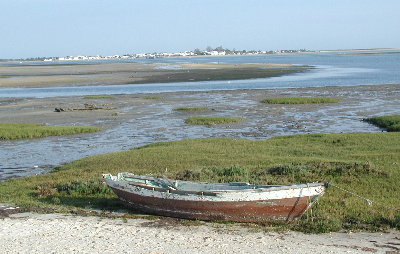 Parque Natural Ria Formosa, Olhão
---
27.03.02: Olhão
First a bicycle trip to the city, to "officially" visit this city and do some sightseeing -the trip yesterday was just a grocery shopping trip. Then some grocery shopping at the market with all the ingredients for a real Peruvian-style calderada (fish soup). After some great cooking by Julia, we both had a delicious lunch in our campground backyard. A rather long bicycle tour to Fuzeta and to the center of Olhão for some good ice cream took care of the afternoon.
27.03.02: Olhão
Morgens wieder aufs Fahrrad und ab nach Olhão, um endlich "offiziell" die Stadt zu besichtigen. Am Tage vorher war es ja nur eine notwendig gewordene Einkaufsfahrt gewesen. Danach Einkauf in der Markthalle, mit allen Zutaten, um eine richtige Calderada (Fischsuppe), allerdings im peruanischen Stil, zu kochen. Zurück zum Campingplatz, und Julia servierte 30 min später ein tolles Mittagessen. Später noch eine lange Fahrradtour nach Fuzeta und wieder zurück in die Stadtmitte zu einem Eisladen.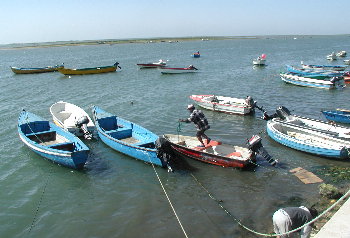 Olhão
---
28.03.02: Olhão - Valdepeñas
We already knew it would rain today, so we decided to begin with our 3000 km (approx. 1900 miles) trip back home. We drove 580 km up to Valdepeñas and stayed on its "Wine Alley". Actually, we had chosen a restaurant to have dinner, but dinner time in Spain begins only at 9.30 pm, and we were tired and not willing to wait until that crazy time -although our watches had to be set an hour later! Instead, we had a nice Alaskan salmon dinner in our RV.
28.03.02: Olhão - Valdepeñas
Wir wussten, heute würde es regnen, und so haben wir entschieden, den 3000 km langen Rückweg anzutreten. Wir sind ca. 580 km bis Valdepeñas gefahren und haben uns an der "Weinstraße" dort für die Nacht angesiedelt. Wir hatten uns eigentlich ein Restaurant für das Abendessen ausgesucht, aber bei den verrückten spanischen Essenszeiten, wo man erst ab 21.30 Uhr abends essen geht - obwohl wir unsere Uhren um eine Stunden vorstellen mussten -, haben wir uns entschieden, im Wohni Alaska-Lachs zu genießen.
---
29.03.02: Parque Nacional de las Tablas de Daimiel - Maderuelo
Drive to the Tablas de Daimiel further in the North, nearby Ciudad Real. In this very dry region of La Mancha, this place has some extended natural ponds that is known for attracting a big variety of birds. For the first time during our trip through Portugal and Spain we found a well organized National Park with leaflets in Spanish and English -although both had nothing in common- about the park, well marked walking paths, walking ways and observation towers. Unfortunately, there were almost no birds to see at all -I would even say, we never saw so few birds like in this place... A few ducks and that's all. We left at 12.30 am and stopped at the first restaurant we came up to on our way. Great: there are many cars parked, it must be good. The tapas bar is crowded with people standing, drinking bear, sharing some tapas, and throwing their litter on the floor. Upstairs, in the dining room, there is absolutely nobody! We sit down at the bar, have some tapas and beer like the natives, and decide to observe the situation. But nothing, people leave after a while, newcomers enter the place and order tapas. Nothing happened until 1:30 pm, so we decide to drive on. It is now 2:30 pm; we stop at the first restaurant along the road to Madrid and eat like kings! For € 7,21 p.p. we got a menu composed of an appetizer, an entree, and a dessert with a bottle of good Manchego wine, a big bottle of mineral water, and half a liter soda. And it was really good. Drive to Maderuelo where we spent the night at the Linares del Arroyo Dam near Montejo.
29.03.02: Parque Nacional de las Tablas de Daimiel - Maderuelo
Wir machten uns heute auf den Weg zu den Tablas de Daimiel weiter im Norden - in der Nähe von Ciudad Real. Es handelt sich um Wasserlöcher in der ansonsten sehr trockenen Gegend La Mancha, wo einige besondere Vogelarten zu sehen sein sollen. Zum ersten Male in Spanien und Portugal kamen wir an einem Nationalpark, der gut organisiert ist: Ein Informationszentrum verteilt Faltblätter in Spanisch und Englisch (wobei das Englische überhaupt nichts mit dem Spanischen zu tun hat...), es gibt gut markierte Wege, Stege und Beobachtungshäuser. Leider haben wir kaum Vögel gesehen, ich würde mal sagen, wir haben noch nie so wenige Vögel gesehen wir dort... Ein paar Enten, und das war's schon. Es war 12.30 Uhr als wir wieder losgefahren sind, wir hielten am ersten Resto, der auf unserem Weg war. Toll! Viele Autos, dort kann man sicher gut essen. Wir rein, an der Tapas-Bar und an den Tischen umrum ist der Laden rappelvoll, wir gehen hoch zum Speisesaal, absolut keine Seele. Also setzen wir uns erst mal an die Bar, bestellen uns ein paar Tapas und Bier wie die Eingeborenen und beobachten die Situation. Die Leute essen ein paar Tapas, trinken Bier, alles im Stehen, wobei sie ihr Müll - wie bekannt - auf den Boden werfen... Nach einiger Zeit fahren sie wieder weg, dafür kommen wieder andere. Bis 13.30 Uhr passiert immer noch nichts, also fahren wir los. Es ist nun 14.30 Uhr. Wir halten beim nächstbesten Resto entlang der Straße in Richtung Madrid und speisen wie die Könige! Wir bekommen eine Flasche guten Rotwein aus La Mancha, eine Riesenflasche Mineralwasser und 1/2 l Sprudelwasser auf dem Tisch gesetzt. Je eine Vor-, Haupt- und Nachspeise, das ganze als Menü für € 7,21 pro Person. Und es war gut. Fahrt bis Maderuelo, wo wir am Stausee Linares del Arroyo in der Nähe von Montejo übernachtet haben.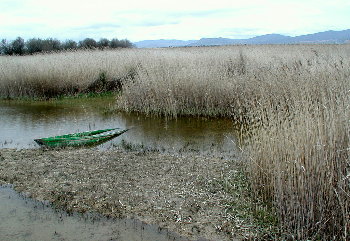 Tablas de Daimiel. Unfortunately there was almost no wildlife we could see / Tablas de Daimiel. Leider waren fast kaum Vögel oder andere wild lebende Tiere zu sehen.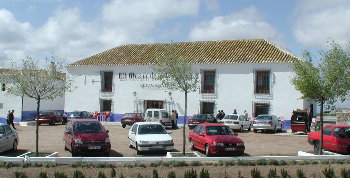 Restaurant El Mesón de la Duquesa, Daimiel. Can you see all these people going in and out the restaurant? No, although it is 1.30 pm, they are not having lunch, just tapas! Spanish people have lunch between 2 and 4 pm, dinner from 9.30 pm on! / Restaurant El Mesón de la Duquesa, Daimiel. Da sind so viele Leute, aber keiner geht jetzt um 13.30 Uhr richtig Mittag essen, sondern sie verschlingen erstmal nur ein paar Tapas. Richtig gegessen wird erst am 14 Uhr bis 16 Uhr. Abends ab ca. 21.30 Uhr!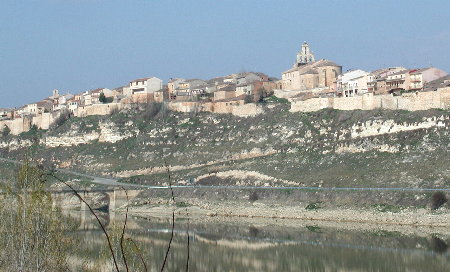 Maderuelo at the Riaza Valley / Maderuelo am Riaza-Tal
---
30.03.02 Refugio de Rapaces de Montejo - Vitoria-Gasteiz:
Drive up approx. 10 km to the Refugio de Rapaces de Montejo (bird refuge) at the base of the Linares de Arroyo dam in the Riaza Valley. Our nature book quotes that there are many vultures you can see along the Riaza Valley. It was not easy to find, there are no sign posts giving directions to that place, and when we thought we had found it, there was a sign prohibiting to pass -although short after there was an official parking lot. This time it was worthwhile doing the detour. We really saw many vultures during our hike, flying and sitting on the rocks. Also other kind of birds in a great number, on top of it the spectacular canyon with many bizarre formations resulting from the washing out action of the water as well as caves on the steep rock walls. After a difficult river crossing to go back to our RV, we drove to Burgos and did some extended Spanish grocery shopping at the local Hipercor -everything was closed the last two days because of Easter holidays. But time ran out for lunch in a restaurant, so we stopped at a tapas bar and tried almost anything they had. Drive up to Vitora-Gasteiz in the Basque land where we got set up to spend the night at the Garaio Recreation Area around the dam.
29.03.02 Refugio de Rapaces de Montejo - Vitoria-Gasteiz:
Wir fahren ca. 10 km zum Refugio de Rapaces de Montejo (Greifvogel-Schutzgebiet) am Staudamm Linares de Arroyo, wo - nach unserem Naturbuch - eine imposante Anzahl Gänsegeier entlang des Riaza-Flusses zu sehen sind. Es war nicht ganz einfach zu finden, denn kein Hinweisschild deutet auf das Tal, und als wir dachten, wir hatten es gefunden, unterband ein Verbotsschild die Weiterfahrt - obwohl nach einer Kurve dann ein Parkingschild einen Platz auswies. Aber diesmal hat es sich gelohnt. Wir sehen bei unserer Wanderung durch das Tal sehr viele Gänsegeier fliegen und auf Felsen sitzen. Auch andere Vögel in großer Zahl, dazu noch die imposante Flussschlucht mit formenreichen Auswaschungen und Höhlenbildungen in den steilen Felswänden. Nach einer schweren Flussüberquerung, um zurück zu unserem Wohni zu gelangen, fuhren wir weiter nach Burgos, wo wir im Hipercor Einkäufe getätigt haben, nachdem zwei Tage lang alles wegen Osterfeiertag (also Donnerstag und Freitag) geschlossen war. Damit haben wir aber die Mittagszeit für einen Restaurantbesuch verpasst... Daraufhin mussten wir an einer Tapas-Bar anhalten, und wir haben fast alles durchprobiert, was es dort gab. Fahrt bis Vitoria-Gasteiz im Basquenland, wo wir uns für die Nacht am Stausee Garaio installiert haben.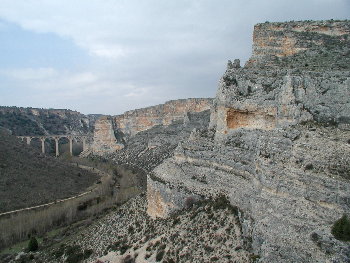 Canyon of the Riaza dam at the Refugio de Rapaces de Montejo. / Canyon of the Riaza dam at the Refugio de Rapaces de Montejo. /
---
31.03.02 Parque Natural de Aralar (Spain) - Mimizan-Plage (France):
We intended to head as quick as possible to France. Then we remembered our difficult drive from Donostia de San Sebastian to Vitoria-Gasteiz on our way to Portugal, because we had to take a difficult and long detour due to road construction on the main road. Julia discovered a interesting road crossing through the Parque Natural de Aralar. After passing the entrance we were eager to stop and see more of this spectacular landscape, so we bought a hiking map and there we were going for a hike of 3,5 hours. We passed a lake (dam), some idyllic rivers, soft green meadows with lots of colored flowers and were even able to find some interesting megalith remains like menhir and dolmen on our way. We really enjoyed it. Unfortunately, we didn't get anything to eat in the restaurant of the park, although it was only 3.40 pm. We continued our drive to France up to Mimizan-Plage where we had a good dinner in an Italian Restaurant.
31.03.02 Parque Natural de Aralar (Spanien) - Mimizan-Plage (Frankreich):
Wir wollen nun auf schnellsten Wege nach Frankreich, aber wir erinnern uns, als wir auf den Hinweg die Strecke von Donostia de San Sebastian nach Vitoria-Gasteiz fahren wollten, mussten wir einen relativ langen aber schönen Umweg wegen der Bauarbeiten an der Schnellstraße fahren. Auf der Karte gibt es noch einen anderen Weg, der durch den Parque Natural de Aralar führt, den man diesmal ausprobieren könnte. Als wir an der Info-Stelle des Parks vorbeifahren, sind wir von der Landschaft fasziniert. Wir kaufen eine Wanderkarte und wandern los! 3,5 Stunden waren wir unterwegs, wir sind an mehreren Stauseen vorbei, idyllischen Flussläufen entlang gelaufen, auf saftigen grünen Wiesen mit bunten Blümchen marschiert und haben dabei die Megalithtischen Überreste geortet, die in der Nähe unseres Weges lagen. Es war schön. Leider wieder kein Essen mehr im Resto des Parks bekommen, obwohl es erst 15.40 Uhr war. Weiterfahrt nach Frankreich bis Mimizan-Plage, wo wir abends noch gut in einem italienischen Restaurant gegessen haben.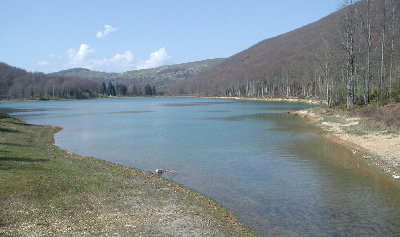 . . . . .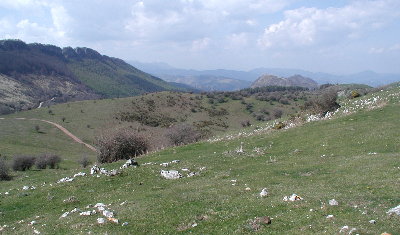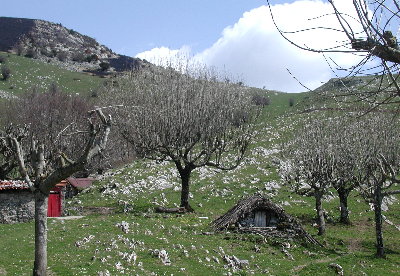 Parque Natural de Aralar east of Vitoria-Gasteiz: a few views during our hike / Der Parque natural de Aralar östlich bon Vitoria-Gasteiz: einige Bilder von unserer Wanderung.
back to homepage / zurück zur Homepage
to previous page / zur vorigen Seite . . . . to next page / zur nächsten Seite