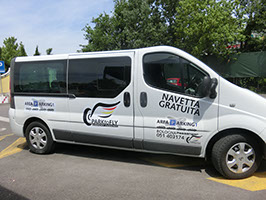 Shuttle from the airport to our parking where our camper was well kept during 74 days.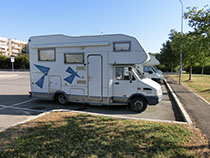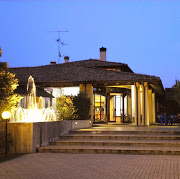 Our overnight aire in Calderara and Itaca restaurant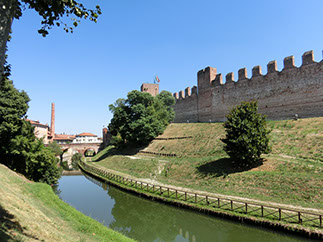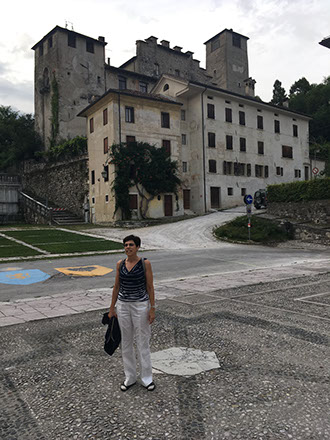 The fortified walls of Cittadella were built in the first quarter of the 13th century and are very impressive.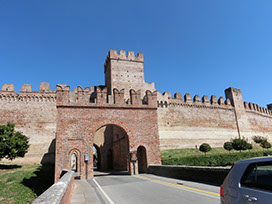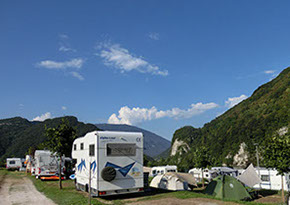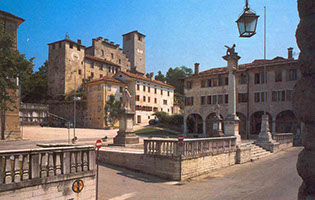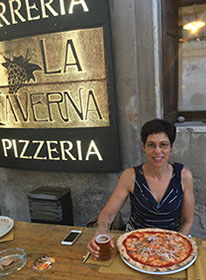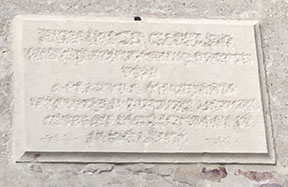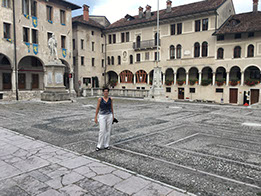 This reminds me sadly of the inscriptions in Egyptians temples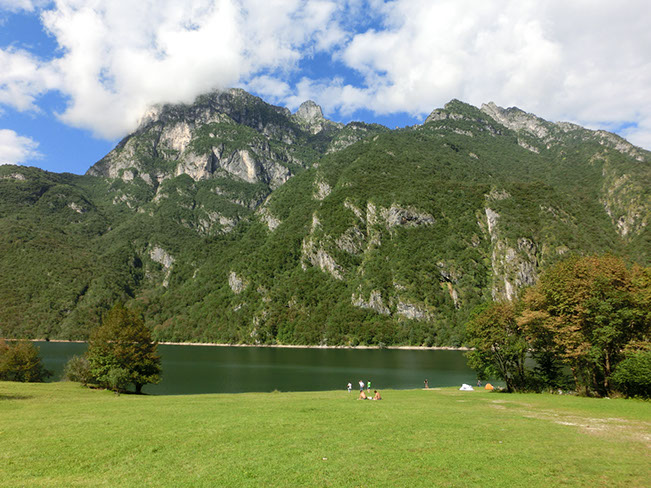 An idyllic place with spectacular mountains at just 450m altitude which we enjoyed wholeheartedly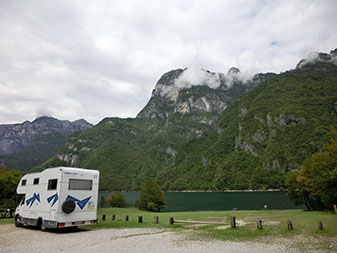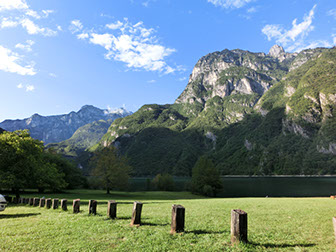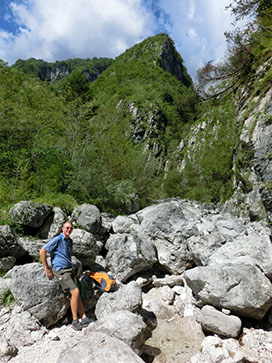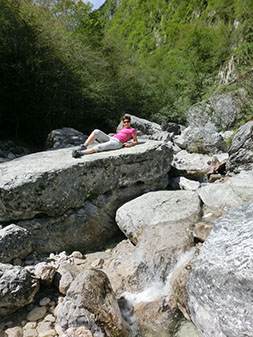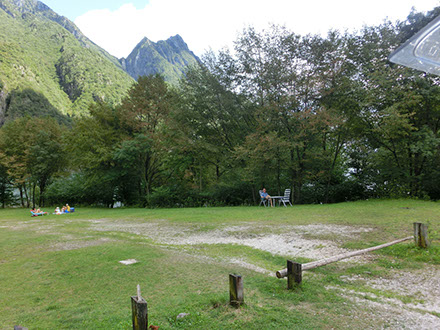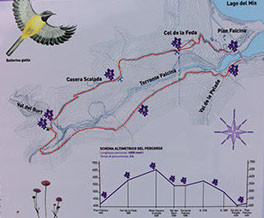 Lunch under the trees with sea views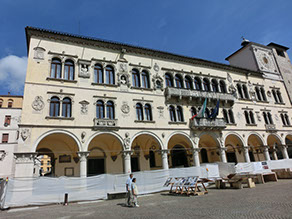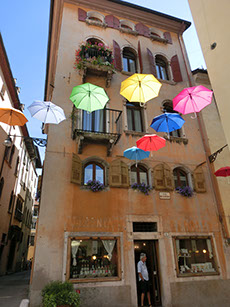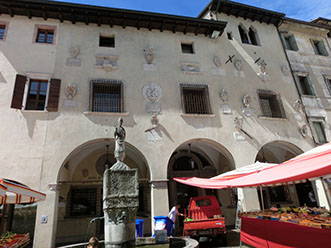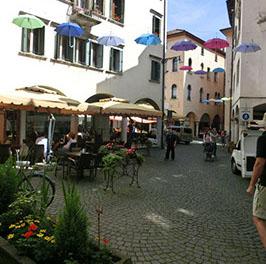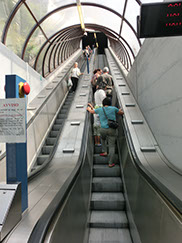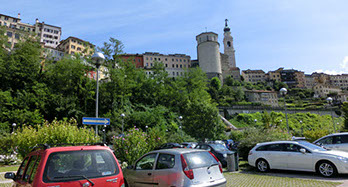 Our first evening exploration of Nevegal, a winter sports resort.
Tomorrow we want to go up to the Rifugio Visentin that we can see from our camper: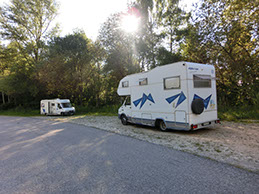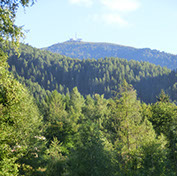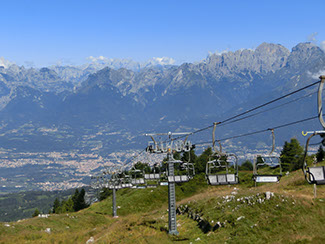 Going up with the chair lift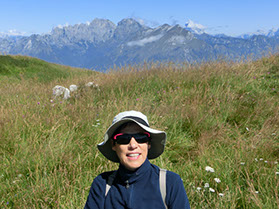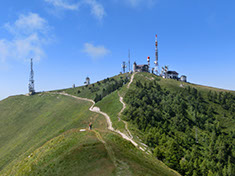 Our first rifugio Col Visentin
at 1764m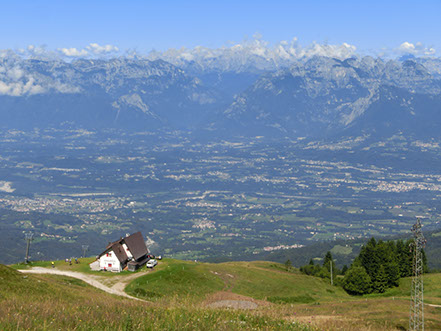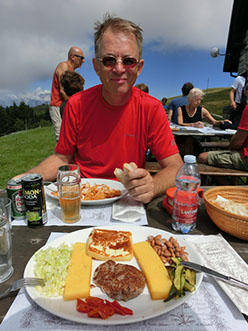 Our second rifugio Bristrot and views over the mountains on the other side of the valley where we could even see Lago del Mis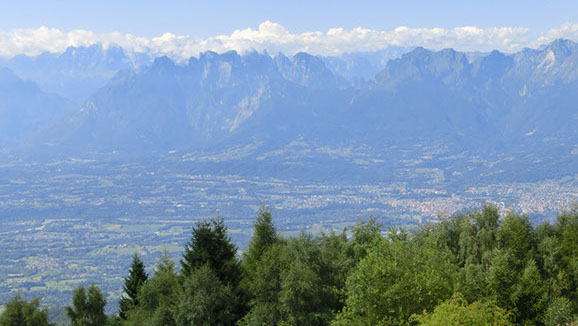 The spectacular panoramic views of the steep and rugged mountains of the other side of the valley. We could see the Lago del Mis where we had been before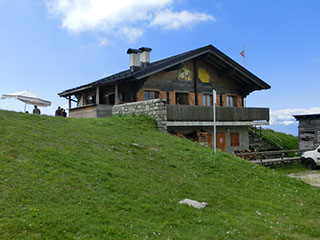 And last but not least our third mountain restaurant
Malga Col Torrent where we just had a prosecco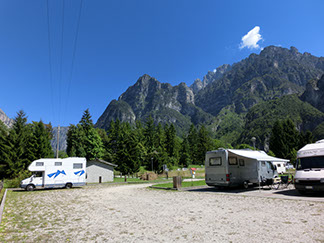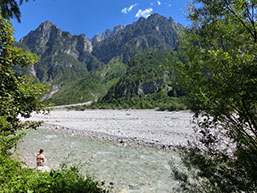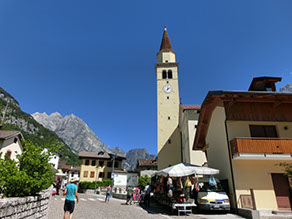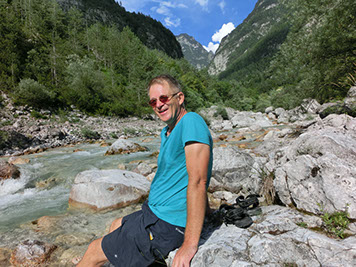 Pause at the river from our bicycle ride up towards the Rifugio Pordenone
Our beautiful aire at Cimolais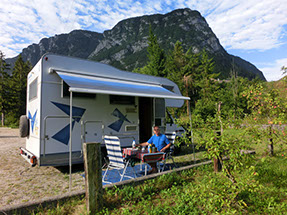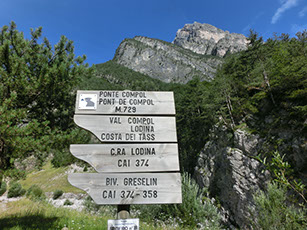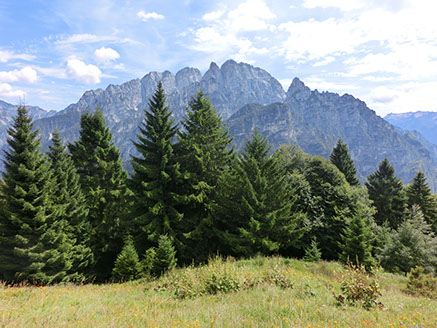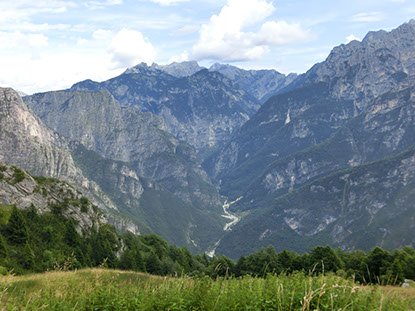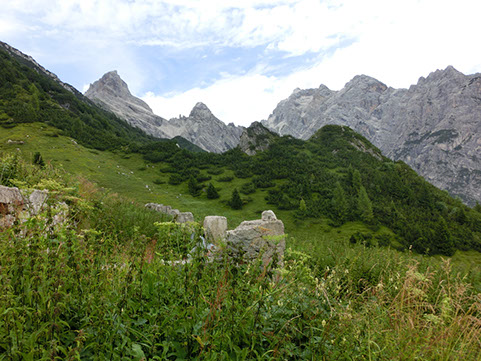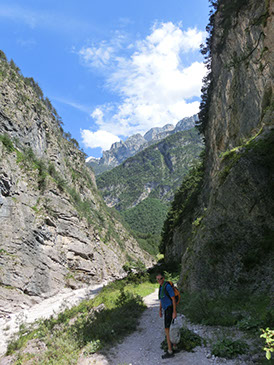 Almost up at Casera Lodina we meet with Babette and Martin who was injured. We then drove them to Cimolais and tried to find where he could get medical care on this holiday. With the help of a very nice carabineiri a doctor met with us in Cimolais and we followed him to Claut where Martins was taken care of and finally we all had dinner together at Albergo Dolomiti.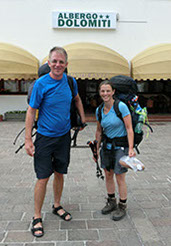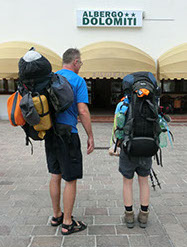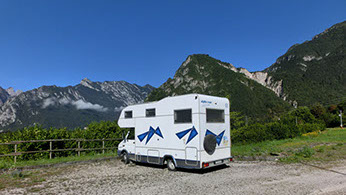 Our quiet overnight stay in Claut
The policeman called a GP to Cimolais
Babette and Martin check in to the hotel and Volker carries Martin's havy backpack (about 18 kg!)

We just passed through this magic place... but it was already crowded!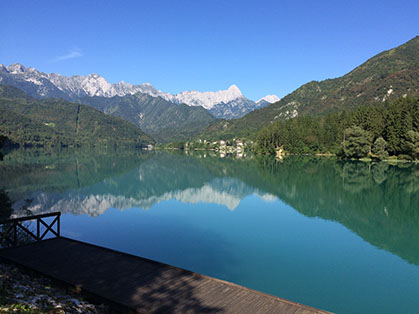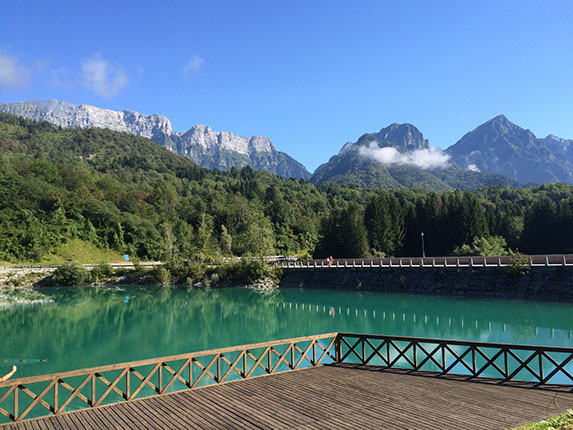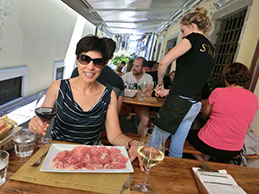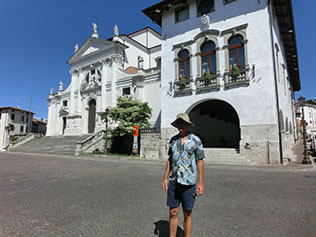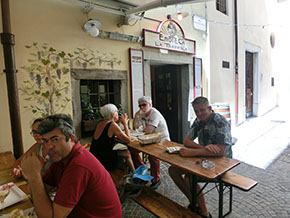 Enjoying the delicious and famous San Daniele ham at the Enoteca la Trappola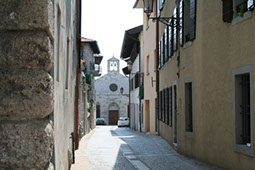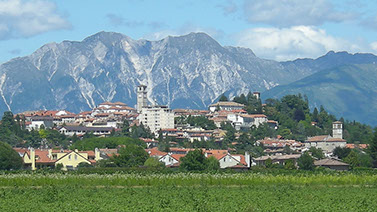 Tuesday 02.- Sunday 07.08.2016: in Brussels for the 90th birthday of Julia's father
Sunday 07.08.2016: Brussels - Bologna - Calderara: 11 km - 32ºC very hot
Flight from Brussels to Bologna with Brussels Airline. Arrival in Bologna at 17:15. Oh, gosh it was so warm again, after Brussels where we had 3 days of straight rain and temperatures around 22ºC. We had to walk to the roundabout in front of the airport and wait for our shuttle to take us to our camper which was at the Area Parking1, Via della Salute, 10, 40132 Bologna, www.areaparking.it (+39 051.400265, +39.7019191). Our motorhome was waiting for us (pretty clean) from the outside! We were able to fill our water tank and drove to Calderara where there was a aire, not very nice, but next to a restaurant Itaca (Via Roma, 81/a, 40012 Calderara di Reno BO, tel. 39 051 720383) which is open 7/7 at lunch and dinner and we had a good meal there after settling in our van. We spent our night not at the aire, but next to it at N44º33'37" E11º16'0".
Monday 08.08.2016: Calderara/Bologna - Arsiè Gajole Camping (alt 200m): 229km - 32ºC very hot
After not such a good night we drove to ipercoop where we had breakfast and Julia did not such a good grocery shopping... she was just overwhelmed by the vast choice in this huge supermarket. I definitely prefer the smaller supermarkets ;). We drove north and made a stop at Cittadella where our lunch consisted of a good gelato artigianale at Zaneti before continuing to Arsiè where we settled at the Gajole Camping on the Lago del Corlo (33,50€/night with electricity). N45º58'5" E11º45'57"
Tuesday 09.08.2016: Arsiè Gajole Camping - Feltre (alt 273m): 31 km - 34ºC very hot, rain and then finally thunder storm at night
In the morning we tried to find a reparing service for our roof window Dometic Heki which was defect. We found a garage in Feltre who would take us at 14:00. We arrived at noon and did grocery shopping at Famila before. The camper service could eventually close our Heki but have no parts to exchange the defect parts, so we stayed at the P5 aire for campers (free of charge because machine doesn't work, 4€ - free WiFi). In the evening we walked up to town and had dinner at the Birreria-Pizzzeria La Taverna di Vervi Eliseo (Via Luzzo 11, 26,50€ very nice and good). Back home through the "galleria", a tunnel that was built by the Germans to protect from the bombs in WW2. Free WiFi in t0wn! N46º1'11" E11º54'28"
Wednesday 10.08.2016: 11.08.2016: Feltre - Lago del Mis (Sospirolo) (alt 435m): 28 km - 29ºC, rain in the morning, beautiful day at the lake
After spending the morning taking advantage of the good wifi provided by the city at our aire and waiting for the rain to pass, we drove to the Lago del Mis which is really awesome with the spectacular steep mountains on the other side! There is only one camper (a German couple from Bayreuth there) and we settle here for the afternoon and the night. Afterwards we discover that there is an aire with electricity some meters away but we decide to stay here because of the view. N46º9'54" E12º3'38"
Thursday 11.08.2016: Lago del Mis: 25ºC sunny with some clouds after light rain at night
Walk up to the Falcina valley (2:15 hours, 360m ascent, 4,6 km) ending up at the snack-bar with a good beer. Today the place is much more crowded than yesterday, we don't know why... Volker took his bicycle and went north to the Botanical Garden and the Cascades della Soffia.
Friday 12.08.2016: Lago del Mis - Belluno - Nevegal (alt 1071m): 35 km - 24ºC sunny with some clouds
Drive to Belluno, a nice hill town where you drive through a tunnel under the whole city and arrive to a big parking lot with a camper area. Three escalators take you up to the main old town square and the information centre. We started our "city tour" taking a cappucino at the Pasticceria Bellunense ;). These towns around this area have the flair of the South Tyrolean cities with the arcade speciality shops. Then we drove to Nevegal, a tip the lady from the information centre gave us for a hike in the mountains. We found a nice place to stay at the parking above the chair lift, very quiet. N46º5'37" E12º16'50".
Saturday 13.08.2016: Nevegal - sunny 25ºC
We took the chair lift at 10am and were surprised to see almost nobody taking it! It is a little old, not expensive, 9€ return (there are 2 lifts, you have to get out of one and hop on another). Getting out is not very easy, it is meant for people on skis... Up there we walked to the Rifugio Art. Alpina Visentin at 1763m. The whole path is full of antennas but the views of the other side with the mountains is superb. We then walked to Rifugio Bristrot and Malga Col Torrent before taking the second half of the chair lift and getting back home (5 hours, 365m ascent, 8 km). This afternoon we got some neighbours who came next to our camper.
Sunday 14.08.2016: Nevegal - Cimolais (alt 643m): 45km - 32ºC sunny
Drive to Cimolais which was recommended by our motorcaravan fellows. Really a very nice aire at a nice little town along a river surrounded by fabulous mountains. Today is a little market where we bought some cheese, olives etc. In the afternoon we took our bicycles (Julia for the first time in months) and went up 4 km the road to the refugio Porderone. We settled on the aire of Cimelais (10€/night with electricity) N46º17'20" E12º26'24"
Monday 15.08.2016: Cimolais - Claut (alt 195m): 16km, 29ºC sunny until 17h00 then rain 22ºC
Drive to the trail head in Val Cimoliana and walk up to Casera Lodina (4,5 hours, 8 km, 800m ascent). On the way we met Martin and Babette... N46º16'03" E12º30'01"
Tuesday 16.08.2016: Claut - San Daniele del Friuli (alt 190m) - Udine: 32ºC hot
Drive to San Daniele del Friuli where we parked at the Camper Sosta (N46º9'24" E13º0'50"). Walk up to town, lunch at Osteria di Tancredi with Prosciutto de San Daniele del Friuli, a specially lean, exquisitely sweet ham, and trout, the whole with good white and red wine (32€, very good). Then ice-cream at Gelateria Moderno with a good last espresso macchiatto. Overnight at the big parking close to the hospital in Udine. The night was hot and there were big black bugs entering our camper through the side window mosquito screens! During the night heavy showers with thunder storms. N46º4'51" E13º13'22".