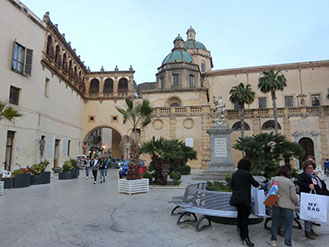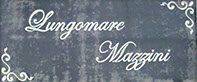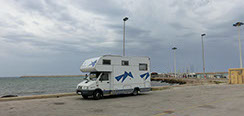 In the evening Volker was happy to be able to have his favourite chips/French fries at a street food stand that was close to our camper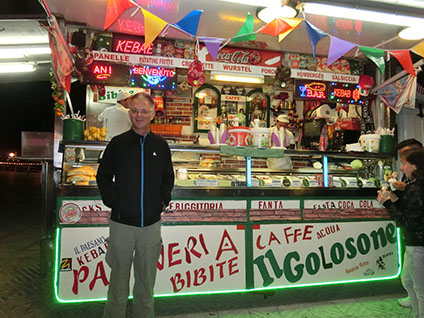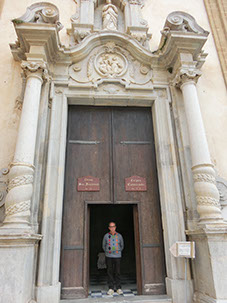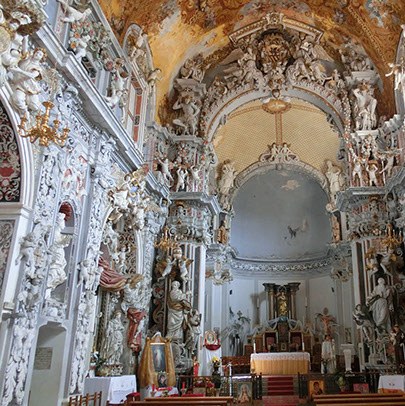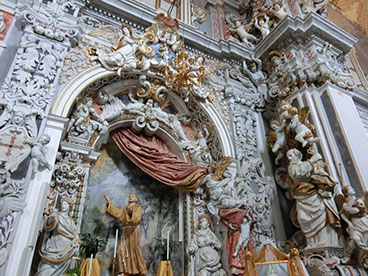 Chiesa San Francisco: highly baroque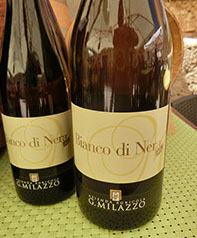 The beautiful watery vastness of the Saline di Trapani, coastal salt ponds interspersed with windmills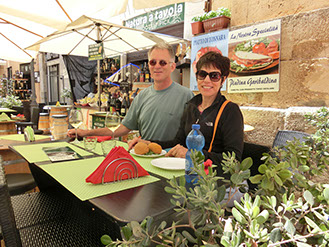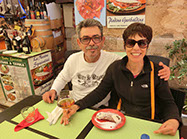 Enoteca "Natura a Tavola" where we enjoyed good wines (including of course a Marsala for dessert) and a very nice service with "Signore Capitano"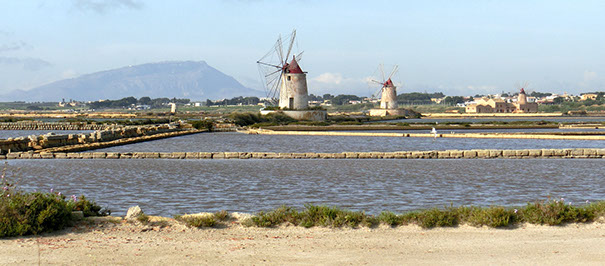 "Il giovinetto di Mozia": a 5th-century-BC marble statue of a young man that was found on Mozia or San Pantaleo island.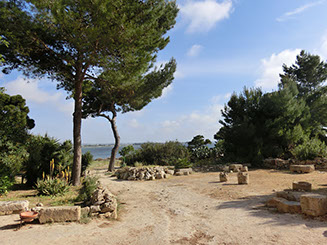 The San Pantaleo island or Mozia is on big archaelogical site with remains from the Phoenicians, Elymians, Carthaginians, Greeks, Romans, and from Medieval times.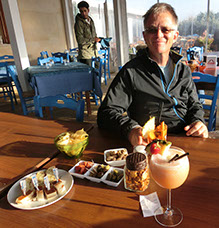 Enjoying drinks (with free snacks) at Mamma Caura in San Leonardo on mainland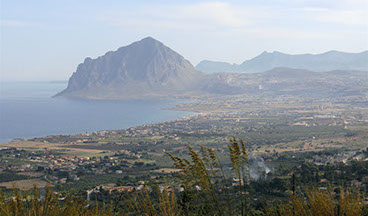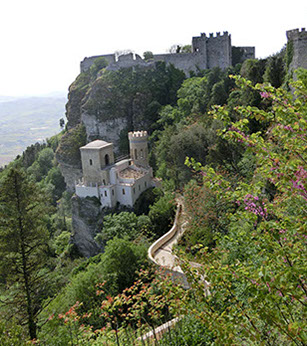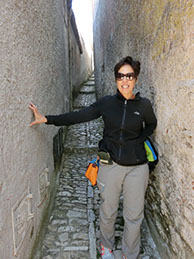 Towers of Balio and the Torretta Pepoli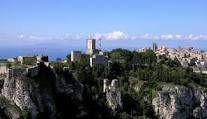 Erice sits on Mt Eryx (750m) and is one of Italy's most spectacular hill towns and has a seductive history as a centre or the cult of Venus
View upon Mt Cófano and the Nature Reserve Zingaro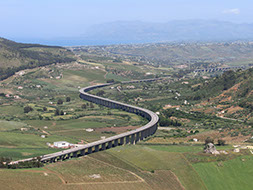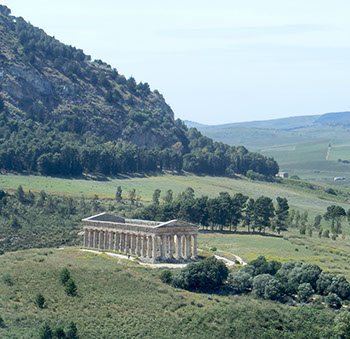 The 5th-century BC ruins of the Elymian Temple and the theatre
View from the theater upon the motorway we took after the visit to Camping La Playa in Isola delle Femmine/ Capaci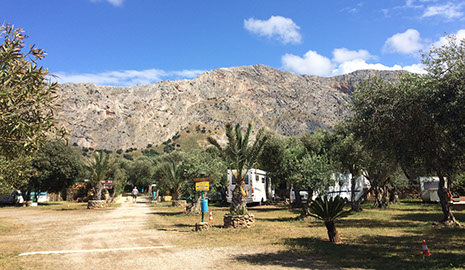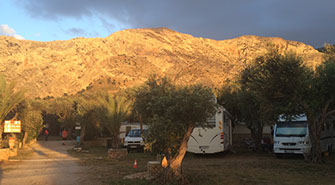 "Alpenglühen" on Pizzo Montano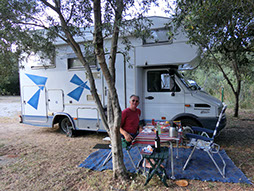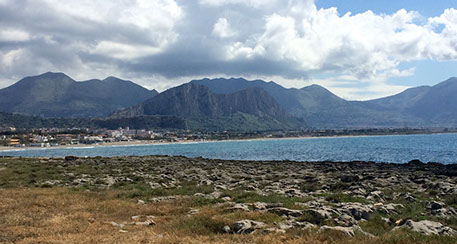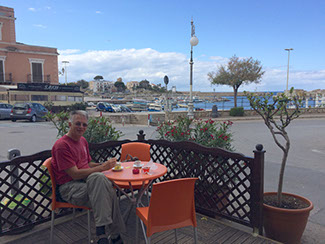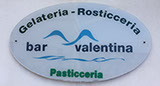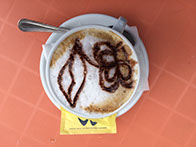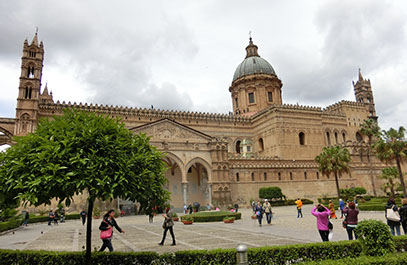 The Cattedrale di Palermo remains a prie example of Sicily's unique Arab-Norman architectural style.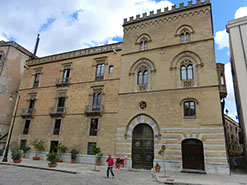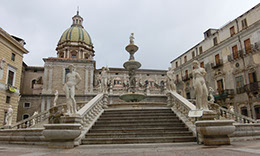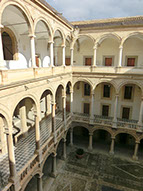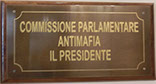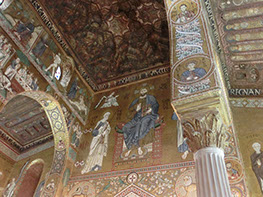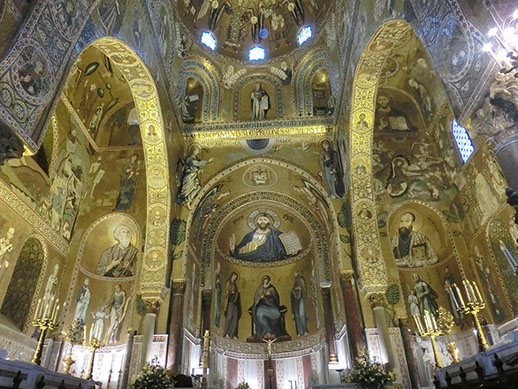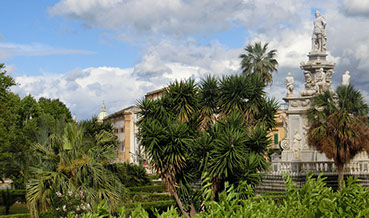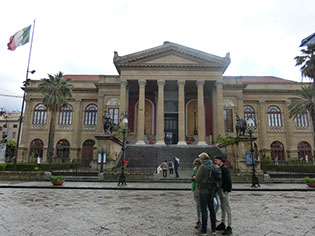 Teatro Massimo Europe's third largest opera house and one of Italy's most prestigious. And, by the way, here was shot the last scene of Godfather III
Palazzo dei Normanni & Cappella Palatina: very impressive elaborate Byzantine mosaics from the 12th century all over the church!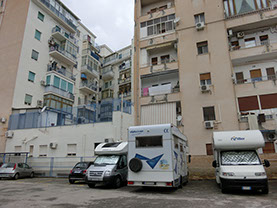 One of the panels in Hall of Hercules


Green Car Parking in Palermo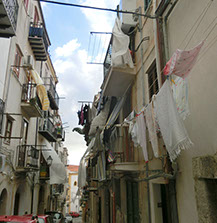 "Marina" and walk behind the walls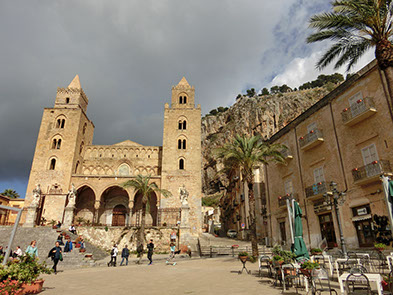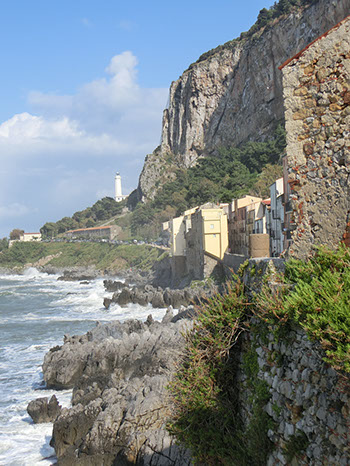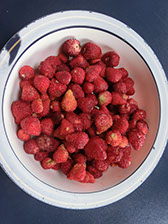 Delicious wild strawberries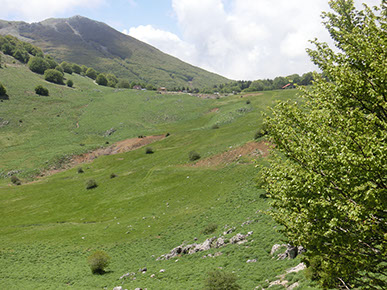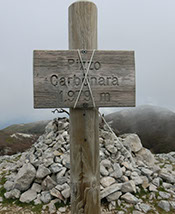 Summit of Pizzo Carbonara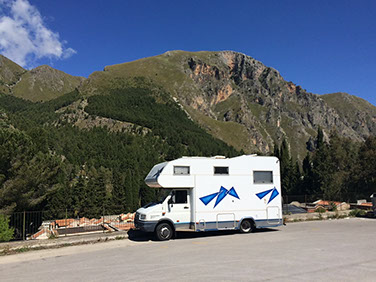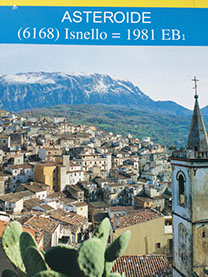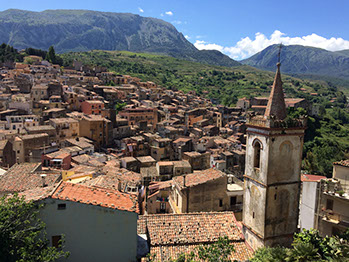 There is an "astronomical way" where Isnello appears to be an asteroid which was discovered at Observatory La Silla in Chile
Isnello from the Church La Anunzziatta

Volker hike up the Monte Grotta Grande (1064 m)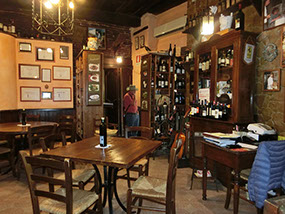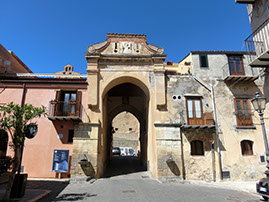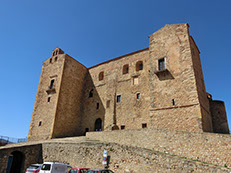 Excellent lunch at Mangalarruni in Castelbuno. Actually we drove to Castelbuono only for that restaurant although it is a nice hill town to visit on its own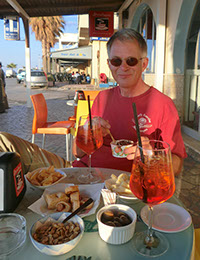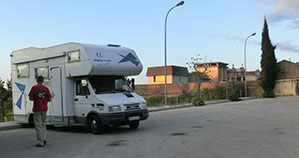 Lungomare in Brolo and aperitif at Bar Il Gattopardo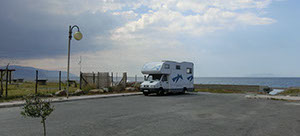 Parking in Terme Vigliatore
with views to the Aeolian
Islands: Isola Vulcano, I.Lipari Stromboli, I. Saline, I. Filicudi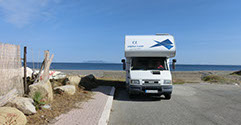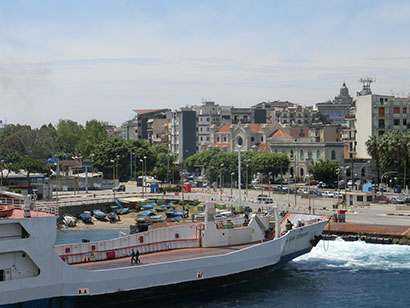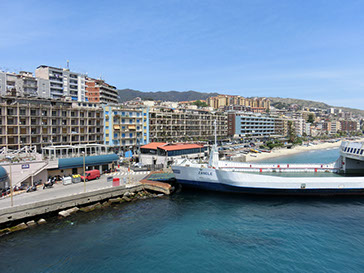 Leaving Sicily at Messina
Wednesday 27.4.2016: Marinella (Selinunte) - Mazara del Vallo: 118 km, 20ºC cloudy
Visit of the ruins of Selinunte (6€ pax), a huge city built in 628BC on a promontory overlooking the sea, and over 2,5 centuries became one of the richest and oldest powerful in the world. It was destroyed by the Carthaginians in 409BC and finally fell to the Romans in 350BC, at which time it went into rapid decline and disappeared from history. The city's past is so remote that the names of the various temples have been forgotten and they are now identified by letters. Lunch at the Pinguin Bar/Restaurant on the waterfront in Marinella (50€). Visit of the Quary Cusa where the Greeks had their stones cut out (free of charge although there was a sing to a ticket booth, but it was closed). We then drove to a camper repair service "Montalto", located at km 47,5 on the SS115, and the man was very efficient. We had the a part fixed on top of our camper and a lamp exchanged. We then drove to the town centre of Mazara del Vallo and settled for overnight on the parking at the Lungomare Mazzini (a man asked for 5€, unofficial). We strolled through the old town and the shopping pedestrian road where we found a nice ring for Julia ;) and had an ice cream at Gelateria Mazara before going home N37º39'1.9" E12º35'13.3"
Thursday 28.4.2016: Mazara del Vallo: 55 km, 19ºC cloudy and rainy
Stroll through town and, after it started to rain, we decided to stay here at the harbour and make it a relaxing afternoon reading and playing rummycub. In the evening we had an Aperol Spritz at the Ventro's Bar (10€ with snacks included) and Volker his beloved chips/French fries at a street food kiosk. This second night at the same place on the parking lot at the the harbour was very noisy. At 4am 3 people started an Arab party without very loud music from their car... Volker was tough, got up and dressed and talked to them so after half and hour it got quite :(
Friday 29.4.2016: Mazara del Vallo - Marsala - Mozia Island/San Pantaleo Island - Saline di Trapani: 55 km, 20ºC sunny and windy
Grocery shopping at EuroSpin, -similar supermarket to Aldi but not connected to it. Drive to Marsala where we parked at Lungomare Mediterraneo and had lunch at Natura Tavola with special antipasti and nice white wines and, of course, Marsala wine for dessert (36€). We bought the best Marsala wine they have and after that had an ice cream and cremina di cafè before continuing to San Leonardo. There we took the ferry (5€ pax) to the Island of Mozia and visited the Whitaker Museum with the "Il giovinetto di Mozia", a 5th century-BC Carthaginian-influenced marble statue of a young man. Back in San Leonardo we sat at the Mamma Caura Restaurant (10€) where they served lots of small snacks along with our Aperol Spritz (10€). Overnight on their parking lot (we gave the man who watches the car 2€) N37º51'42" E12º29'5"
Saturday 30.4.2016: Saline di Trapani - Erice - Capaci: 149 km, 20ºC sunny but very windy
Drive to Mt Eryx (750 m) to visit Erice, a hill town which was settled by the mysterious Elymians*. Erice was an obvious abode for the goddess of love, and the town followed the peculiar ritual of sacred prostitutions. Drive to Segesta where we visited the temple and the theatre (6€ pax + 1,5€ shuttle up to the theatre). Finally drive towards Palermo to Isola delle Femmine/Capaci where we settled on the Camping La Playa -with beautiful views on the sharp mountains next to Monte Gallo (20€ per night). N38º11'48,6" E13º14'37.4"
*As I have never hears about the Elymians I searched in Wikipedia:
"The Elymians (Greek Ἔλυμοι, Latin Elymi) were an ancient people who inhabited the western part of Sicily during the Bronze Age and Classical antiquity. Apart from mythological tales, there is little known about the identity and culture of the Elymians. They are indistinguishable from their Sicani neighbours in the archaeological record of the early Iron Age (c. 1100–c. 700 BC). Thereafter they appear to have adopted many aspects of the culture of the Greek colonists of Sicily, erecting the remarkable temple at Segesta and using the Greek alphabet to write their own language. The Elymians maintained friendly relations (and alliances) with Carthage but came into frequent conflict with the expansionist Greek colonies of western Sicily, especially Selinus (Selinunte). Boundary disputes with Selinus broke out into open warfare on several occasions after 580 BC. They sought to ally first with Athens against Selinus, provoking the disastrous Sicilian expedition of 415 BC-413 BC. Following this failure they encouraged the Carthaginians to attack Selinus in 409 BC and succeeded in obtaining the destruction of their rivals. However, they turned on Carthage during the First Punic War and allied with Rome instead. The Elymians were granted a privileged status under Roman rule and were exempted from taxes. This was said to have been in recognition of the Elymians' claim of Trojan ancestry, which was seen as making them cousins of the Roman people, who also claimed to have been descended from the Trojans. The Elymians appear to have largely disappeared from view under Roman rule, presumably becoming assimilated into the general Sicilian population. The Elymians shared western Sicily with the Sicani, the Phoenicians, and later the Greeks. Their three most important cities were Segesta, the political centre; Eryx (the modern Erice), a religious centre; and Entella.
Sunday 1.5.2016: Isola delle Femmine/Capaci: 18ºC rainy in the morning, sunny in the afternoon
After heavy rains during the night we had a good breakfast with fresh bread and a Sunday egg. In the afternoon we walked into town and along the beach, of course with a pause at a Gelateria Valentina and "shopping" at a Chinese shop -the only one open today!
Monday 2.5.2016: Isola delle Femmine - Palermo: 22 km, 16ºC rainy and cold
Drive to Palermo where we parked at Green Parking (20€/night with electricity, very well located and pretty quite). Stroll through town where we visited: Cathedral, Quatro Canti, Teatro Massimo, Mercado del Capo. A few times we escaped the rain by having a coffee or an ice cream at a very good ice cream parlour. Lunch at Mina Franceso Paolo (inexpensive 19€, food good but service bad). Walk through town and visit of the Norman Castle (17€/pax for all the sites): Hall of King Roger and Hall of Hercules, the old Parliament Hall built in 1560 and the seat of the Sicilian Regional Assembly. Impressive mosaics! Palatine Chapel in the Norman Castle: Commissioned by King Ruggero II in 1130, was consecrated in 1140. The mosaics of the dome were completed 1143. There is also the Hall of King Roger: Commonly known as Hall of ing Roger, the Loggia of the Joaria tower. The mosaic decorations date back to William I period and show the influence of the Sassanian art, typical of the Islamic culture. Hall of Hercules: The old Parliament Hall was built in 1560. Since 1947 the Hall is the seat of the Sicilian regional Assembly. There was also an exhibitions about Antonio Ligabue (1899-1965) who was a little crazy. Overnight at Green Parking N38º06'35.2" E13º20'33"
Tuesday 3.5.2016: Palermo - Cefalù: 83 km, 19ºC cloudy and windy
Visit of the Catacombe dei Cappuccini which house the mummified bodies and of some 8000 Palermitans who died between the 17th-19th centuries. Earthly power, gender, professional status and virgins are rigidly distinguished. Drive to Cefalù, a popular holiday resort wedged between a dramatic mountain peak and a sandy beach. Walk through the medieval streets lined with restaurants and boutiques in the historic centre. Ice cream and Julia's favourite cremina di caffè (always a large portion!) at Crema & Cioccolato. Overnight at the parking N38º02'08.4" E14º01'02.5"
Wednesday 4.5.2016: Cefalù - Piano Battiglia - Isnello: 72 km, sunny on the coast, cloudy and cold in the mountains 15ºC
We woke up this morning and the sky was blue! Drive to Piano Battiglia where Volker hiked up to the Pizzo Carbonara at 1979m in the Madonie Nature Park (3 hours, 7,6 km, 460m ascent). It was really cold on the Piano Battiglia with an icy wind. Drive to Isnello where we stayed overnight at the parking next to the cemetery N37º56'23" E14º0'16"
Thursday 5.5.2016: Isnello - Castelbuono - Brolo : 103 km, sunny and warm 20ºC
Volker hiked up to the Monte Grotta Grande at 1064m (3h15, 6 km, 500m ascent) and came back in time for us to leave for Castelbuono at 12:30am while Julia went exploring Isnello. Drive to Castelbuono where we wanted to have lunch at the Restaurant Nangalrruni (excellent, slow food, 46€ - Via delle Confraternite 10, phone +390921 67 1428) where we shared the fixed menu (32€) on recommendation of the server and it was really good that way. Drive to Brolo on the coast. After having an Aperol Spritz at the promenade "lungomare" at Il Gattopardowe settled -again- at the communal cemetery N38º09'24.1" E14º49'54.4"
Friday 6.5.2016: Brolo - Terme Vigliatore: 75 km, sunny 20ºC
Drive to Terme Vigliatore where we finally found a laundry (Lavanderia Gli Angeli) which would wash all our stuff. It is not easy to find a laundry here which won't wash your things like in a hotel (2 euros for a t-shirt, 5 euros for a pair of trousers etc!) We managed to make a deal to have all washed, dried and folded for 50 euros (not really a bargain but what could we do? We had already tried to go to a camping but they only have one washing machine and people waiting to use it!!). We found a nice place to make a real relaxing day at the Lungomare Marchesana bei San Biagio/Terme Vigliatore. N38º8'22" E15º8'29".
Saturday 7.5.2016: Terme Vigliatore (Sicily) - Gamberie (1336 m) - N.P. Aspromonte (Calabria): 96 km, sunny 21ºC on the coast, 15ºC in the mountains
Drive to Messina where we took the ferry Caronte & Tourist - Autotraghetti Stretto di Messina (56,56€ one way) to Villa San Giovanni (20 minutes on a large ferry). There was a huge cruise ship Celebrity Reflection docked at the harbour in Messina. Drive to Gambarie in the Parco Nazionale dell Aspromonte. This town looks like a ghost town, everything closed, but we managed to find a good restaurant: Al Terrazzo (45€, very good). We found a nice place to stay -we were alone for the whole afternoon: N38º9'58" E15º50'8".