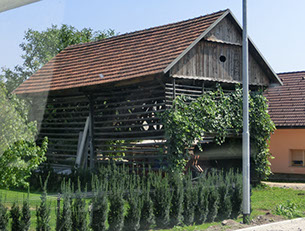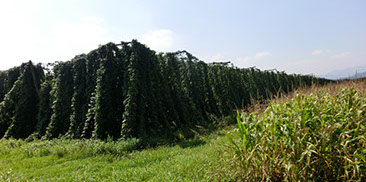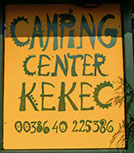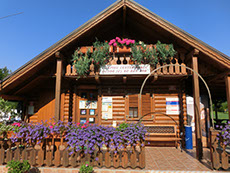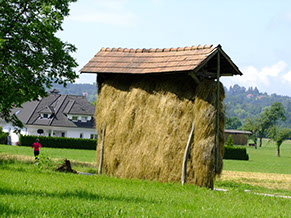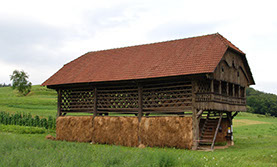 Hop cultivation in the Celje region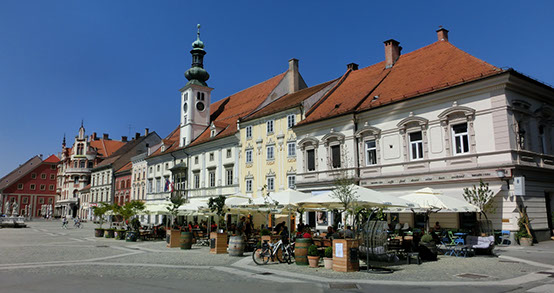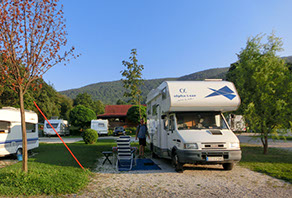 Old Vine - The vine of the "zametna crnina" variety growing and bearing fruit for over 400 years has been entered into the Guinness Book of Records as the oldest noble vine in the world.
Our nice campground in Maribor Pohorje near the cable car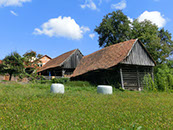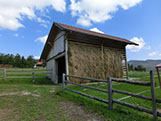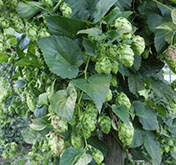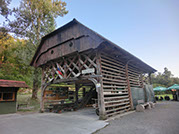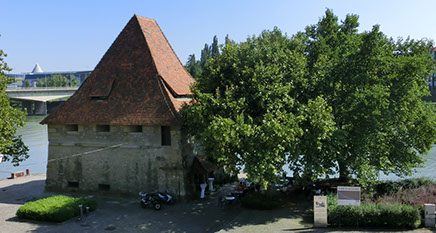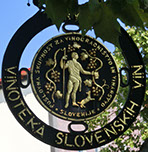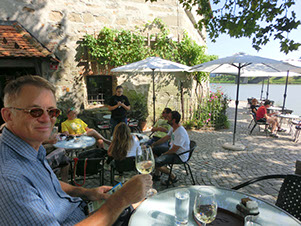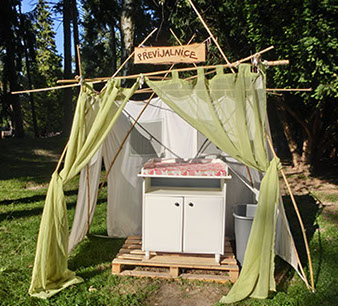 That enormous beef sandwich was our lunch
Diaper changing desk at the Mestni Park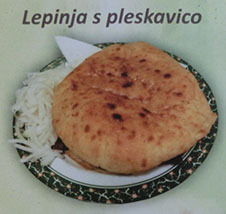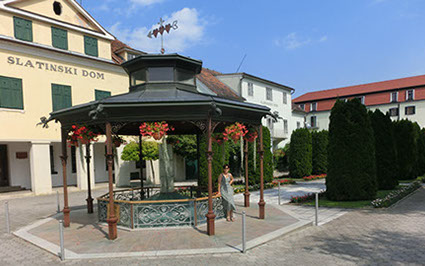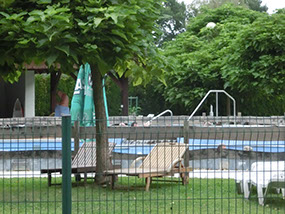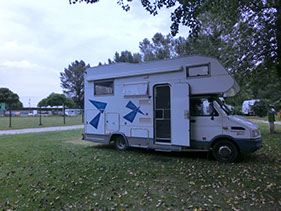 We enjoyed the nice spa complex with whirlpool, jacuzzi etc. next to our camper!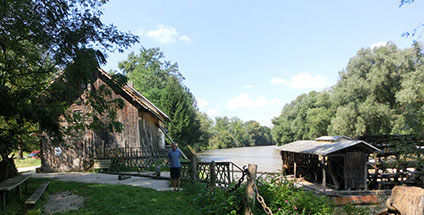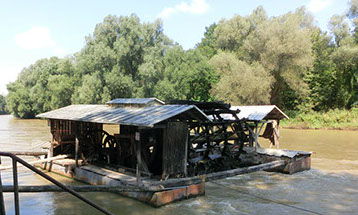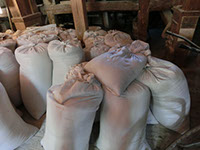 This floating mill is still working, grain is ground and sold for clients. Floating mills, which date back to Roman ties, were very popular on rivers that changed their course abruptly or swelled rapidly after rainfall, as they allowed millers to move to the best possible spots for milling.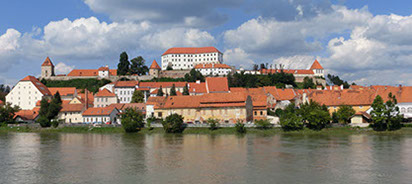 A view upon Ptuj with the castle, from across the Drava River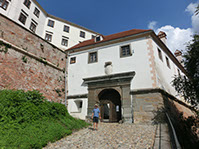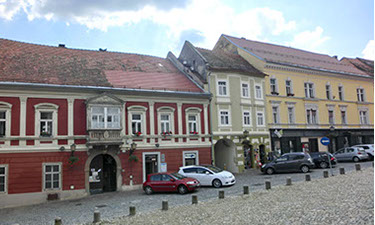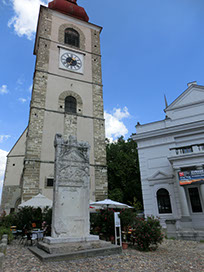 Orpheus Monument, a 2ne-century Roman tombstone with scenes from the Orpheus Myth
Minorite Monastery, with its 17th century plague pillar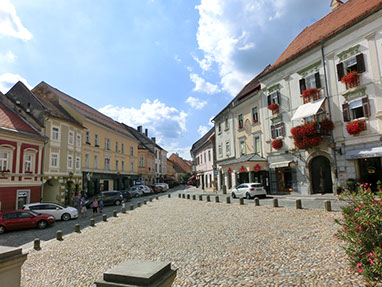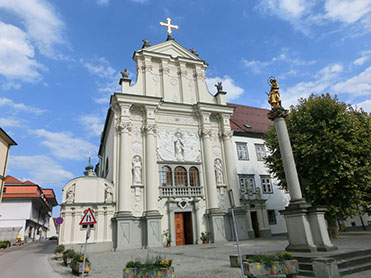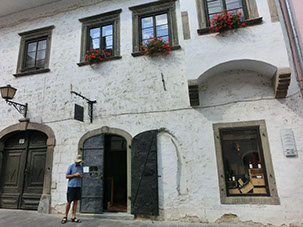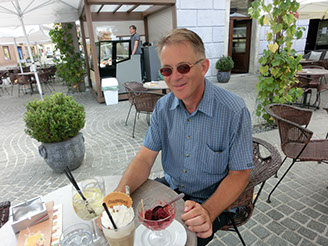 Enjoying delicious ice cream (sladoled) at Evropa Bar with a virgin Hugo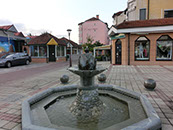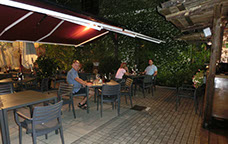 Restavracja Eksperiment S: a real treat with delicious prepared grilled squid with white wine for 12 euros...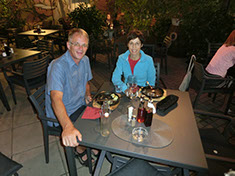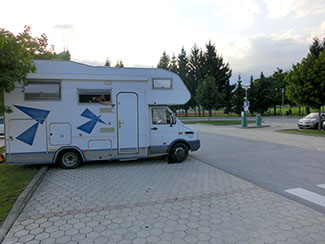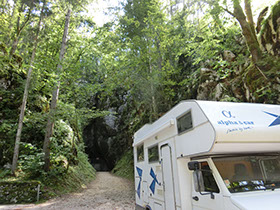 Križna Cave: this is a still pretty natural cave compared to the next ones we visited without electric lighting and with a subterranean boat ride. Fossilised cave-bear bones found inside this cave. And we were only 7 visitors on this tour, with an excellent guide.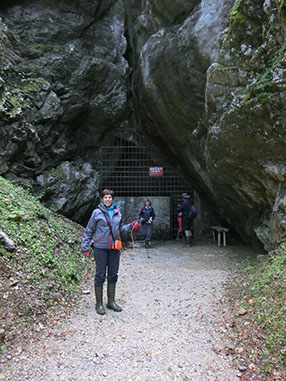 Our guide Jozip had a real big shot gun -which he hid for the picture- for our bear watching tour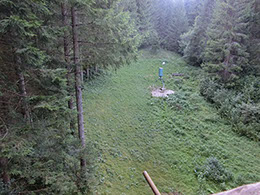 We stared at this clearing for 2,5 hours before viewing a bear from our raised hide almost in the darkness...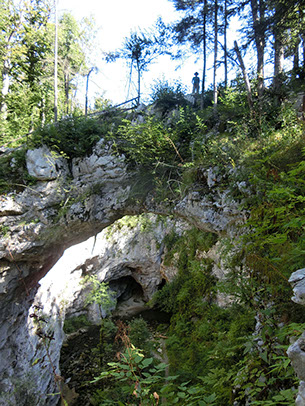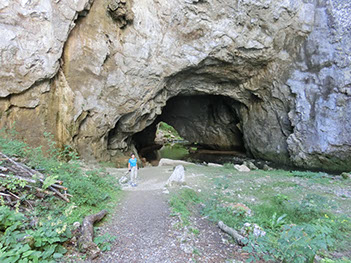 The little Natural Bridge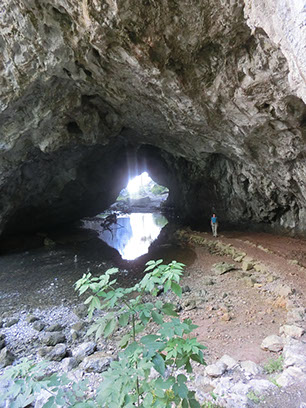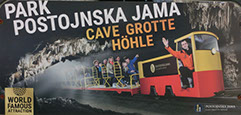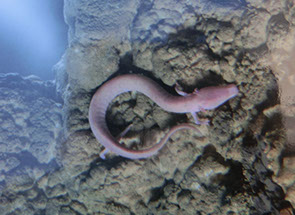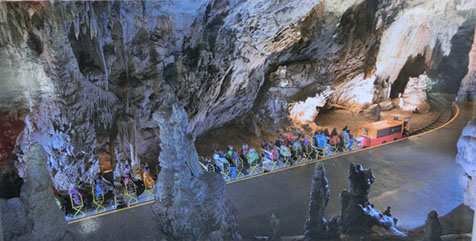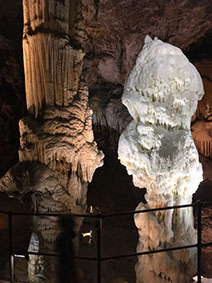 The Proteus anguinus, or olm, is a kind of white salamander about 20 cm long that lives in the hidden in the pitch black for up to a century and can go a decade without food!
Train ride through the Postojna Cave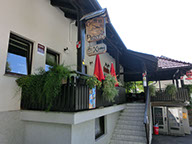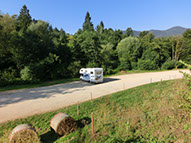 Dinner at the Golstilna Požar and overnight at the nice aire
Second cave castle, a secret passage,through which the besieged knight was connected with the outside world, lots of interesting things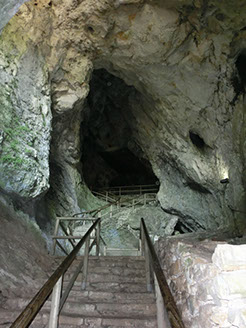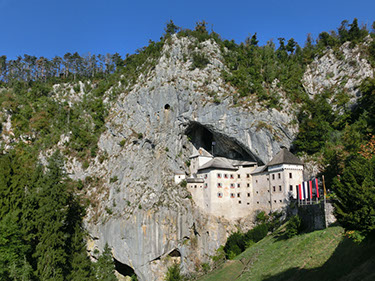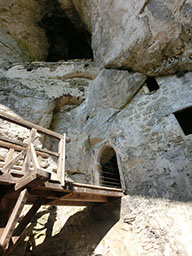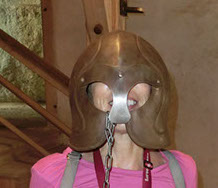 Predjama Casle stang in a cave halfway up a 127m cliff and is really impressive!
Julia tried a Medieval helmets...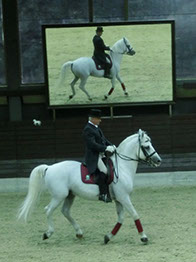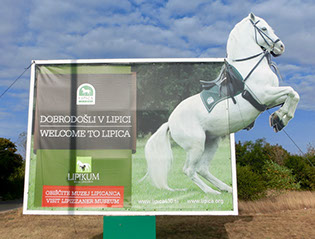 The white Lipizzaner horses were first bred here for the Spanish Riding School in Vienna in the late 16th century. Andalusian horse from Spain were coupled with the local Karst breed that the Romans had once used to pull chariots. Then white Arabien horses also got into the act.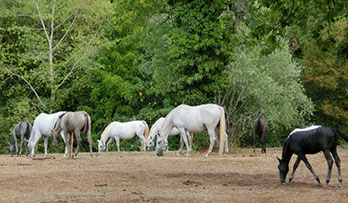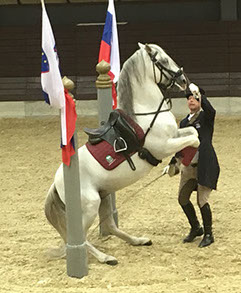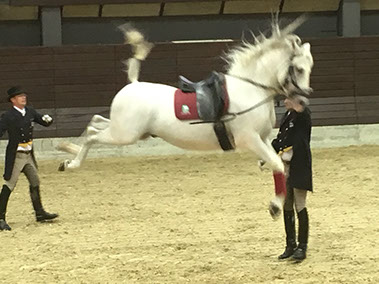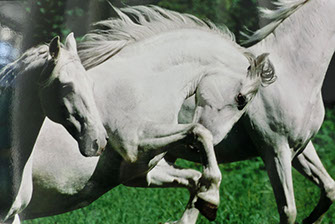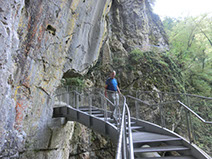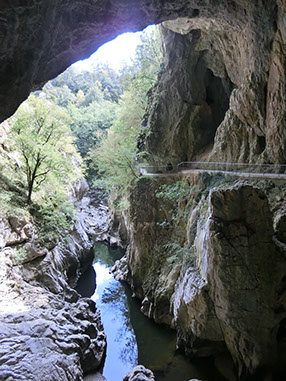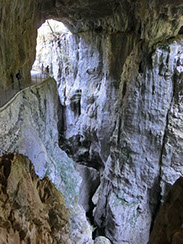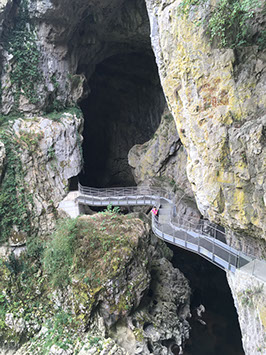 Canyon and gorge under the village of Škocjan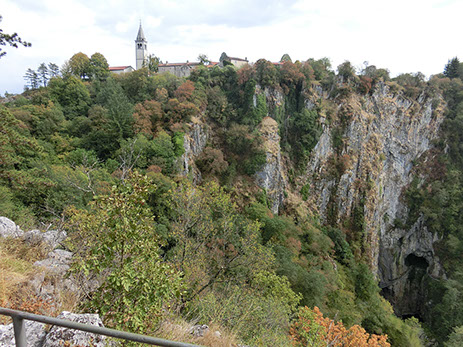 The village of Škocjan stands upon the underground huge canyon. The Reka River (= River River) enters a gorge below the village and eventually flows into the Dead Lake at the end of the cave where it disappears. It surfaces again as the Timavo River at Duino in italy, 34km northwest, before emptying into the Gulf of Trieste.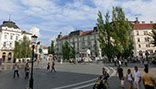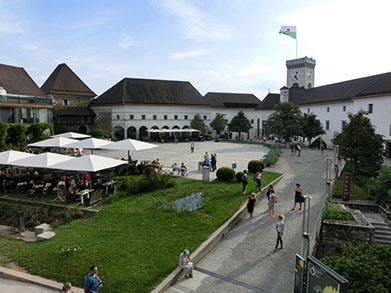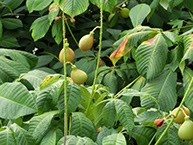 I don't know what this fruit/vegetable is ... do you?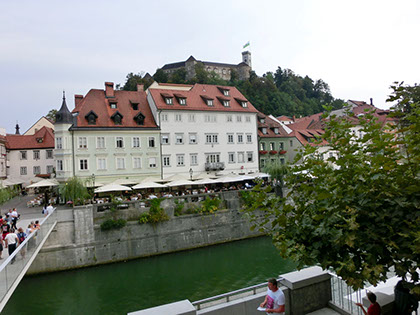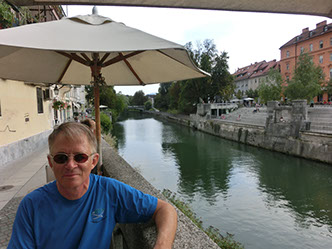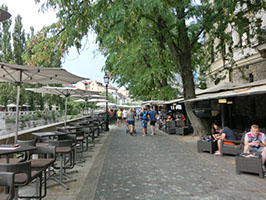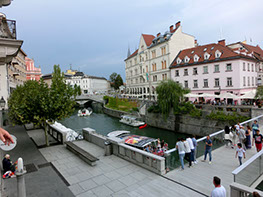 Many nice cafés and restaurants along Ljubljanica River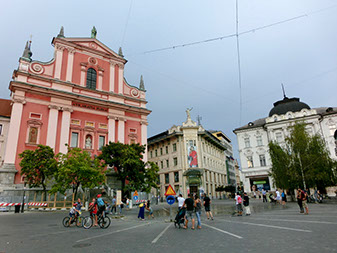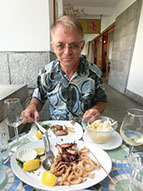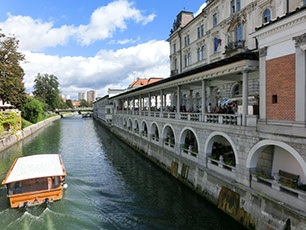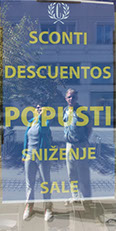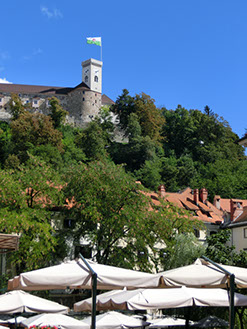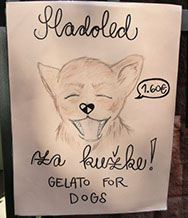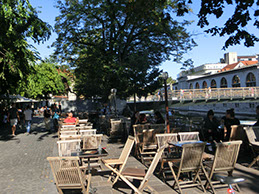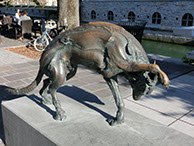 Very good seafood at Ribca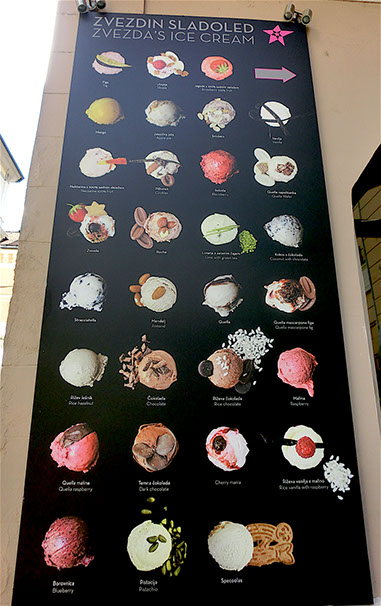 Ljubljana: the capital of ice cream; I never saw such a variety of ice cream and so many stands and shops offering so much of it as here! Even for dogs...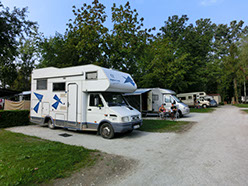 Saturday 27.08.2016: Logarska Dolina - Maribor (alt 300m): 137 km, sunny and hot 30ºC
Nice drive, first along the Savinja River and some narrow gorges then on the motorway through Celje to Maribor. We wanted to park at the cable car in Maribor but there was some event going on (this is the last weekend of the Slovenian school holidays) and so we went to the camping Kekec just down the road. It is nice, spacious, has 2 washing machines, so we did our laundry, had lunch/dinner. Our fridge was making us crazy because it was making a sound of error every 2 minutes, but suddenly, 4 hours later it stopped. So we hope it is ok now! We wanted to take the bus into Maribor in the evening but we were too tired. N46º32'10" E15º36'19"
Sunday 28.08.2016: Maribor: sunny and hot 30ºC
After our Sunday breakfast we took the bus #6 into town (1,10€ pax) and did sightseeing with an ice cream, a drink, and a lunch stop (Grill Ranca, 12 €).
Monday 29.08.2016: Maribor - Terme Radinci - Terme Banovci (alt 260m): 75 km, cloudy, hot 32ºC
Drive first to Terme Radinci which we didn't like so much for staying then to Terme Banovci where we decided to settle at the FKK campground with direct access to the FKK thermal water features (15€ pax without electricity but with access to the spa complex). We travelled through the various spa features, had an ice cream, beer. N46º34'23" E16º10'19"
Tuesday 30.08.2016: Banovci Terme - Ptuj - Žalec (alt 279m): 132 km, sunny, warm 29ºC
At 9 am we were again in the warm waters of the spa. Then we drove to the nearby floating mill of Babič (1€ pax) which is really impressive and still working on the Mura River. Then drive to Ptuj, a nice little town where we had really good ice cream at the Evropa Bar before hitting the road towards west, because tomorrow in the evening we want to see the bears in Lož. We stopped for overnight in Žalec and had a delicious dinner with grilled squids and white wine for 11,29€ (!) at the Restavracija Eksperiment S on Šlandrov trg 23 (they even served us the one portion squid already served in two cast iron pans, very nicely presented!). Overnight at N46º15'12" E15º9'46"
Wednesday 31.08.2016: Žalec - Lož (alt 590m): 133 km, 24ºC sunny
Drive to the cave "Križna jama" (8€ pax), for a tour of 1,5h with a very good guide. The interesting feature of this cave is that it is not lit, you go with a torch and that bones of cave bears were found in there. These bears were 10 times larger than the brown bears living here nowadays. At 6pm we went to the TIC to have our bear watching tour. We went to a raised hide in the woods and waited for 2,5 hours in complete silence to finally barely see one bear at 8:40pm when it was almost completely dark. But it was worthwhile anyway. Overnight at the church/cemetery N45º43'44" E14º28'29".
Thursday 1.9.2016: Lož - Rakov Škocjan Gorge - Postojna Cave - Predjama Castle (alt 490m): 44km, 26ºC sunny
Hike through the Rakov Škocjan Gorge (7,7 km, 3,5h, 300m ascent). The Rak River, en route to join the Pivka River at Planina Cave, has sculpted 2.5km of hollows, caves, springs and rocky arches, including the Veliki and Mali Naravni Most, the Big and Little Natural Bridges. Then we drove to the Postojna Cave complex which is very developed, so completely different from the Križna jama we visited yesterday! The special thing about this one is the train ride in the cave (entrance fee for the cave + Vivarium Proteus + Predjama Grad: 35€ pax). We visited the Vivarium first because we wanted to see the so called "human fish, the blind eel-like Proteus anguinus, or olm, a kind of white salamander; it lives hidden in the pitch black for up to a century and can go a decade without food! After the Vivarium visit and the 5pm cave visit we drove to Predjama Castle where we parked at the parking for campers (very quiet) and had dinner at Gostilna Prožar (28€) with superb views to the incredible castle which we intend to visit tomorrow. N45º48'45" E14º7'46"
Friday 2.9.2016: Predjama Castle - Lipica (alt 410m): 51 km, 31ºC, sunny and hot but low humidity
We were the first visitors at Predjama castle this morning! It's a great castle, like in the books I read when I was a child. We then drove to Lipica Stud Farm where we took the tour with a guide who explained the farm's unique heritage and the breeding of the horses, visiting the stables and learning a lot about the Lipizzaner horses, then at 3pm we had a horse dressage (high riding school) presentation (23€ pax). Overnight at the parking N45º40'8" E13º53'5"
Saturday 3.9.3016: Lipica - Škocjan Cave - Ljubljana (alt 300m): 103 km, sunny and hot 30ºc
Visit of the Škocjan Cave Tour 1 and 2 (21€ pax), very interesting, this time it was a huge underground canyon the main feature. After a lean lunch at the "Mahnič Gostilna v parku" Volker went for the hike along the Reka River -Reka means River ;o)- (2,5 hours, 9,9km, 360m ascent ). Drive to Ljubljana where we stayed at the aire of Vrbinc next to the restaurant (20€ for the first night with electricity, 15€ if you stay 2 or more nights; noisy because of the nearby motorway). N46º1'16" E14º31'23"
Sunday 4.9.2016: Ljubljana: from one aire to the campground Ljubljana Resort (291m): 12 km, 29ºC sunny and warm
We arrived pretty early at the campground and did our laundry. Lunch at the campground restaurant (0k, but expensive, especially the Radenska fizzy water for 7€, very unusual!). At 4pm we took our bicycles and drove to the city centre of Ljubljana (about 5km one way). There was a lot of atmosphere here in town, we went up with the funicular to the castle, and had a drink at Café Romeo along the the Ljubljanica River and and ice cream before biking back as the weather was menacing to get bad and we would have to be back before daylight was gone (7:34pm). N46º5'53" E14º31'7"
Monday 5.9.2016: Ljubljana: better weather then expected, 21ºC, cloudy, sometines sunny then very warm.
After some little rain during the night, we spent the morning with thawing the fridge, playing, sewing etc. In the afternoon we took a taxi from the campground -they have a system of voucher for 5,50€ one way with Laguna taxi to the city centre- and we went to the Restaurant Ribca, a basement seafood bar along the river near the fish market. We had a delicious plate with squid for 2 with wine (very good 31€). Then we walked through the old town, visited the National and University Library, and wandered around. You would die if you would have ice cream at each place where they have some, and they do have all kind of flavours you never hear of! And... they are mostly delicious! Back at 7pm with taxi.
Tuesday 6.9.2016: Ljubljana - 20ºC rainy
After Julia packed for London in the morning we drove to the huge Shopping Centre City Park where we had a delicious lunch at a Thai restaurant on the first floor. Overnight at the same camping.
Wedsnesday 7.9.2016: Lubljana - Kransja Gora: 118km, 30ºC
Julia flight to London, Volker drive to Kransja Gora.