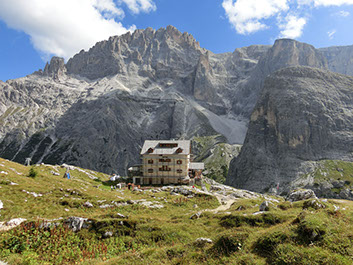 Through the spectacular scenery of the Drei-Zinnen in the Dolomiti with the Rifugio Zsigmondy and the Drei-Zinnen-Hütte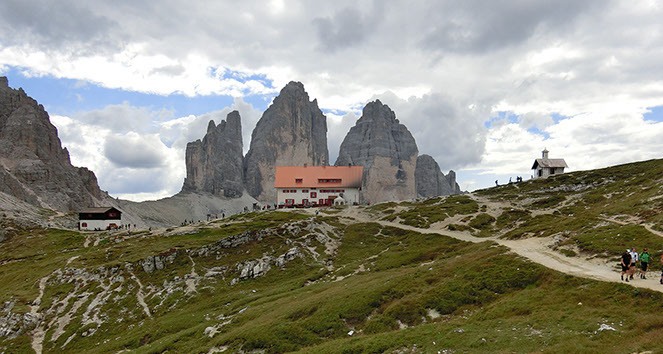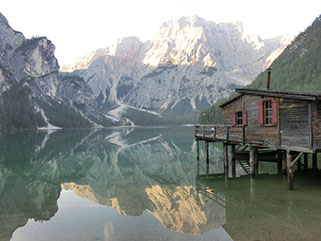 1400 m ascent from the Pragser Wildsee to the Seekofel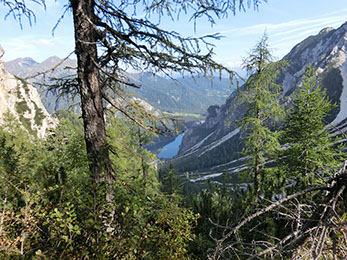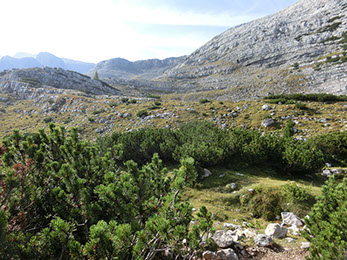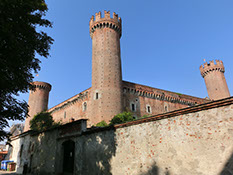 The huge castle with 3 towers (after one collapsed after a lightning)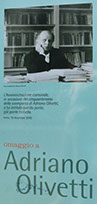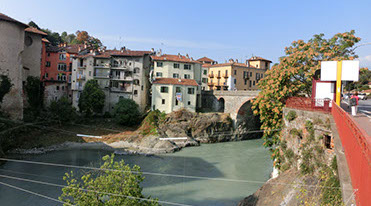 Our aire in Ivrea next to the river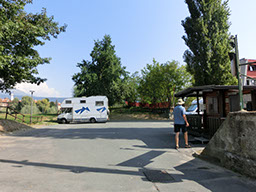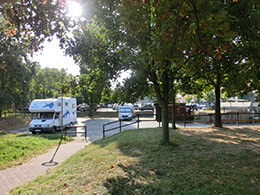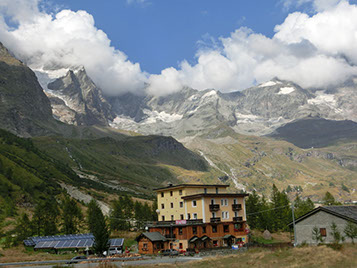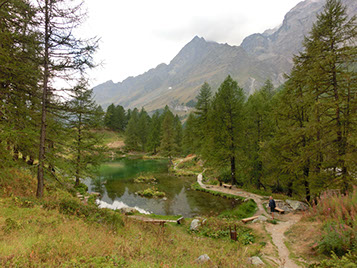 Our aire with the Matterhorn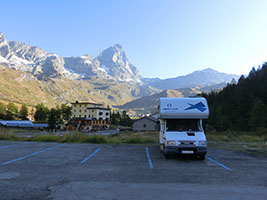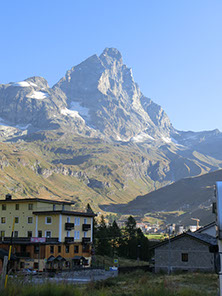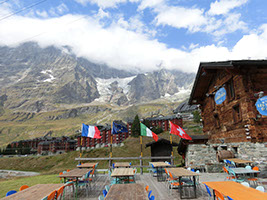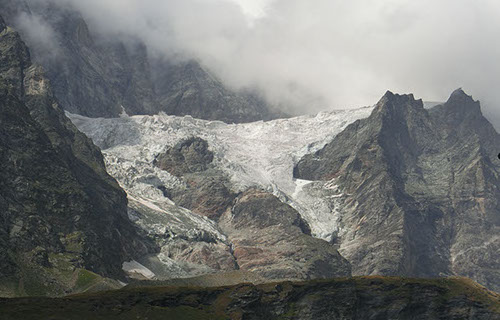 Hike up the trail # 17 and 18 along the former bob sleigh run and the train rail
A drink at the Rifugio "Les Skieurs d'Antan almost down in towm




The wide valley narrows to a rocky gorge, very impressive: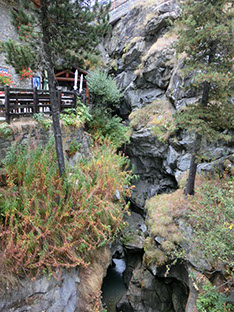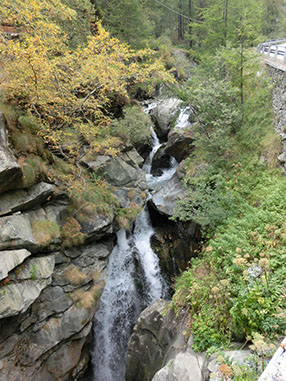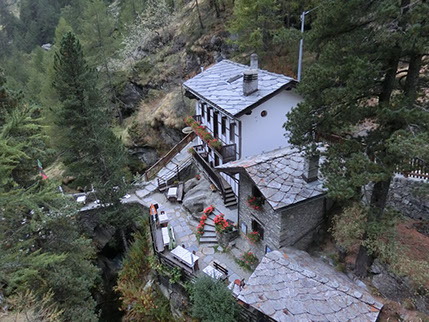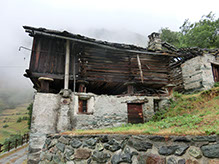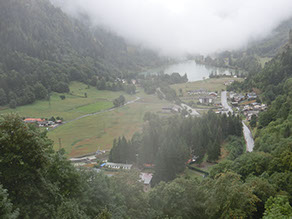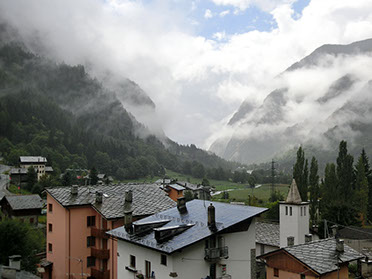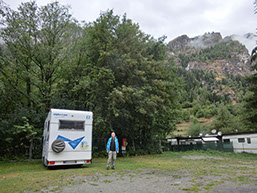 A traditional Walser house in La Venaz
Walk down from Valtournenche or Paquier
View over the Lake of Mael from La Venaz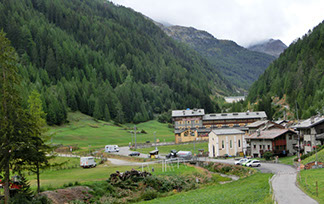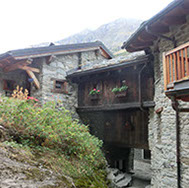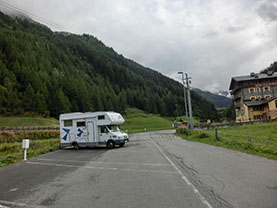 Valgrisenche has a perfect aire with electricity, very quiet and close to the cute town and trail heads (free of charge!)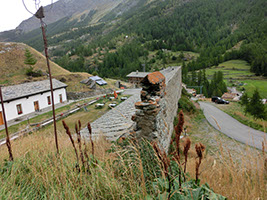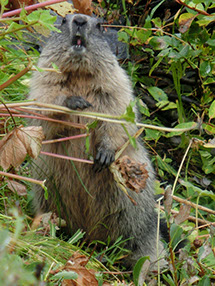 A great picture Volker shot of a marmot on our way up to Rifugio Bezzi

Dam and Lago di Beauregard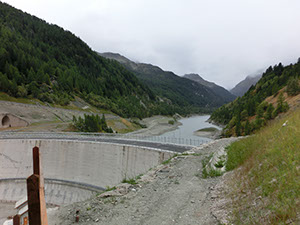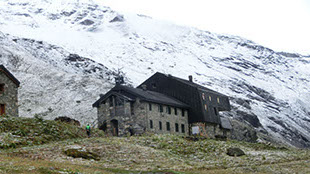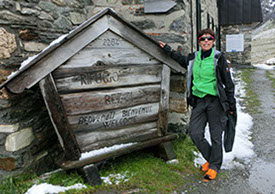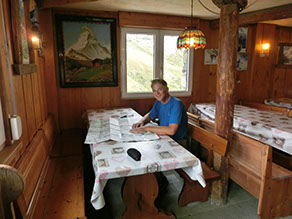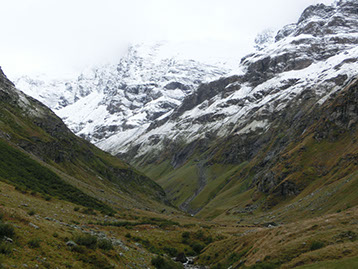 Our hike to Rifugio Bezzi
Julia's new eye hurting orange trekking sneakers, but so comfy!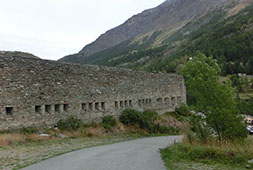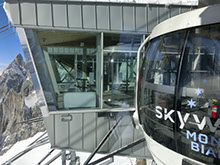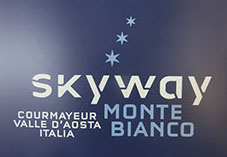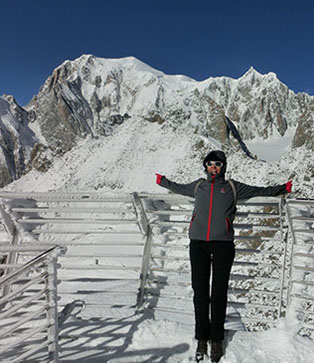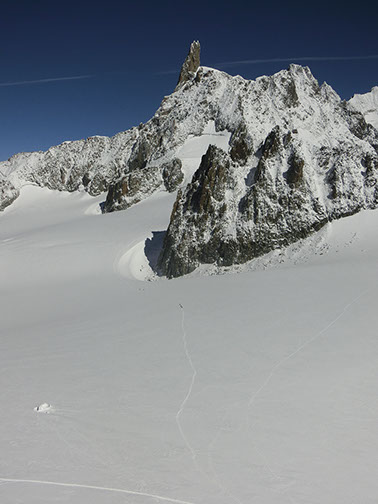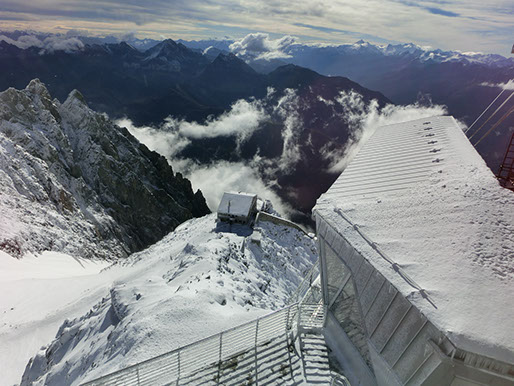 Cable car reaching the highest point:
Punta Helbronner 3.466 m
There was a direct access through the rock by lift and corridor to the Rifugio Torino 100 m below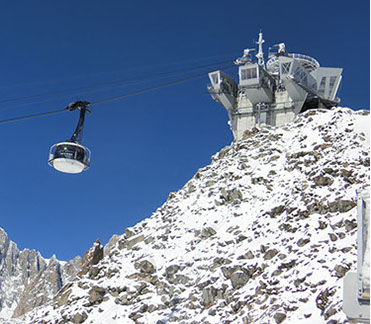 Monte Bianco or Mont Blanc 4.810 m
People walking on the glacier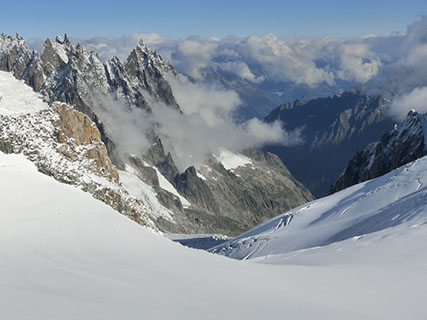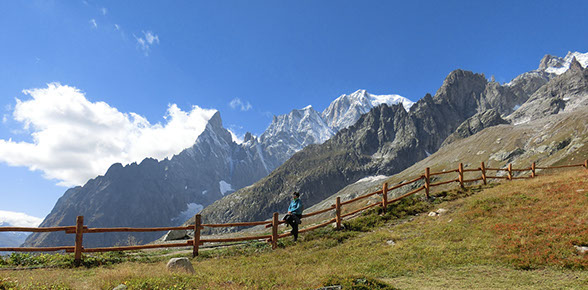 View from the botanical garden (Saussurea Garden) at 2180 m altitude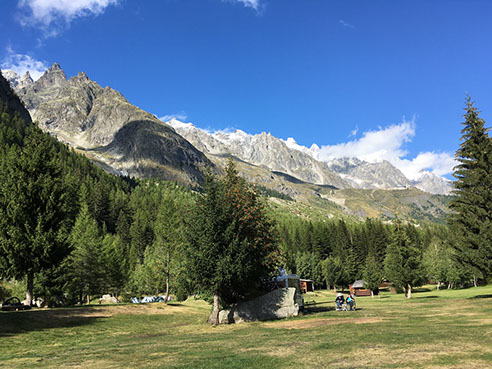 Camping La Sorgente, Peuterey/Courmayeur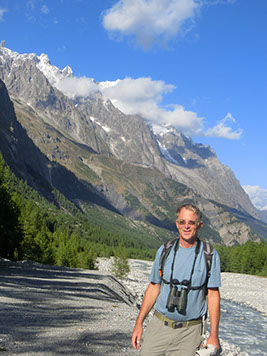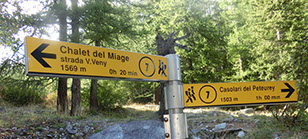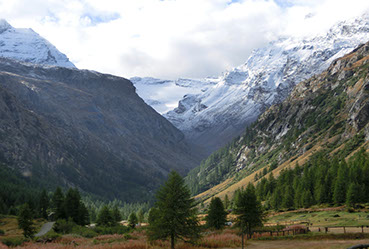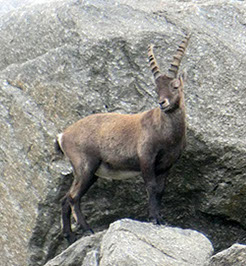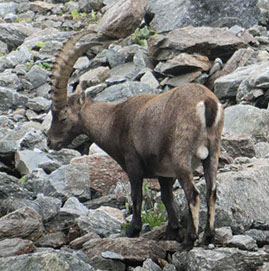 Pont at the end of Vasavarenche
This huge Roman bridge and aqueduct was built in the 3rd century B.C.!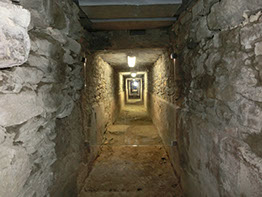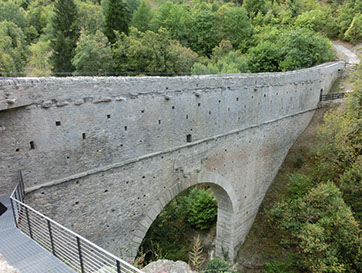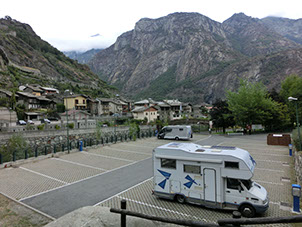 Our aire at Hône, close to the Bard Fort and the view across the river onto the village and the crazy road towards Champorcher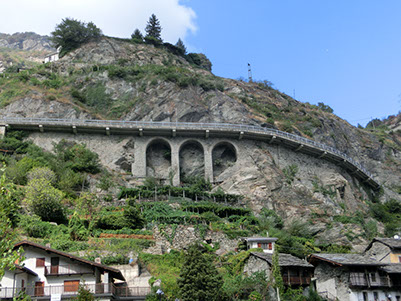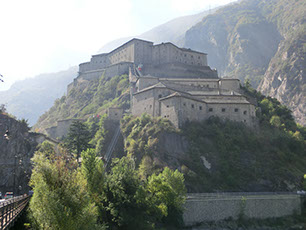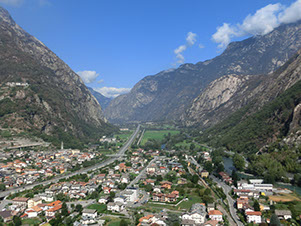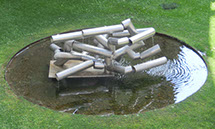 Moving water sculputre in the fortress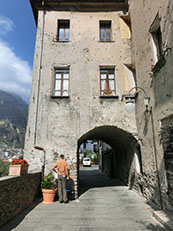 View to the Aosta Valley from the Forte di Bard
The village of Bard. The main part of the building o the left picture once housed the village's gates, was pulled down at the beginning of the 18th century on Napoleon's orders. It is still possible to see the signs of gun shots on the outside walls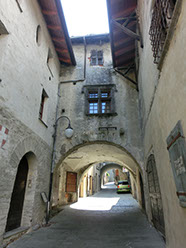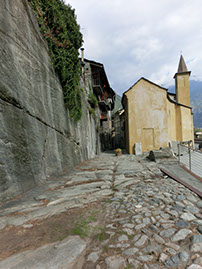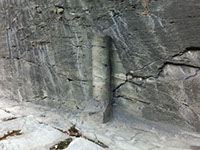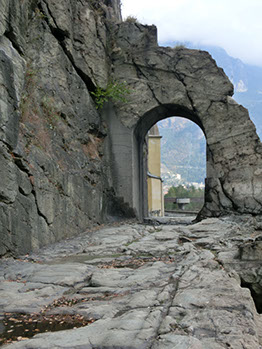 The arch is a vestige of the Via delle Gallie. It was constructed in the 1st c. B.C. and carved out of the rock.
A Roman milestone marks the XXXVI milia passuum from Augusta Praetoria
As usual, you can see the deep parallel tracks of the passage of wagons
The road goes straight to the "modern" village of Donnas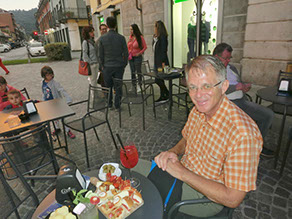 Aperol Spritz with lots of stuff to eat, but afterwards we had dinner at a so-called Japanese buffet restaurant across our aire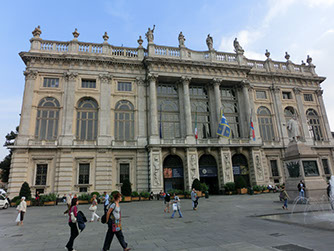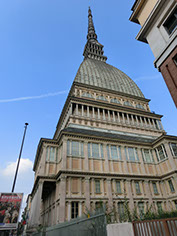 Mole Antonelliana: Originally commissioned as a Synagogue in 1889 it was the highest brickt building in the world (now 167,5m). It is the symbol of the city of Turin and is depicted on the 2 cts coins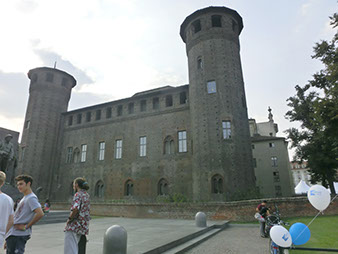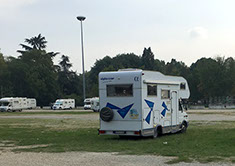 The huge aire in Turin, well located and free of charge
Thursday 8.9.2016: Kranja Gora, Slovenia - Misurina Lake/Dolomiti/Fruli, Italy (alt 1400m): 175 km, 25ºC sunny
Friday 9.9.2016: Misurina Lake - Fischlein Boden - Bruneck/Pustertal/Alto Adige or Südtirol (alt 750m): 86 km, 28ºC sunny
Saturday 10.09.2016: Bruneck - Tramin (alt 265m): 160 km - 30ºC, sunny
Sunday 11.9.2016: Tramin - Torino/Piemonte: 412 km
Monday 12.09.2016 : Torino - Ivrea: 121 km, 32ºC
Julia arrived from Brussels. Drive to Ivrea N45º27'48" E7º52'35"
Tuesday 13.09.2016: Ivrea - Breuil-Cervinia/Aosta (alt 20oo m): 77 km, 24ºC, sunny with clouds during the day
Sightseeing of Ivrea. Drive to Breuil-Cervinia, one of the secondary valleys of the Aostatal. Aire 7€ N45º55'34" E7º37'14"
Wednesday 14.09.2016: Breuil-Cervinia - Mael CG (alt 1300 m): 11 km, 17º sunny then cloudy and 19ºC in Mael
Hike up the trail #17 along the former bobsleigh run which was built in 1963, then higher up with beautiful panorama views up to various glaciers and the Matterhorn. Back through the town of Breuil-Cervinia where everything was pretty closed. Drive to Mael with a stop at the Gouffre de Busserailles (2€ pax). We settled at the Camping Glair (17,50€/night with electricity because of our f* fridge which doesn't work above 900 meters altitude with gas!) N45º51'43" E7º36'44"
Thursday 15.09.2016: Mael/Valtournenche: 79 km - 15ºC, rainy
Walk up to Paquier or Valtournenche where we bought some discounted hiking gear. Back in Mael we had a delicious capuccino and croissant au chocolat in front of the Hotel Bar Ristorante Punta Cian before going back home and enjoying the late afternoon reading and watching series.
Friday 16.09.2016: Mael/Valtournenche - Valgrisenche (alt 1675 m): 166 km - 13ºC rainy
Drive to Châtillon where we did our laundry at a very good Miele laundry self-service place across a Conad supermarket. Then we drove to Val Grisenche where we settle at a aire of Valgrisenche (free of charge with electricity!! - you only have to pay ,80 ct for the tourist tax) Nobody here tonight, only us. N45º37'33" E7º3º3'46"
Saturday 17.09.2016: Valgrisenche: 10ºC, rainy
Walk into town where we got a walking map. Volker walked to the Rifugio Châlet de l'Epée (4,5h, and had a very good lunch there whereas Julia did a small walk around the village and to the lake di Beauregard.
Sunday 18.09.2016: Valgrisenche - Uselières - Valgrisenches: 16 km - 11ºC rainy then sunny
Drive to Surrier (a ghost village). Walk up to the Rifugio Bezzi (11 km, 500 m ascent, 3,5 hours). We had a drink at the Rifugio which closes tomorrow and only opens in March and April next years again. Down at Surrier we had a hot chocolate with Levi Grappa before heading back to Mondanges which is actually the right name of the aire where we stay.
Monday 19.09.2016: Valgrisenche - Courmayeur (alt 1300 m) - Peuterey (alt 1500 m): 46 km, wonderful weather, sunny but cold
Drive to Courmayeur, parking free of charge just beneath (free of charge) in Pontal d'Entrèves and with the new Skyway -a 360º trip on the roof of Europe for 48€ which are really worthwhile- up to Punta Helbronner at 3.466 m. The cable cars are like the London Eye and make a whole turn. The stations are super modern with platforms and restaurants etc. From there you have wonderful views over to the Monte Bianco or Mont Blanc. In the afternoon we drove to Camping La Sorgente (only 14,50€/night with electricity) which is located in Peutery where we could see the stations, the cable cars, the glaciers and we still did a short walk along the river of the Val Veny. N45º48'24" E6º55'26"
Tuesday 20.09.2016: Courmayeur - Valsavarenche/Bien in Parco Nazionale del Gran Paradiso (alt 1810 m): 58 km, sunny 18ºC
Drive to the Parco Nazionale del Gran Paradiso into the Valley to Valsavarenche. We settled at the Camping Gran Paradiso in Bien (22,5€ with electricity). N45º32'53" E7º12'46"
Wednesday 21.09.2016: P. N. del Gran Paradiso - Aymavilles - Forte di Bard/Hône (alt 386 m): 117 km - 8ºC - 22ºC sunny, short rain falls
Drive up to Pont where Volker hit the trail #3 up to Vallone del Grand Etret (3h20' hours, 620m ascent, hard). Then we drove to Aymavilles and visited the impressive Roman Pont d'Ael form 3 B.C.! Drive to Aosta where we tried to park but very crowded and loud, so we continued our way to Bard, or Hône where we finally found a pleasant aire N45º36'42" E7º43'58" (8€/24h, electricity 1€/4h).
Thursday 22.09.2016: Forte di Bard/Hône - Donnas - Chivasso (alt 196m): 78 km, 18ºC, sunny
Walk the fort and up with 3 modern panoramic elevators to the Forte di Bard. Walk back through the old town of Bard and then back to our camper with a stop at a tiny market where we bought some vegetables for lunch. After lunch we drove 4 km to Donnas to visit the old Roman road with the arch which I found very impressive. In Donnas we bought some Aosta wine and for all the expenses got a voucher for an ice cream at the bar of the shop ;). Drive to Chivasso, grocery shopping at Carrefour which is ideally located across our aire. Walk into town where we had an aperitif at Bar Duomo then we came back to have dinner at a Sushi/Japanese all-you-can-eat restaurant also across the road Shushi KOII (38€). N45º11'6" E7º53'40"
Friday 23.09.2016: Chivasso / Turin (alt 247 m): 34 km - sunny 20ºC
Drive to Dembech RV Repair where we talked to the boss, Walter Dembech. With bus #60 to town centre. Tickets for busses ("pullmann" in Italian have to be bought at tabacchi shops for 1,5€ each and are valid for 90 minutes). Back at Dembech and settled at the park next to the Olympic Stadium N45º2'52" Eº39'18".
Saturday 24.09.2016: Turin: 22ºC sunny
We took the tram #10 (which is really close to our site) into town to buy delicatessen to take home. Then we biked to the Museo Nazionale dell'Automobile (12€ pax) which is really well done and interesting. Lunch at the museum (pretty ok). In the evening we took the bus #14 into town and had dinner the Eatily, a very sought after place for fresh Italian products; the food was delicious, the only odd things was that we had to pay when we ordered the food (46€). Back with taxi (13€).
Sunday 25.09.2016: Turin - Reggia di Venaria Reale - Castello di Rivoli (alt 350m): 24ºC sunny
Drive to Reggia di Venaria Reale which is supposed to be Italy's Versailles. We parked our camper (1€/hour) and went to the ticket booth but the queue was so long that we changed our plans. Instead we took our bicycles and biked through the park next to this castlem, P. N. La Mandria and had lunch there in a place that could have been somewhere in Schleswig-Holstein in North Germany. Unfortunately the gnochetti I ordered where so hot I couldn't eat them... Drive to Castello di Rivoli (6,50 pax), a Savoy castle which is home to a contemporary art museum. The permanent collection has a sizeable number of Atte Povera works, along with pieces from the Transavanguardia, Minimal, Body and Land Art. Its impressive mix of contemporary and baroque architecture, amazing views, and highly engaging, often provocative shows are not dull. N45º4'50" E7º30'39"
Monday 26.09.2016: Julia flight Turin - Barcelona. Volker stays in Turin
Tuesday 27.09.2016: Julia flight Barcelona - Brussels
Wednesday 28.09.2016:
Thursday 29.09.2017:
Friday 30.09.2016: Julia flight Brussels - Faro
Sunday 02.10.2016: Volker back in Loulé
Total: 13.946 km