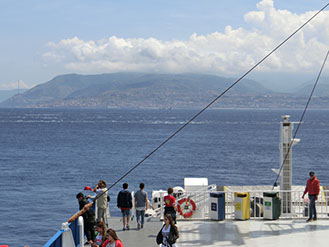 Crossing from Messina (Sicily) to Villa San Giovanni (Calabria)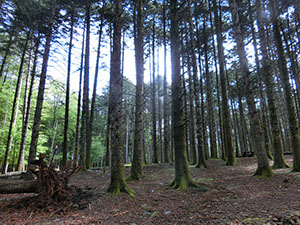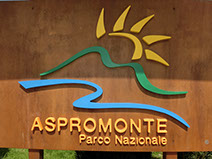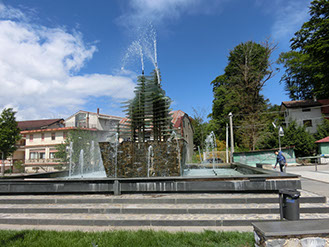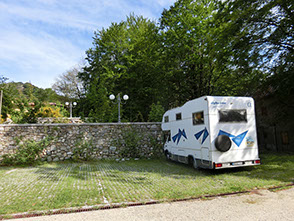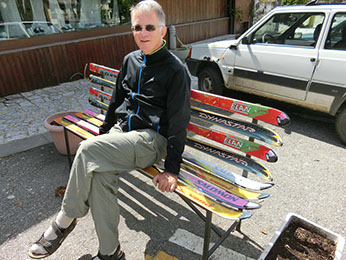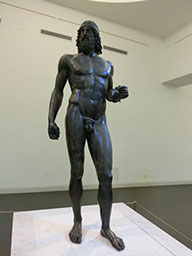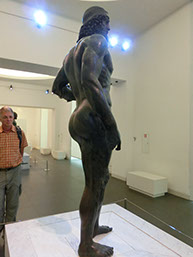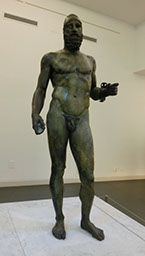 The Bronzi di Riace are the finest examples of ancient Greek sculpture and are displayed at the National Museum. They were found on the seabed near Riace in 1972. Nobody knows who they are -wether human or God- and even their provenance is a mystery. One of the sculptures has an ivory eye and silver teeth!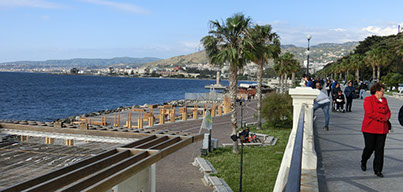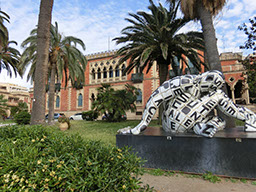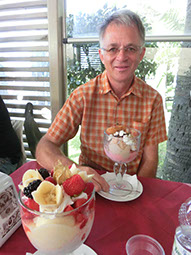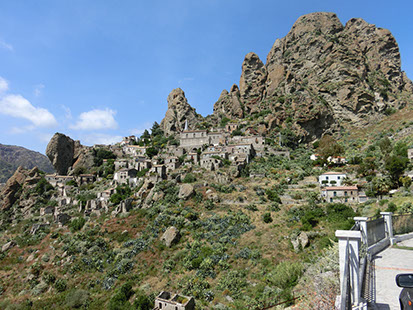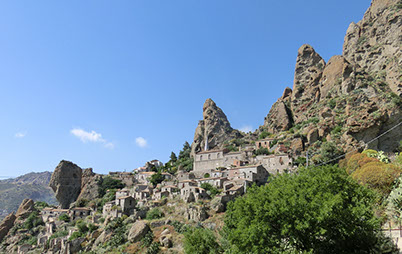 Lovingly preparing our lunch mortadella
Pentedattilo, supposedly a ghost town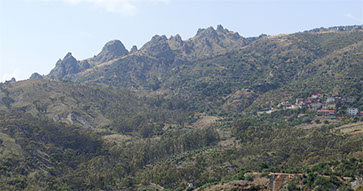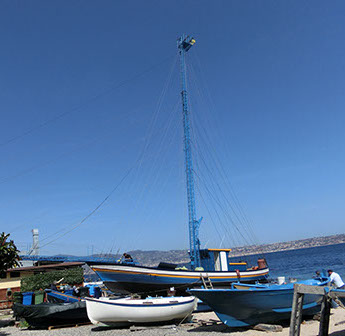 Swordfish harpooning boat in Cannitello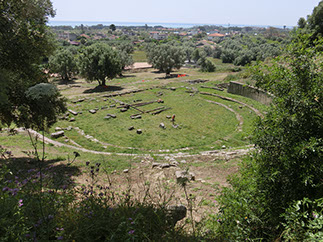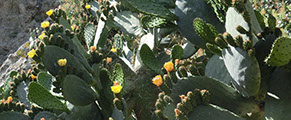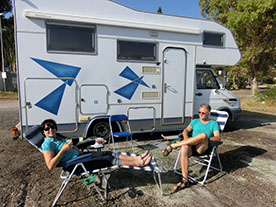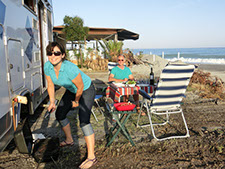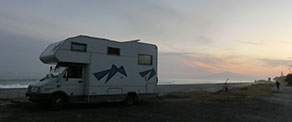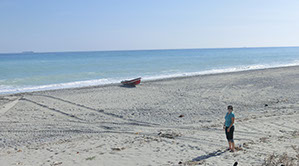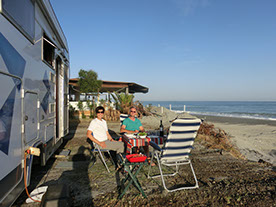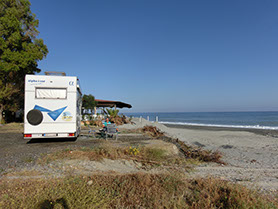 Evening in Marina San Lorenzo
Isabel took care of our BBQ dinner and the drinks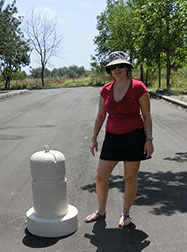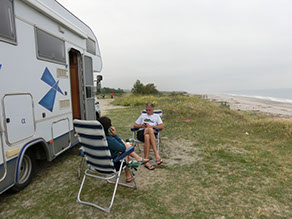 Our day finished at Marina Guadavalle
Isabel thinks these bollards are obscene!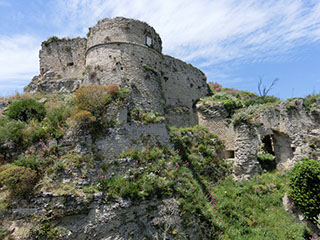 A spectacular medieval hilltown with breathtaking views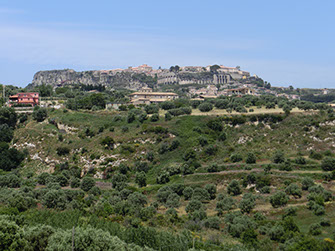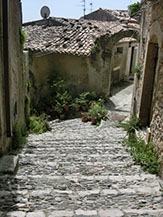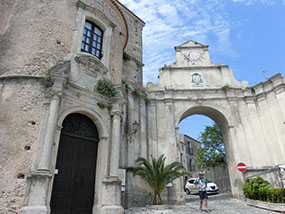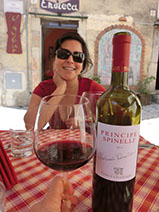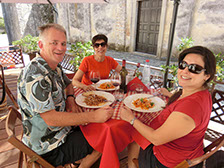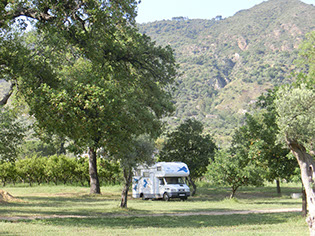 Enjoying the wonderful site at Agroturismo Modi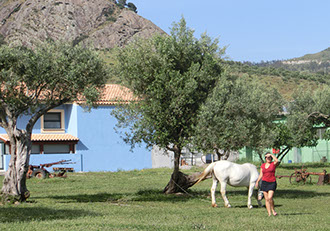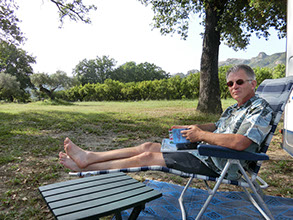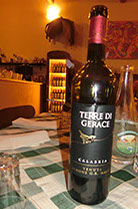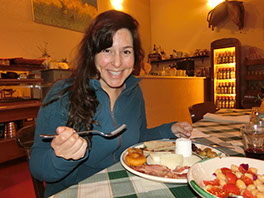 Agroturismo Modi or Barone Macrì: Dinner at the restaurant and cheese testing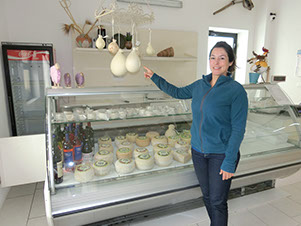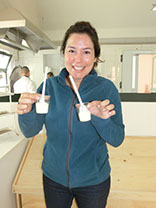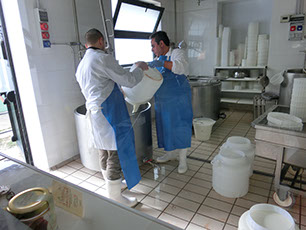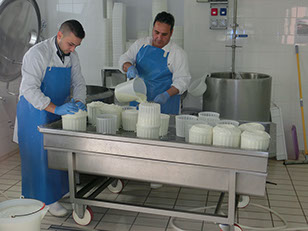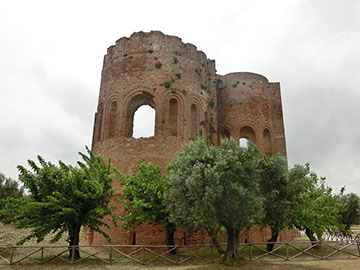 Demonstration of the production of ricotta
Santa Maria della Roccella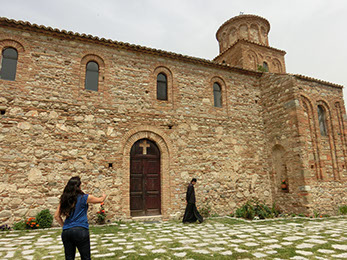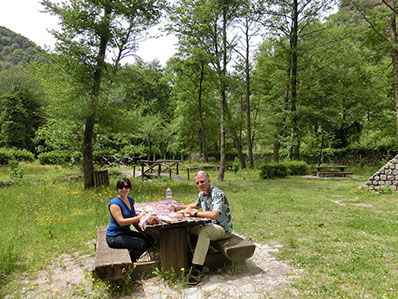 Monastery of San Giovanni Teresitìs from the 11th century AD. It is now a Greek orthodox church with a few monks living there, as you can see on the picture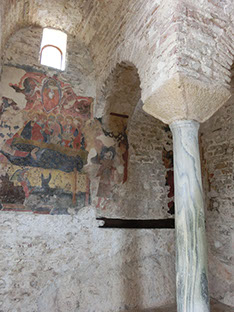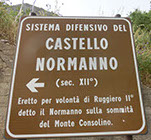 High up the hill is the Norman castle, and it was not easy to get up there!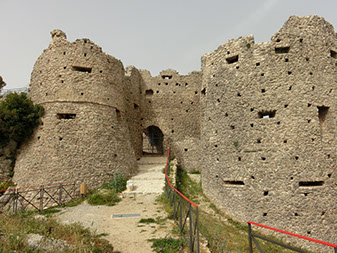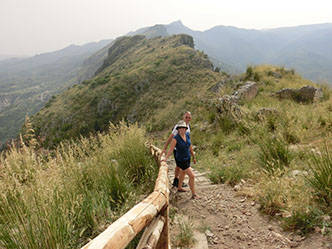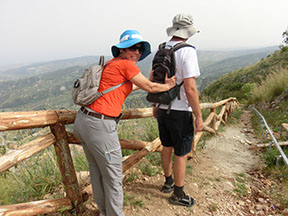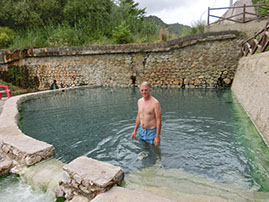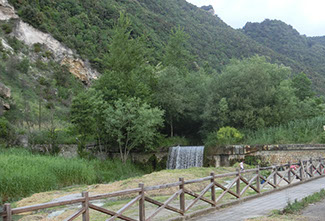 Hot springs at Terme Caronte
Overnight in the woods at Lido La Riviera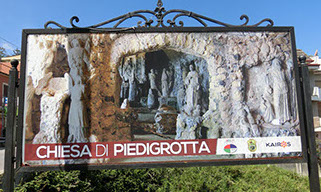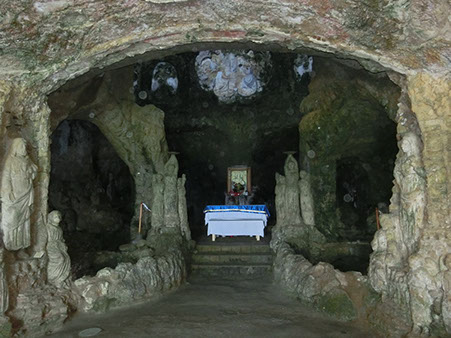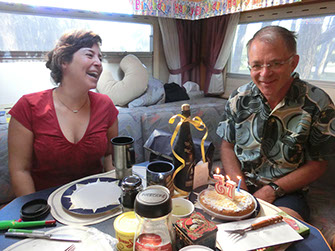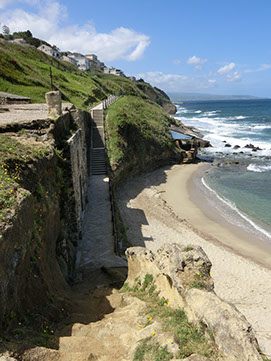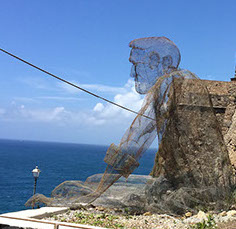 An interesting mesh statue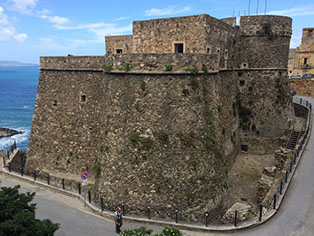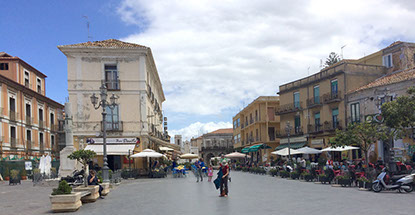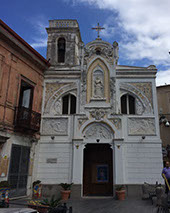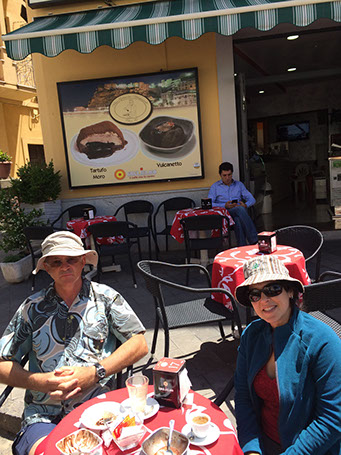 Pizzo is famous for its tartufo, so we had each a different kind of tartufo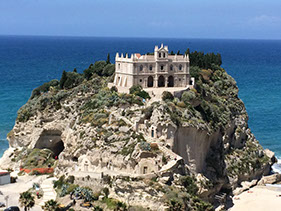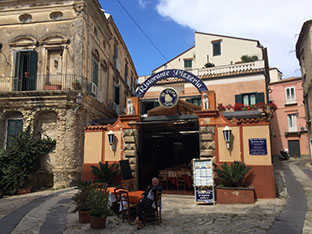 Lunch at Ristorante Pizzeria La Perla Nera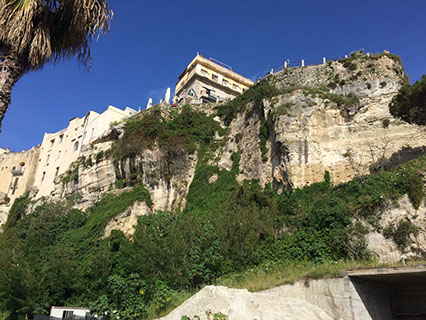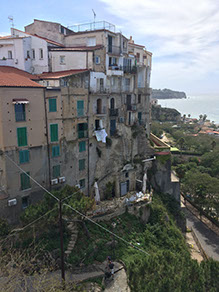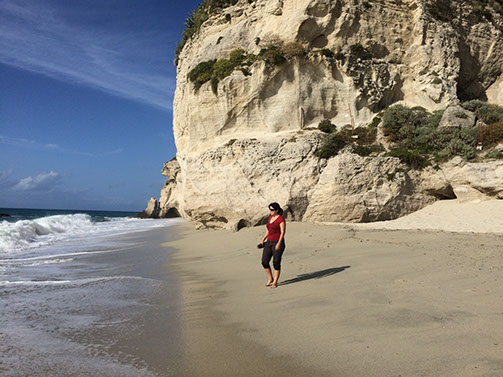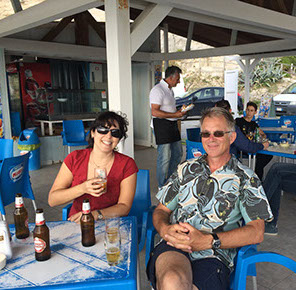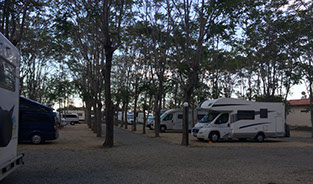 Sosta Camper Da Ciccio, Tropea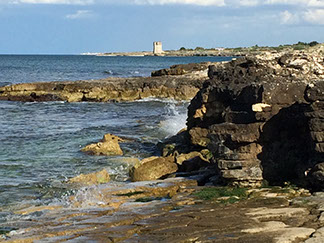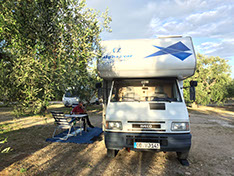 The coast between Bisceglie and Molfetta, Puglia, and our overnight place in Campeggio Estivo Brezza Tra Gli Ulivi
Saturday 7.5.2016: Terme Vigliatore (Sicily) - Gamberie (1336 m) - N.P. Aspromonte (Calabria): 96 km, sunny 21ºC on the coast, 15ºC in the mountains
Drive to Messina where we took the ferry Caronte & Tourist - Autotraghetti Stretto di Messina (56,56€ one way) to Villa San Giovanni (20 minutes on a large ferry). Drive to Gambarie in the Parco Nazionale dell Aspromonte. This town looks like a ghost town, everything closed, but we managed to find a good restaurant: Al Terrazzo (45€, very good). We found a nice place to stay -we were alone for the whole afternoon: N38º9'58" E15º50'8".
Sunday 8.5.2016: Gambarie/N.P. Aspromonte - Reggio di Calabria - Cannitello: 60km, sunny but windy 20ºC
A short walk into the nice woods in Gambarie before driving down to the coast. What a contrast with the traffic which got completely crazy at the cemetery on the east side of Reggio di Calabria, probably because today is a religious holiday. Drive down to the lungomare (the promenade on the waterfront) where it was even worse and we couldn't find a parking space. We drove north past the harbour and found an empty parking at "varco nord" -just not quiet because of the motorway and the train. We called a taxi that drove us to the Museo Nazionale die Reggio di Calabria (8€ pax) where the Bronzi di Riace are displayed, probably the world's finest examples of ancient Greek sculpture. These are two extraordinary bronze statues discovered on the seabed near Riace in 1972 by a snorkelling chemist from Rome. You have to stand for 4 minutes in a decontamination chamber to see the bronzes. After that we had a coffee just on the next corner of the Museum and then we strolled with the mass of peoples through Corso Garibaldi where some shops were opened today and then along the lungomare. And, yes, we had our daily ice cream ration at SottoZero. We walked back to our camper and then drove up to the lighthouse of Cannitello where we settled for overnight at the parking with spectacular views to Sicily: N38º13'51.2 E15º38'09.4"
Monday 9.5.2016: Cannitello - Reggio di Calabria Airport - Marina di San Lorenzo: 73 km, sunny 22ºC
Drive to pick up our daughter from the airport in Reggio di Calabria at 11:15 -a very tiny airport! Drive to Pentedattilo, a ghost town on an impressive landscape. Shopping at the at San Leo, then drive to the coast to Marina die San Lorenzo where we enjoyed a delicious barbecue all together. N37º55'8.2" E15º49'37.7"
Tuesday 10.5.2016: Marina di San Lorenzo - Gerace - Modi / Bagni (116 m) : km, 22ºC sunny
Drive to the Greek Theatre near Locri and then to the hill town Gerace. Lunch at La Cantina del Barone Enoteca Ristorante (47€) and afterwards ice cream before driving to a Fattore Amico Agroturismo Modi, a beautiful place. N38.26575º; E16.18623º
Wednesday 11.5.2016: Modi - San Giovani Therestis - Stilo / Cattolica : Marina Guadavalle: 105 km, sunny and hazy, 24ºC
In the morning we were shown -by a very nice young man who enjoyed to have two ladies, especially Isabel, of course- how ricotta and pecorino cheese are produced. After buying some things we drove to San Giovani Therestis where we visited the Italian-Greek cloister. Then we drove to Stilo where we visited the very interesting, a Byzantine church Cattolica dating from 11th century AD. Then we hiked up to the Norman castle (1h45 hours, 330m ascent, Rother Wanderbuch ). We finished our day at the seafront in Marina Guadavalle. N38º29'2.6" E16º34'47.5"
Thursday 12.5.2016: Marina Guadavalle - Terme Caronte - Lido La Riviera at km 388,2: 142 km, sunny 22ºC
Happy Anniversary to Julia and Volker who are married for 27 years! Drive to Parco Archeologico di Scolacium with the ruins of a church "Santa Maria delle Roccella", a Greek amphitheatre and a Roman Forum. Grocery shopping at EuroSpin, drive to Terme Caronte where we enjoyed a nice dip in the hot springs. Then drive to Lido La Riviera at km 388 between Maida Marina and Pizzo. We had dinner at the Ristorante Bar Pizzeria Lido La Riviera (good pizza and pasta with nduja, a sort of hot sausage, 42€). We stayed in a wonderful forest, but the strange thing was that there were many men driving around alone in their car... We still don't understand, apart from the fact that the next day there were some special "ladies" waiting along the main road. N38º49'20.5" E16º13'4.0"
Friday 13.5.2016: Lido La Riviera - Pizzo - Tropeia: 53 km, sunny 21ºC
Today is Volker's birthday! We celebrated with cake and presents, as usual. Drive to Chiesa di Pedigrotta near Pizzo. Visit of the lovely hill town of Pizzo where we had each a Tartufo which is the speciality of this town. Drive to Tropeia where we settled for overnight at the Sosta Camper . N38º40'43" E15º53'42"
Saturday 14.5.2016: Tropeia - Lamezia Terme Airport (Calabria) - Molfetta/Bisceglie (Puglia): 451 km, mixed weather 20ºC
Isabel is leaving us today, flying from Lamezia Terme Airport (larger than the Reggio di Calabria airport!). We had to get up at 6am to be on time at the airport in Lamezia Terme. After that we continued north, made a stop at a petrol station and had coffee and a sweet snack at the Martucci Pasticceria. A detour to the Shopping Centre at Casamassima near Brindisi where we had lunch at a Neapolitan restaurant and Julia bought some things at Decathlon. Drive to the Campeggio Campo Estivo Brezza Tra Gli Ulivi - Bisceglie N41º13'40" E16º32'13"