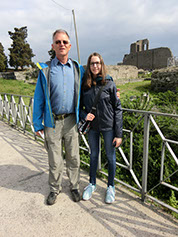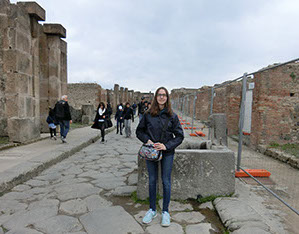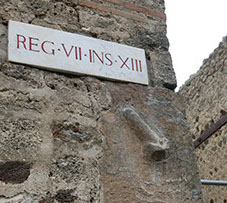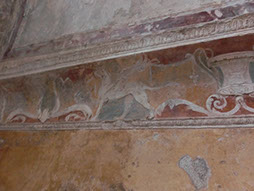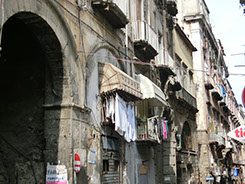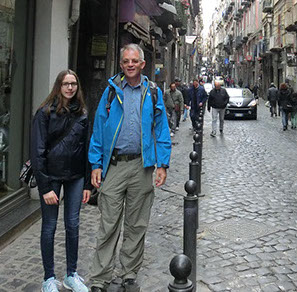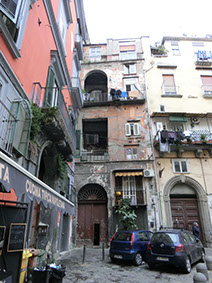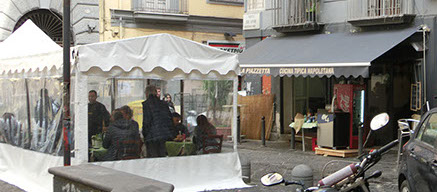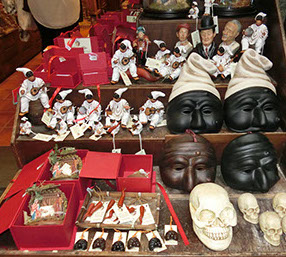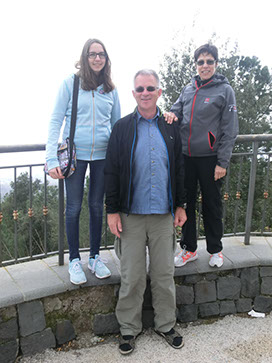 Typical but strange souvenirs in Naples
Half way up to Mt Vesuvius, at the terrace of the former Funicular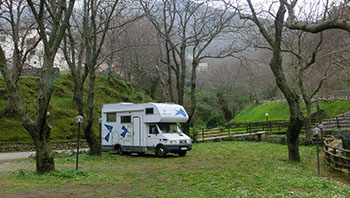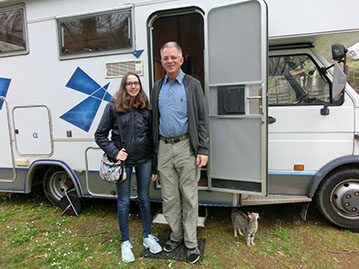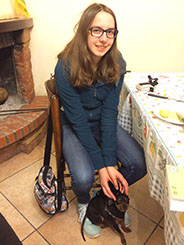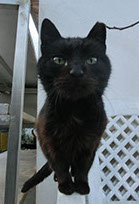 There must be something special with Rebecca's feet because most of the animals we encountered loved to sit on her foot!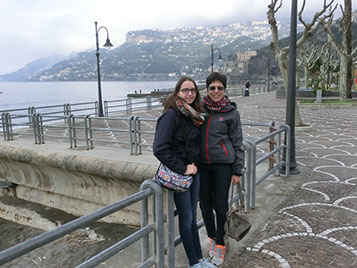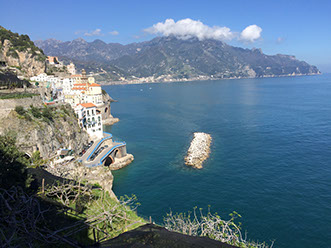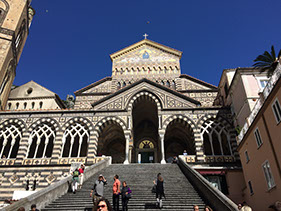 Cattedrale di Sant'Andrea, Amalfi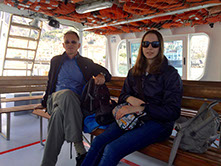 Boat trip to Grotta del Smeraldo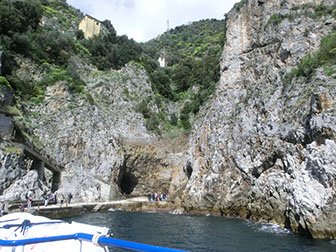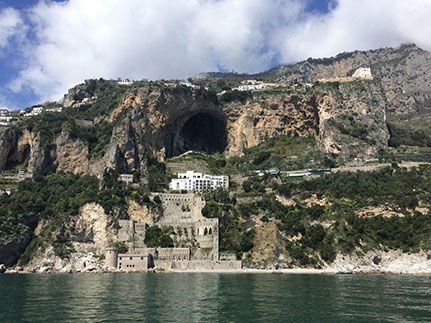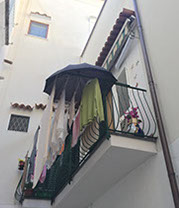 We found this to be a good idea when you try to dry your laundry when it's raining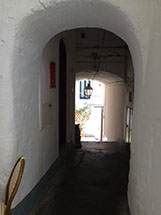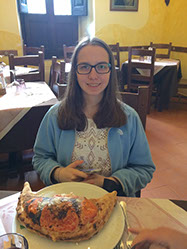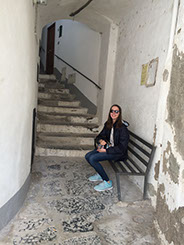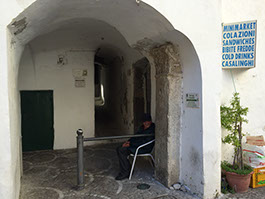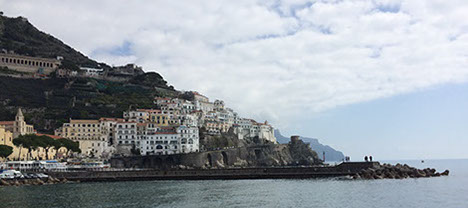 The "streets" in Amalfi and Atrani
Walking from Amalfi to Atrani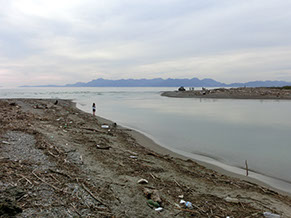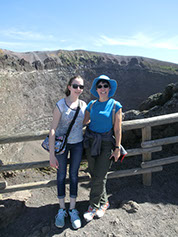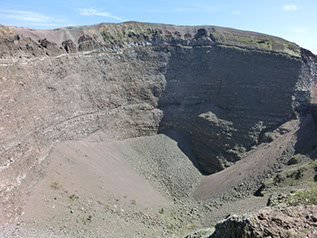 The inner crater of Mt Vesuvius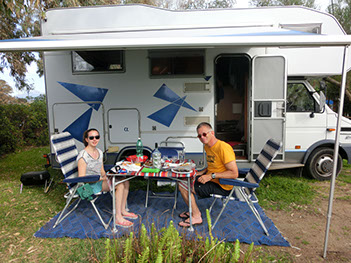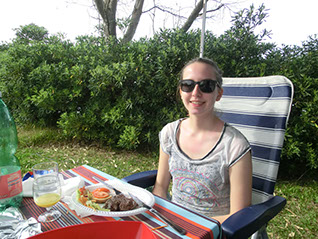 Chilling out at Foce del Sele aire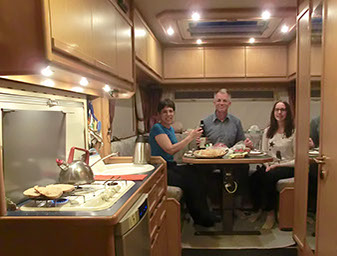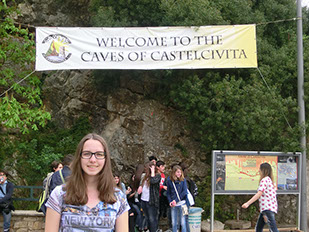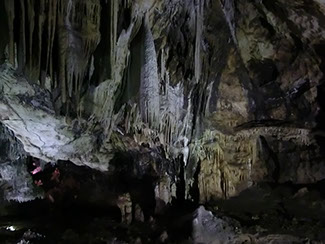 Paestum was founded in the 6th century BC by Greek settlers and fell under Roman control in 273 BC. It became an important trading port and remained so until the fall of the Roman Empire
The Indian film crew with the Italian dancers on site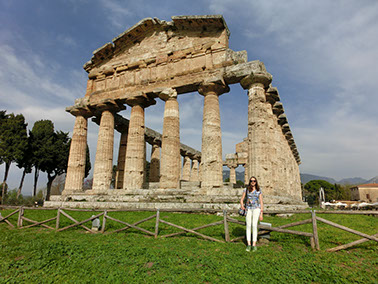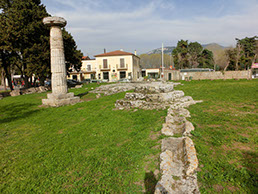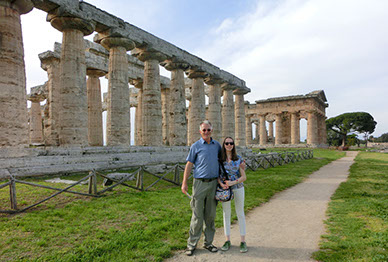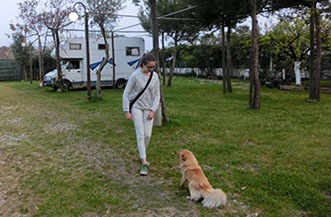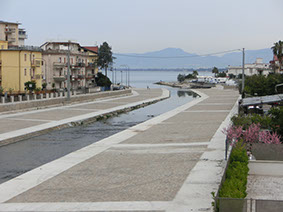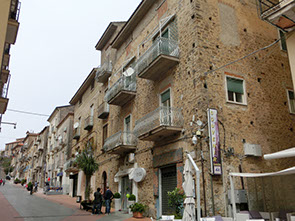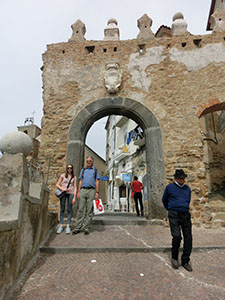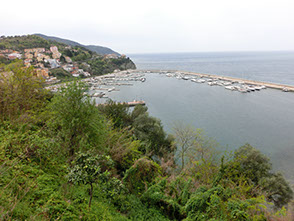 View from the Ristorante U Sghiz where we had lunch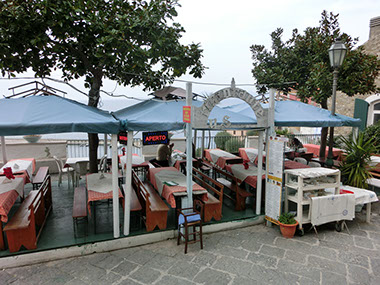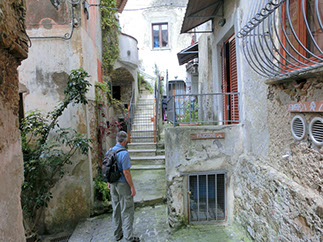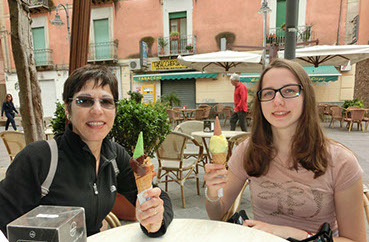 Almost every day we had a gelato at at gelateria artigianale (Volker cared a lot about the "artigianale")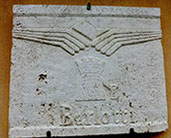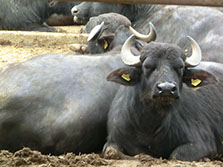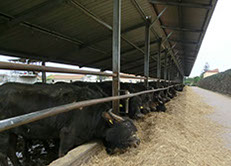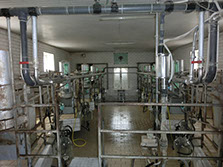 Production of mozzarella di bufala at the Barlotti Dairy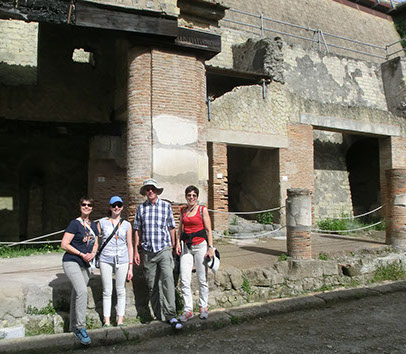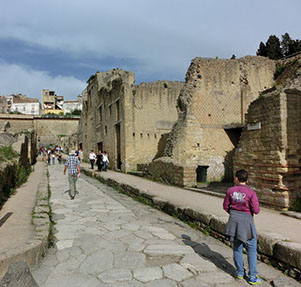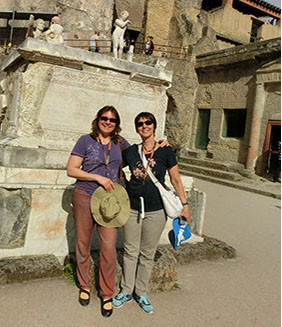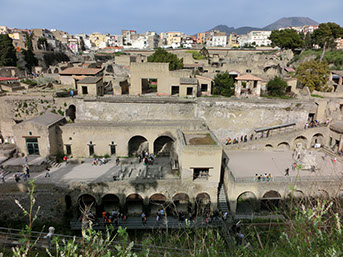 Herculaneum's fate runs parallel to that of Pompeii. Destroyed by an earthquake in AD 62, the AD 79 eruption of Mt Vesuvius saw it submerged in a 16m-thick sea of mud that essentially fossilised the city. That is why these ruins are so well preserved.
Easter Sunday 27.03.2016: Naples, 19ºC couldy
Arrival of Rebecca and Julia in Naples with Easyjet at 7:40pm. Volker came to fetch us, although he had a hard time finding another campsite, the Camping Solfatara had only a gate permitting campers up to 3,20m to enter the site. Everything was closed so we had dinner in the camper.
Easter Monday 28.03.2016: Pompeii - Naples - 19ºC cloudy cold
At 10am we walked over to the Pompeii ruins (entrance fee 12€/adult, children/students up to 17 years free of charge). The place got so crowded because today is still a holiday in Italy that we left -Rebecca and Julia trying in vain to catch a guide. We took the Circumvesuviana train (2,60€ one way/person) up to Garibaldi Piazza and walked to the San Lorenzo quarter. Lunch at La Piazzeta, Via delle Zite (34€, good, but the food took a long time to come). We had a good coffee at the historic centre in Café De Gregorio Giovanna and walked through a street full of strange souvenirs apparently specific for Naples. Taxi to the Garibaldi station (11,20€) and train back to Pompeii (30 minutes). Volker tried to buy some bread somewhere near our campground but everything was closed. Overnight at the Camping Zeus (30€)
Tuesday 29.03.2016: Pompeii - Pietro/Tramonti (elev 383 m): 151km - 20ºC sunshine
Grocery shopping at Auchan. Drive up to the Vesuvius. Everywhere full of cars, we were directed to the former Funicular departure terrace with lovely views over Naples (5€ park fee). We had a coffee and a juice, the lady from the place told us that her father worked at the Funicular station and showed us a book with pictures of the lower cable car station and of the Vesuvius. We didn't go up to the crater as they close the entrance at 4pm and we just enjoyed staying there, having a coffee for 1-2 hours. After that we drove to Piedro to Agriturismo (Agripizzeria) Costiera Amalfitana (22€/night, but with our membership at "Fattore Amici" 5€ for electricity). Rebecca and Julia enjoyed the cats and dogs, but also the goats, sheep, geese, chicken etc. that were held there -in not very nice cages. We had dinner at 8pm (15€ pax) and Antonio gave us all the information about busses going to Amalfi. N40º41'58" E14º37'05".
Wednesday 30.03. 2016: Pietro - Amalfi Coast: first cloudy and cold, then sunny 22ºC
We took the bus from the gate at our aire at 9:50am down to Maiori, then another bus along the coast to Amalfi. There we took a boat to Grotta dello Smeraldo (25€ pax), where we were shown a lake in a cave where a little light comes through a tunnel 10m under the water surface. Lunch at the Pizzeria "Da Memè" which was hidden in one of those passages up in town (35€). Back on the main street we had a good Italian home made ice cream (pretty expensive for 3 medium portions: 11€). Walk to the next town "Atrani" through adventurous small streets, tunnels etc. Coffee at Bar Carlotta e Rossela (10€) before going to the bus station where we waited a long time for the bus back to Maiori at 5pm. It was a very exciting drive as the drivers are experienced in driving through very narrow streets without hesitation. The bus drive from Pietro do Amalfi and back costs 3,6 pax.
Thursday 31.03.2016: Pierro/Tramonti - Foce del Sele (Paestum): 143km, sunny 22ºC
The weather is so good that we decided to climb up the Vesuvius again, and this time, we arrived at 11am and we were allowed to drive right up to the parking (5€ again) in front of the ticket booth (entrance fee 12€ pax) -which lies about 500m away from the entrance! We walked up to the crater in 25 minutes and enjoyed the view into the crater as well as to Naples and surroundings. Drive to the Sosta Camper Foce del Sele which is hidden behind a Camping place but very nice along the river Sele and the Mediterranean Sea (20€ with electricity and 3 very good panini (small breads)). Fernando, the site ward gave us many flyers of interesting things to do in this area. N40º32'5" E 14º54'35".
Friday 01.04.2016: Foce del Sele - Grotta di Castelcività - Paestum: 80km, sunny 23ºC
On our way to the Grotta di Castelcività, we stopped at a garage where we had a panel fixed in front of our truck (they didn't charge us anything). Located in the Parco Nazionale del Cilento e Vallo di Diano where we arrived at the Grotta di Castelcività at noon and the place was horribly crowded with shouting school children. Our tour was at 1:30pm, so we ate spaghetti alla Giulia in our camper and Rebecca and Volker did the tour with an audio-guide device (1 hour, 10€ pax) while Giulia/Julia did a siesta. Then we drove to Paestum, a Unesco World heritage Site (7€ pax, Rebecca free). But first we had a very good ice cream at Bar-Gelateria Museo (2€ for 2 flavours, much cheaper then in Amalfi and better!) and a good Illy Cappuccino before entering the archaeological site. The 3 temples in Paestum are among the best-preserved monuments of Magna Graecia, the Greek colony that once covered much of southern Italy. The place has a wonderful serenity and is like a beautiful park. Actually there was an Indian film crew with Italian dancers, the whole thing was very funny to see. For our overnight stay we drove to the closest Area de Sosta Camper Sul Mare at the Hotel Mandetta, located at Torre de Paestum. We did some grocery shopping at a very mini-market and played off some coins at a Levy Machine.
Saturday 02.04.2016: Agropoli: 15 km, beautiful weather, 23ºC
We drove to the cheese manufacture "Barlotti" the famous Mozzarella is produced on site. Unfortunately we were too late (production ends daily at 11am) and combined with Sandro a tour for the next day, watching the buffalos instead. Anyway we bought some mozzarella and buffalo meat before driving to Agropoli which is only 10km away. We parked along the river and walked up to the Castello, the historic city centre. Built by the Byzantines in the 5th century, the castle was strengthened later during the Angevin period. Lunch at "U Sghiz" (34€) -the best dish was pasta with sea food, whereas Rebecca's spaghetti aglio e olio was too spicy. The obligatory daily ice cream was taken at the Bar del Corso" (6€ for 3 portions). Overnight stay at Gli Eucalipo on Via Linora (next to Da Franca), no sea views but a kiosk with drinks and bread in the morning (very good chocolate croissants) reasonably priced. We grilled the buffalo steaks we bought this morning. N40º23'13.6" E15º0'10.1"
Sunday 3.4.2016: Ercolano: 143 km, sunny and hot 25ºC
At 9:10am tour at the Barlotti mozzarela production with Sandro -very interesting! Drive to Ercolano where we had a hard time finding the parking lot of the Ruins of Herculaneum where were supposed to meet Stella and Angela. We were lucky to find parking space (for 5€ per hour!) and there was a long line to get entrance tickets when we arrived at noon. Being the first Sunday of the month, the entrance was free, but you still had to get a ticket, so Julia stood for 3/4 hour to get tickets for all of us. Before entering the site we had lunch at the Pizzeria next door. Herculaneum is a superbly conserved Roman fishing town. After dropping Stella, Angela and Rebecca at the Naples airport we drove back to the Foce del Sele aire and parked this time right at the sea. N40º32'5" E14º54'35" (this time we paid only 15€ because without electricity).