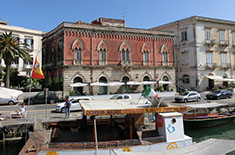 Ortigia, on a Sunday full with atmosphere and a lot of people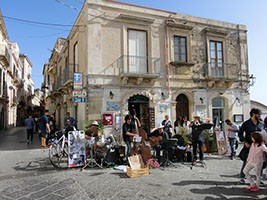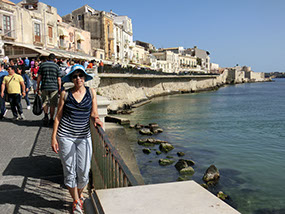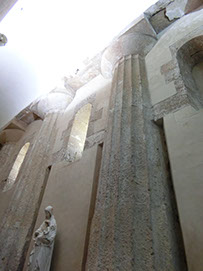 Duomo, a cathedral built on the skeleton of a 5th-century BC Greek temple to Athena. Very impressive to see the Doric columns still visible inside and out!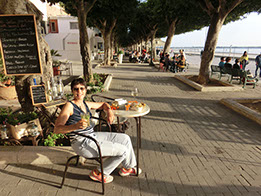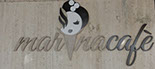 Enjoiying the lovely promenade in Ortygia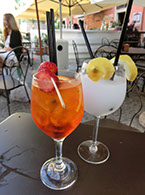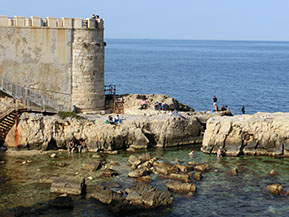 Solarium Forte Vigliena, a favourite local hang-out for swimming and sunbathing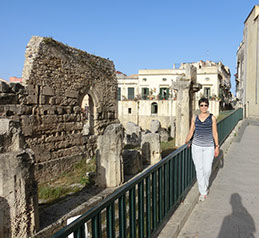 Ruins of the Greek Temple to Apollo

Hewn out of the rocky hillside, this 16.000-capacity 5th century-BC Greek amphitheater from staged the last tragedies of Aeschylus.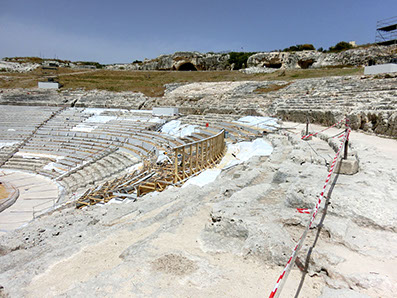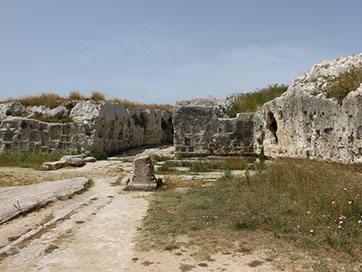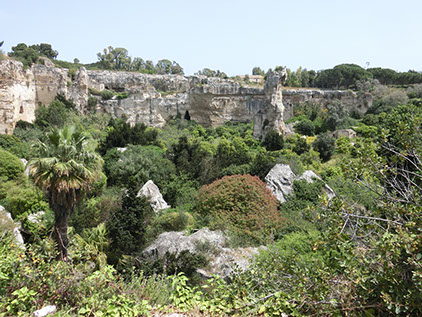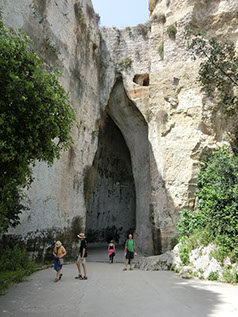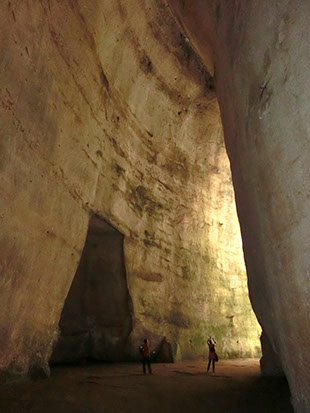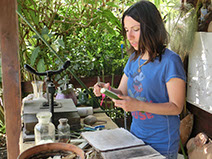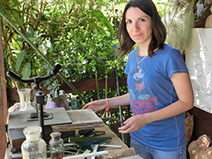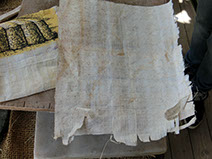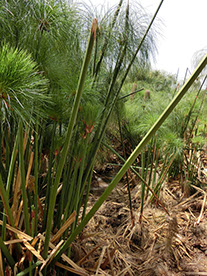 Explaining step by step how papyrus is worked from the plant to the final product: 1) cutting in slices, 2) bathing in saltwater for 2 days, 3) go in the press for 4 days:
Latomia del Paradiso (Garden of Paradise), a deep, precipitous limestone quarry out of which stone for the ancient city was extracted. Orecchio di Dionisio is a 23m-high grotto and extends 65m back

Walk along the Ciane River with many papyrus plants, a present from the Egyptian #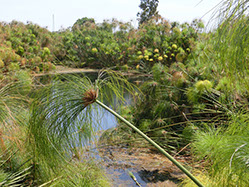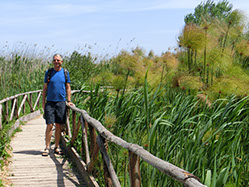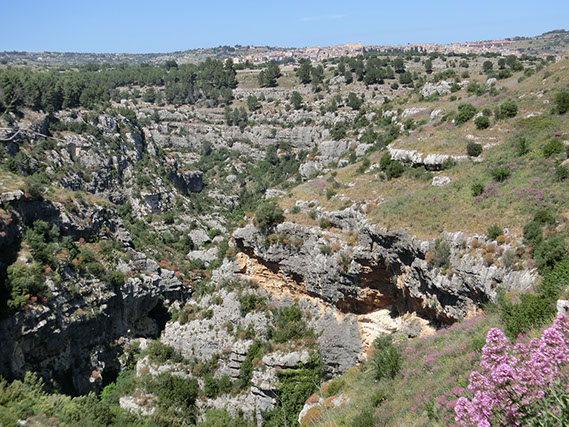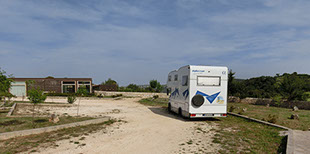 Our aire for the night at the Information Centre on the South side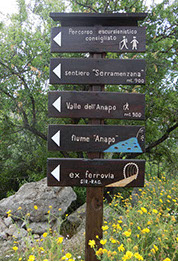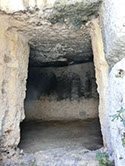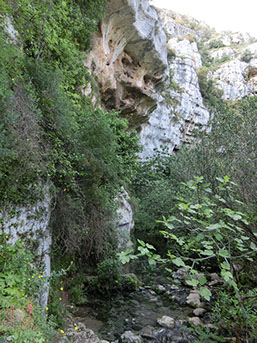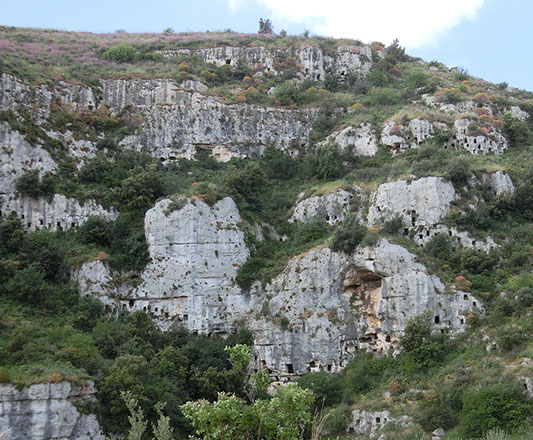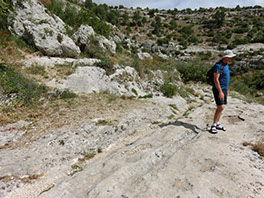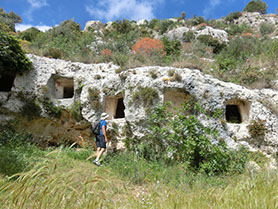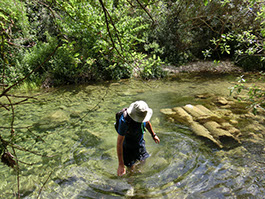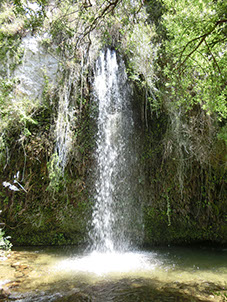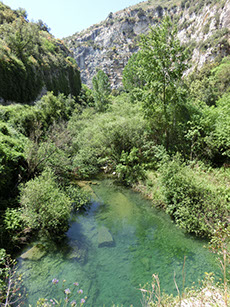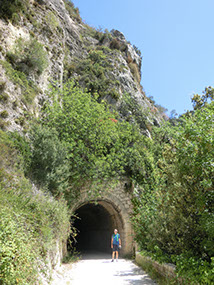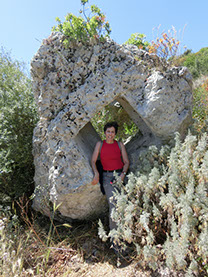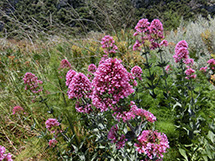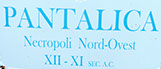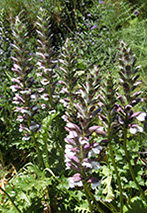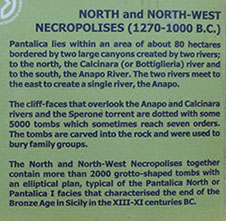 Crossing this river was quite a challenge, the water was deeper than we thought!
A beautiful waterfall coming from nowhere, directly out the rock wall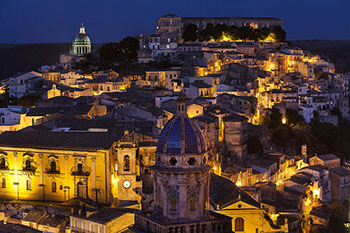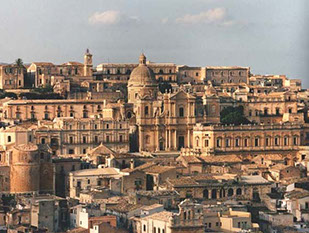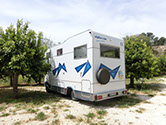 Noto Parking camper aire offers free shuttle into town, so we enjoyed Noto in the evening with lots of atmosphere good pastries and ice cream(s)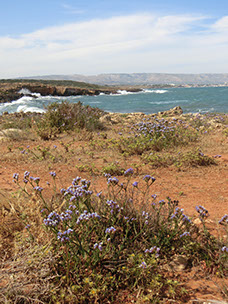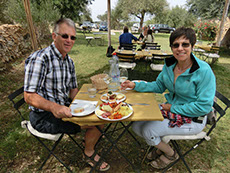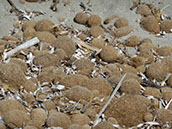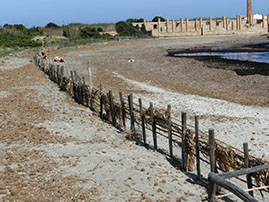 We started by having lunch at the nice restaurant "Il Baglietto"
These "rolls" are shaped like
stones and are all over the beach.
We don't know where they come from and how they get this shape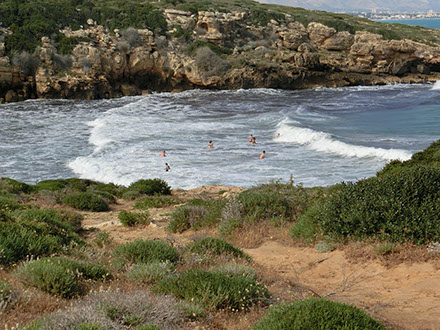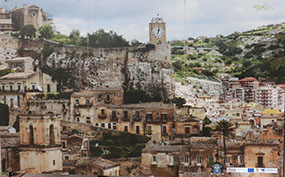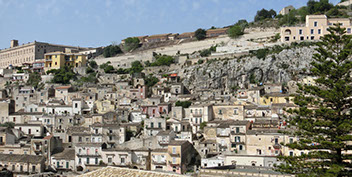 Do the Polizia Municipale have to chase criminals with this car??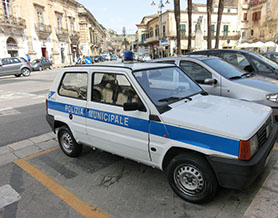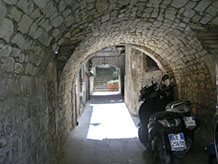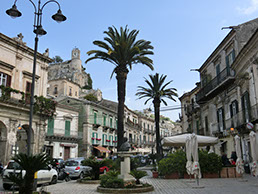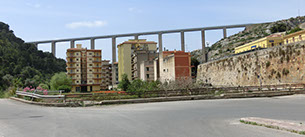 The imposing viaduct that crosses the deep gorge in Modica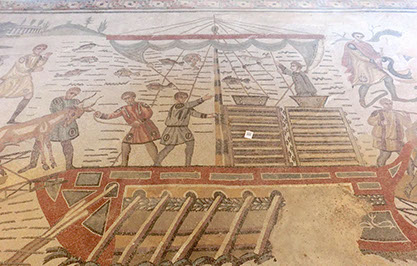 The mosaics cover almost the entire floor (3500 sqm) of the villa and are considered unique for their narrative style, the range of subject matter and variety of colour.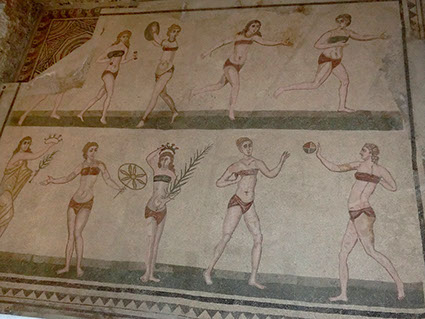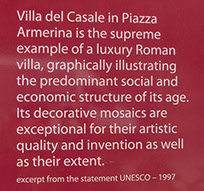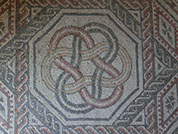 The most captivating of the mosaics is the so-called Room of the Ten Girls in Bikinis, with depictions of sporty girls in scanty bikinis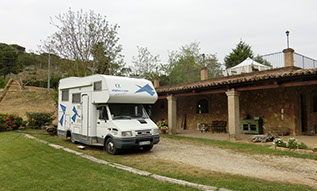 Agriturismo Savoca, Piazza Armerina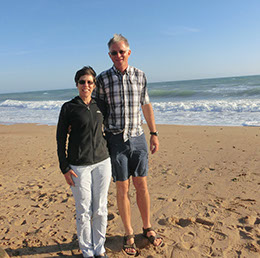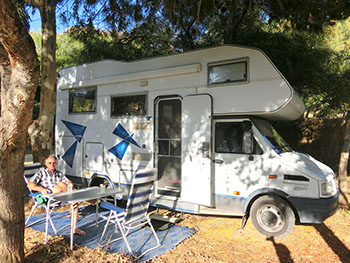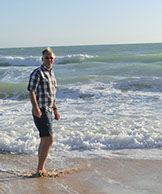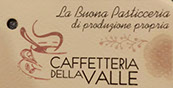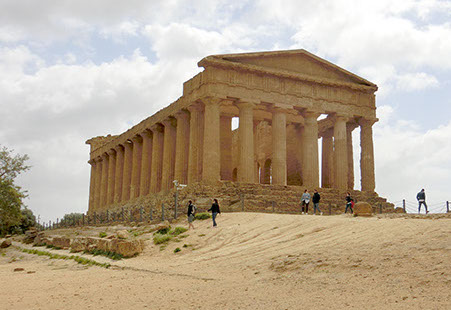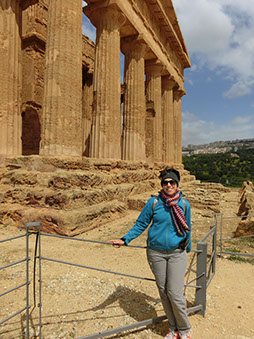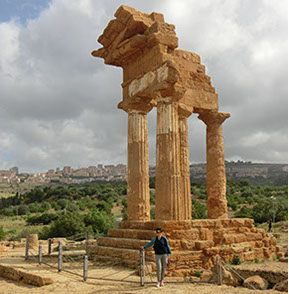 Tempio della Concordia (Temple of Concord): This remarkable edifice -the model for Unesco's logo- stands up on a hill and has survived almost entirely intact since its construction in 430 BC, especially due to its conversion into a Christian basilicia in the 6th century AD!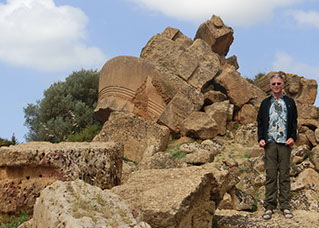 We had "vento brutto" as our cab driver described the weather today
Agrigento and the viaduct of the highway SS115 on the left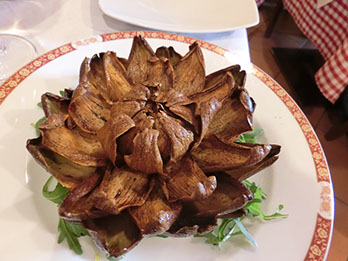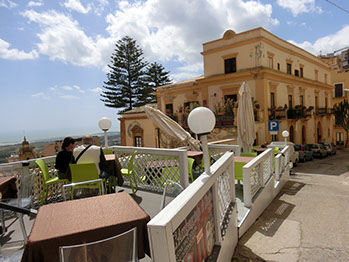 This carciofi alla Romana (artichoke), served at the Restaurant L'Ambasciata di Sicilia, was an absolute surprise to us: it is fried so you the "leaves" are crispy like potato chips! So delicious!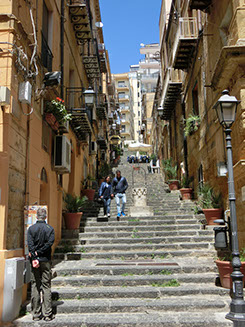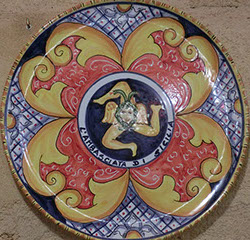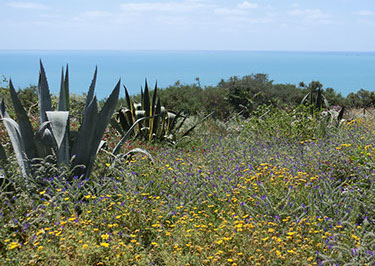 We enjoy the springtime with its wonderful flowers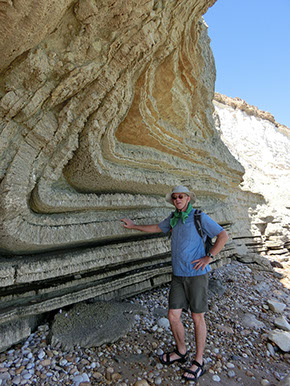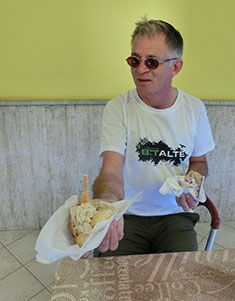 Ice cream in a brioche bread -something new for us!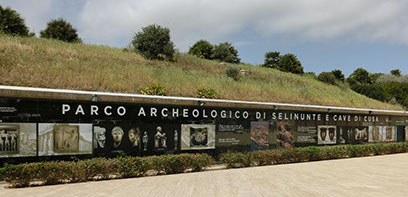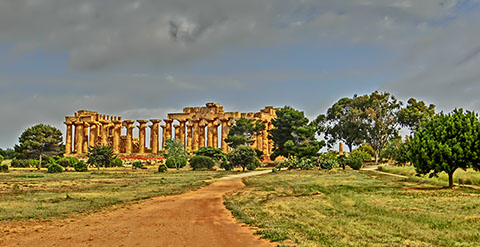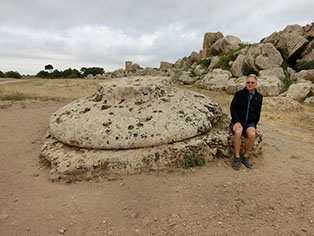 The Ruins of Selinunte. It was a huge city built in 628BC on a promontory overlooking the sea, and over 2,5 centuries became one of the richest and oldest powerful in the world. It was destroyed by the Carthaginians in 409BC and finally fell to the Romans in 350BC, at which time it went into rapid decline and disappeared from history. The city's past is so remote that the names of the various temples have been forgotten and they are now identified by letters.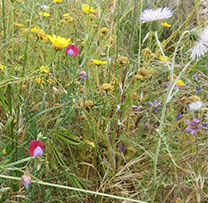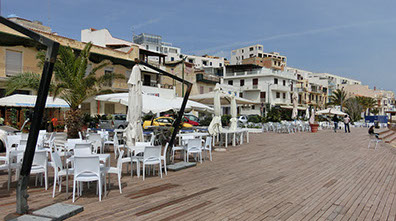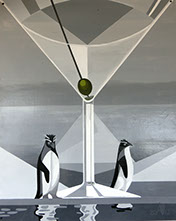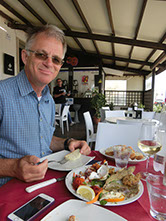 Lunch at the Pinguin Bar Restaurant on the waterfront of Marinella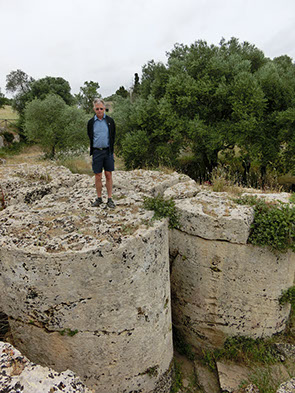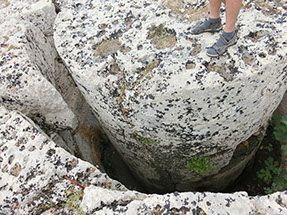 Here you can see how the compact stone material for building the temples were extracted from the Quarries of Cusa -about 11km NE of Selinunte. They were exploited from the 6th century until 409 B.C.

Sunday 17.4.2016: Zafferena - Syracuse: 104km, 26ºC sunny and hot
Julia took Volker to a short hike up the Piano dell'acqua road (1,5 hours, 300m ascent, 5km). Drive to Syracuse where we settled at the municipality parking (22€/night) and visited Ortygia, the old town, in the afternoon. We took bus 2 that stops in our parking (1€) and drives down to the bridge Umbertino. We strolled through the beautiful city. Apart from visiting all the interesting sights we had an ice cream, coffee, cocktails along the promenade in Ortygia at Marinacafé and a bar at Piazzetta San Rocco (lovely cocktails for 6€ each) and dinner at O'Scinà (37€). Back walking (25 min) as the bus wouldn't come. N37º04'36" E15º17'16"
Monday 18.4.2016: Syracuse: 22ºC some clouds, very humid
Grocery shopping at Maxisconto, passing through a hidden path on the back of our parking. At noon, we went to the "Parco Archeologico della Neapolis" (10€ pax) where we visited the pearly white 5th century-BC Greek amphitheater, Orecchio di Dionisio, the 2nd century Roman amphitheatre originally used for gladiatorial combats and horse races, the Latomia del Paradiso and the Altar of Hieron II. After lunch and siesta we walked to the Catacombe di San Giovanni (8€ pax), a vast labyrith of 10,000 underground tombs dating back to Roman times -to get there we had discovered a secret shortcut to our parking. The path had two openings which are from the Catacombs. Walk to Ortigya with a stop at a orthopedist shop, delicious icecream at Dolcidea die Bianca Salvatore on the Viale Regina Margherita, 23. Further to Ortygia, we visited an exhibition about Leonardo da Vinci and Archimedes (6€ pax) and had dinner at the "Pizzeria Schiticchio" on the Via Cavour 30 (26€). Back home with bus 2 (1€).
Tuesday 19.4.2016: Syracuse - Necrópoli di Pantálica (elev 545m): 79 km, 28ºC sunny and very hot
Another grocery shopping this morning when we saw that there was a Lidl on our way to Pantálica. Walk to Fonte de Ciane (Rother Wanderung Sizilien 46, 7,6km, 1h50') along the river Ciane with papyrus plants. Drive to the Pantálica Sud and overnight stay at an Information Centre where the man doesn't have anything to hand out but he was very kind in letting us stay at the nice garden parking. N37º7'18" E14º58'34"
Wednesday 20.4.2016: Necrópoli di Pantálica - Noto (elev 160m): 66 km, 27ºC sunny and very hot
Very interesting hike into the canyon of the Pantálica area down to the Fiume Calcinara and Fiume Anapo (Rother Wanderungen Sizilien 45, 4h30', 9,6km). Lunch at the info centre and drive to Noto where a couple of Swiss people gave us the clue to a commercial aire: Noto Parking (16€). The friendly owner, Maria, offers a free shuttle into town, so we left at 7:30pm, had a cocktail and 2 ice creams before being picked up at 21:30pm. N36,8833º E15,08472º
Thursday 21.4.2016: Noto - Riserva Naturale di Vendicari: 10 km, 22ºC sunny and windy
In the morning we tried to check our emails with the wifi on site -unfortunately I was absolutely unreliable- and took off at noon to the Riserva Naturale di Vendicari. Lunch at "Il Baglietto" (42€) and after a siesta hike through the nature park (Rother Wanderung Sizilien 49, 3h45' hours, 14,7km). Overnight N36º48'26" E15º5'22"
Friday 22.4.2016: Riserva Naturale di Vendicari - Modica - Piazza Armerina (elev 590m): 185 km, 22ºC sunny
Drive to Modica, an atmospheric town with its medieval and baroque buildings climbing steeply up either side of a deep gorge. After visiting the Byzantine grotto church (2,5€pax), we had coffee (and crema de caffè) at Martin Café and Nuevo Bar with a cannolo filled with ricotta. And Julia bought a pair of golden (Italian made) shoes! Drive to Piazza Armerina where we had first lunch at the Trattoria La Ruota (42€, very good lamb) and then visited the stunning 3rd-century Roman Villa Romana del Casale. This sumptuous hunting lodge was buried under mud in a 12th century flood and remained hidden for 700 years before its magnificient floor mosaics were discovered in the 1950s. Our overnight stay is at the Agriturismo Savoca, a FA-CL N37.36527º E14.39430º
Saturday 23.4.2016: Piazza Armerina - Agrigento : 118 km, 22ºC sunny but windy
Drive to Agrigento where we parked at the stadium. We were looking for a laundry on a Saturday afternoon at 1pm when all the shops close anyway at least until 5pm. So we had lunch in our camper then a delicious crema di caffè con pistazio at the Albanese Gelateria/Pasticceria with lovely pastry before trying to explore the old town. But everything being closed it wasn't fun. At the Caffetteria della Valle Julia bought what she thought were two pieces of cake and actually were ice cream slices which we enjoyed in the evening after dinner. We decided to go somewhere where we could relax so we tried to find the aires described in our camper tour book (Womo-Führer Sizilien) but they either don't exist or won't accept campers overnight anymore. We then landed at the Camping Nettuno in San Leone -a very nice campground right on the beach -with a private entrance to the beach (20€ with electricity). N37º14'37" E13º36'50".
Sunday 24.4.2016: San Leone south of Agrigento: 22ºC sunny and very windy
After a late breakfast, we did our laundry with a machine that doesn't work properly (3€ per load), so Julia had to stay next the machine while Volker installed the lines and took care of the hanging. We spent the whole day with some cleaning and the laundry, but at least we don't have to think about the laundry anymore for the next 2-3 weeks.
Monday 25.4.2016 (a holiday: Liberation Day): Agrigento: 18ºC very windy
We took the bus N2 TUN at 10:10am (we didn't have tickets, but the bus driver told us to buy them at the Camping Valle dei Tempi, 1,20€ pax) to the Valley of the Temples (entrance fee: 10€ pax withouth the museum, with the museum 13,50€ pax). We walked from Giardino della Kolymbetra to the so-called Eastern Zone where Tempio della Concordia (Temple of Concord) is a highlight because it is stunningly well-preserved. Lunch at L'Ambasciata di Sicilia (43€, very good, especially the carciofi alla Romana), then took a unofficial taxi down to San Leone. The driver took us to the Gelateria Ragno d'Oro where we had 3 ice creams and we walked the 3 km back to our campground.
Tuesday 26.4.2016: Agrigento - Capo Bianco - Marinella (Selinunte): 114 km, 20ºC sunny
We left pretty late our Camping and drove to the ruins of Eraclea Minoa (4€ pax) whith excavations of a 7th century BC small theatre, foundations of villas and a necropolis -after all we saw lately this was not really impressive. Walk (Rother Wanderbuch Sizilien, 6,5 km, 120 m ascent, 2,5 hours because Julia was always looking for interesting archaeological pieces on the floor next to the archaeological site) down to the beach along the white cliffs of Capo Bianco, sometimes we had to walk through the water but this was not problem today. We were desperate for petrol as the petrol stations we passed were closed, so we made a detour through Ribera and had pretty expensive diesel there. To compensate we had good ice cream at the Bar Gelatteria Turano. Julia tried the ice cream in a brioche bread -pretty weird! Drive to Selinunte where we settled at a parking lot for the archaeological zone. N37º35'0" E12º50'19".