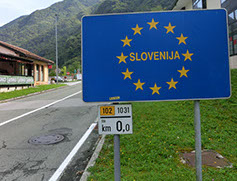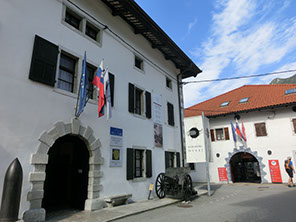 Kobarid Museum: devoted to the Soča Front and the 'war to end all the wars'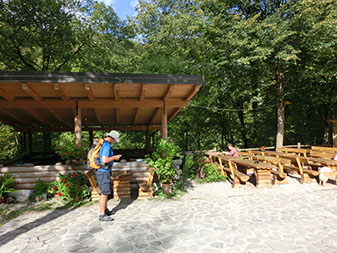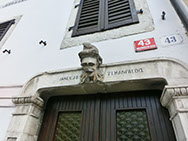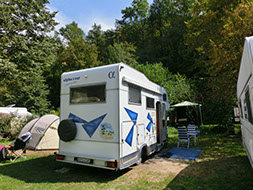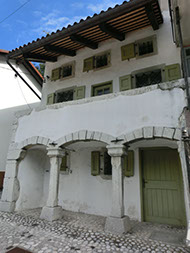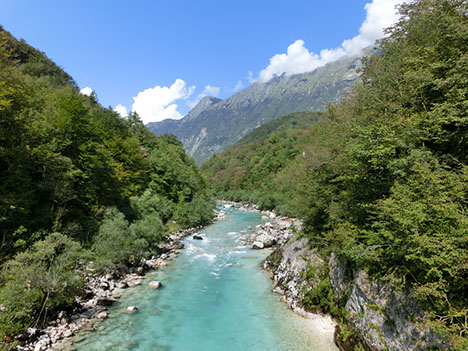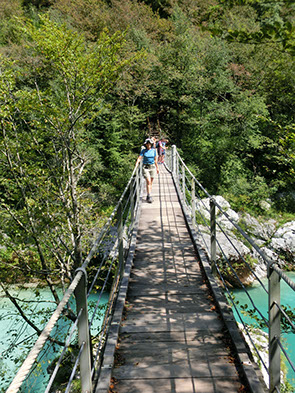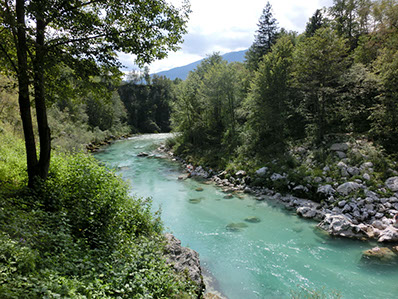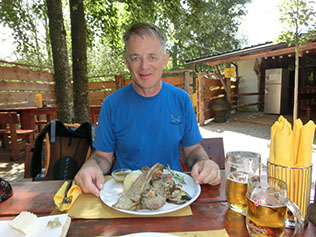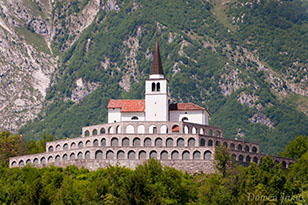 The Italian Ossuary with the mortal remains of 7.000 soldiers from the First World War. It was inaugurated by Mussolini in 1938 and is managed by the Italian state.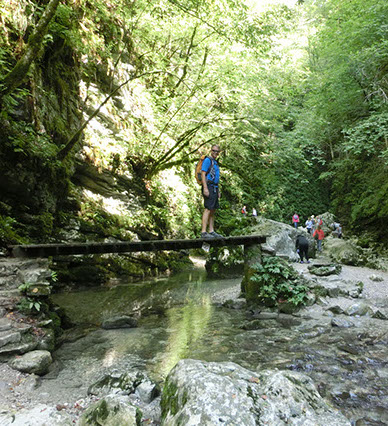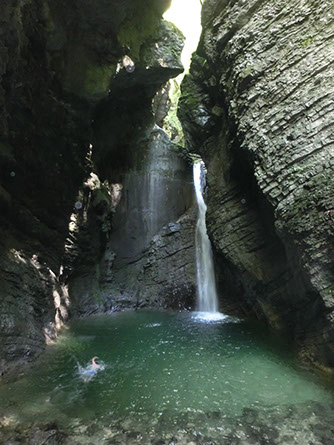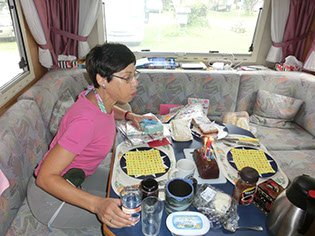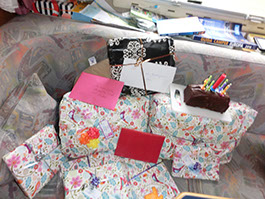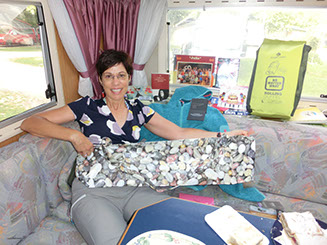 So many beautiful presents: before and after ...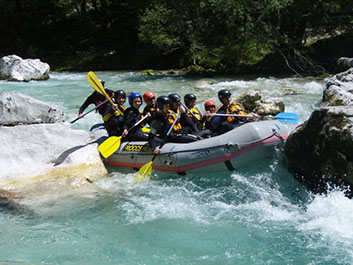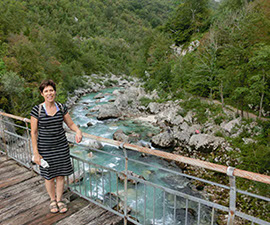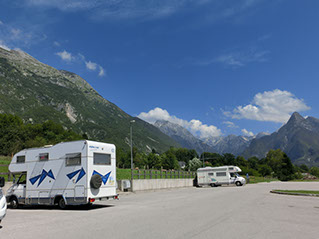 Aire at the Kanin cable car parking
Julia feeling happy after the great rafting tour in the afternoon on the Soča River with crazy Gregor!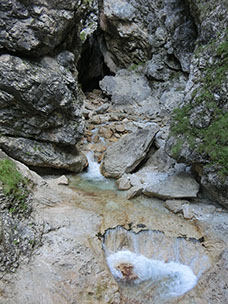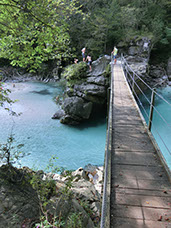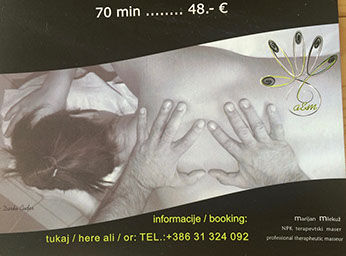 After Julia got a superb 4-hand massage with Marjan and Andrea (+386 31 324 092) Volker did the Soča Trail while Julia rested
We entered again Italy at Passo del Predil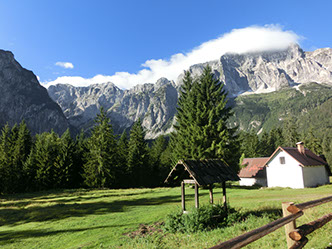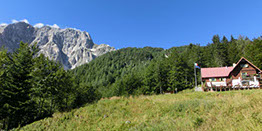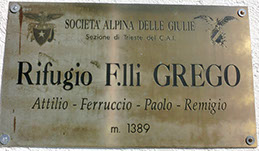 Our beautiful aire at Valbruna Val Saisera P6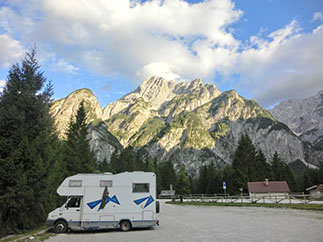 Hike up to Rifugio Fratelli Grego and then to the Peak of Sompdogna (1890m) with beautiful panoramas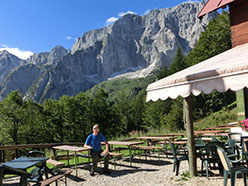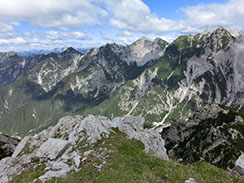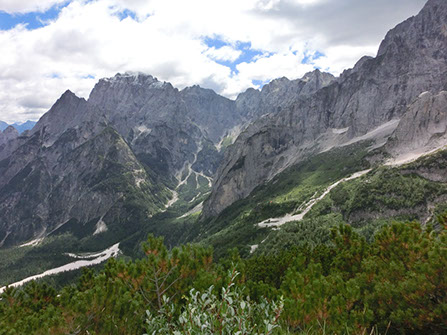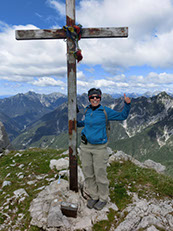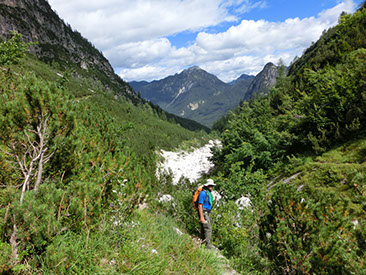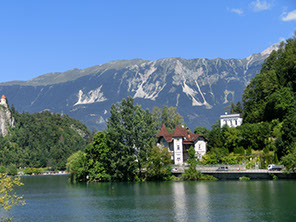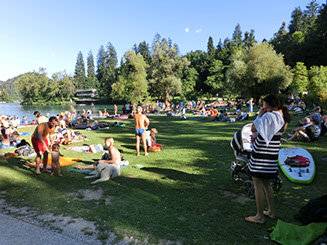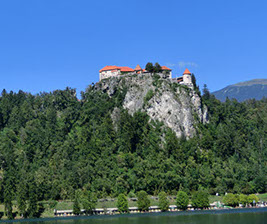 Bled castle and Bled Island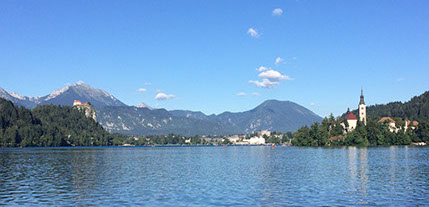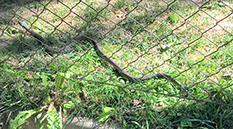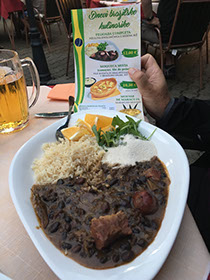 This 1,5 m long "natrix natrix" snake was greeting us at our Bled Camping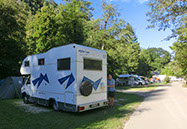 We couldn't leave this: Feijoada Brasileira in Bled, Slovenia!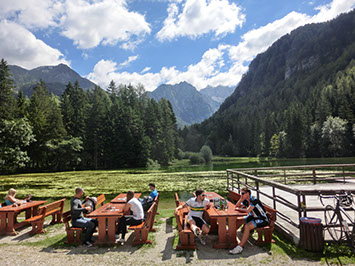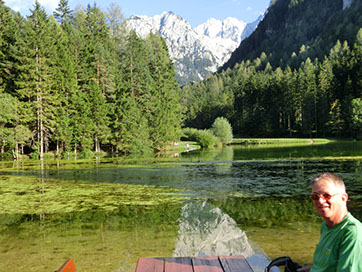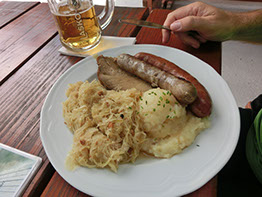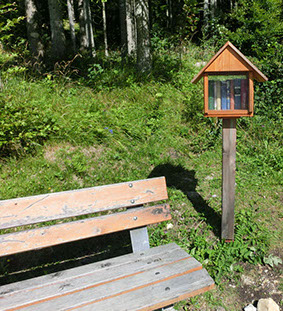 A cute mini library at the start of the Thematic walk into the Ravenska Kočna Valley
Volker offering me a nice chocolate muffin Volker bought this morning in Bled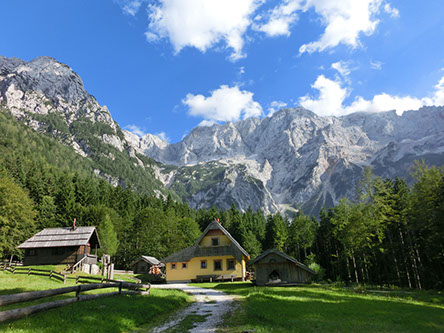 The Ravenska Kočna Valley with the glacier on the left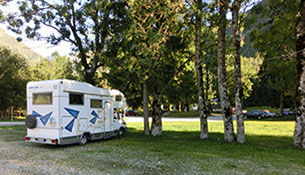 Our parking and overnight place next to the restaurant "Gostišče ob jezeru"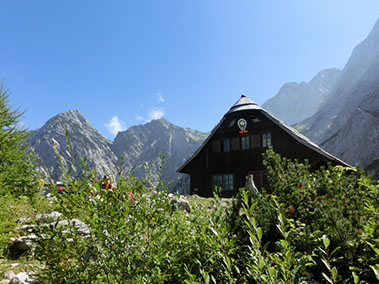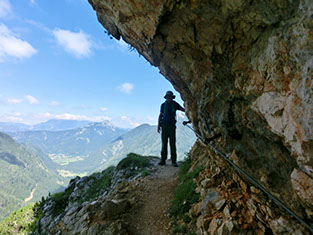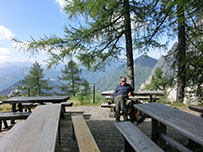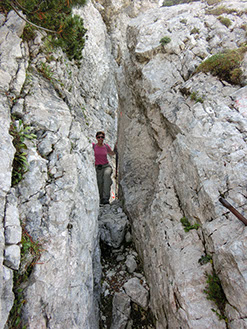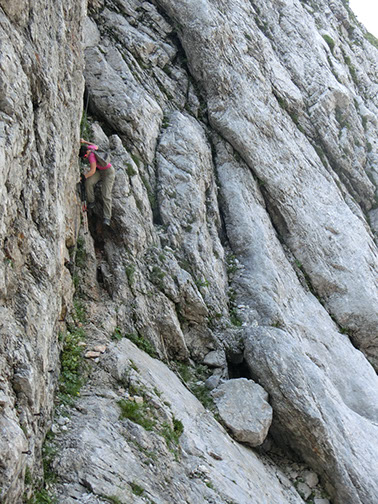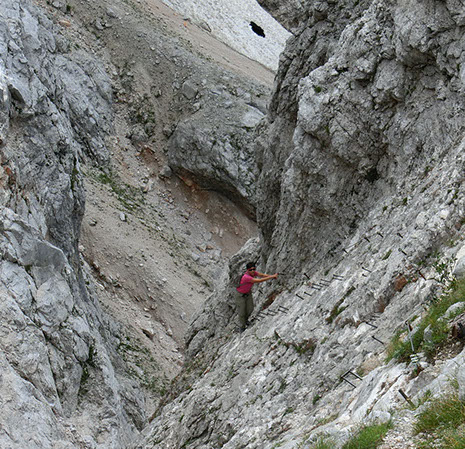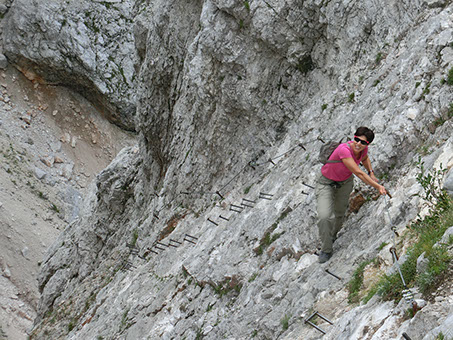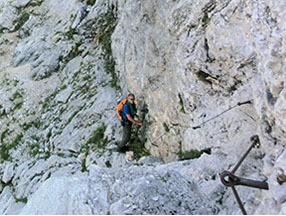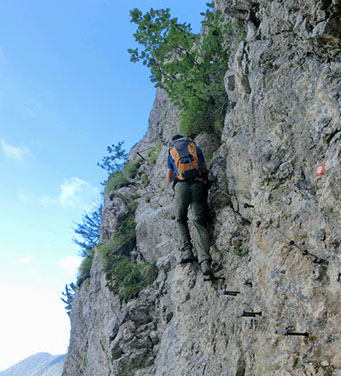 We actually didn't know how challenging this "walking tour" would become

You really have to trust all these metal thrusts... that is the only thing that holds you, sometime only the metal rope!
Relaxing from the emotions at the Kranjska Koča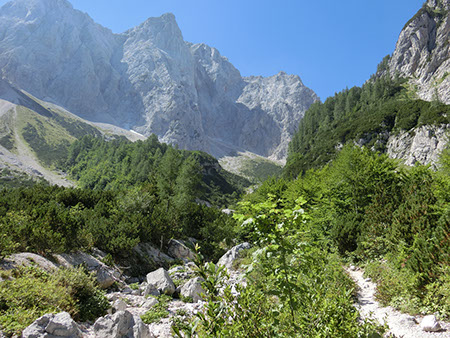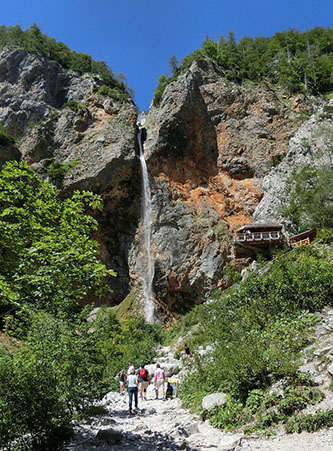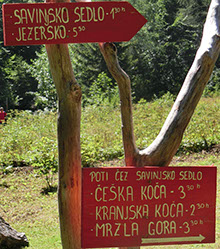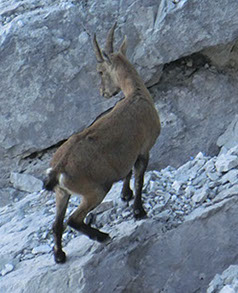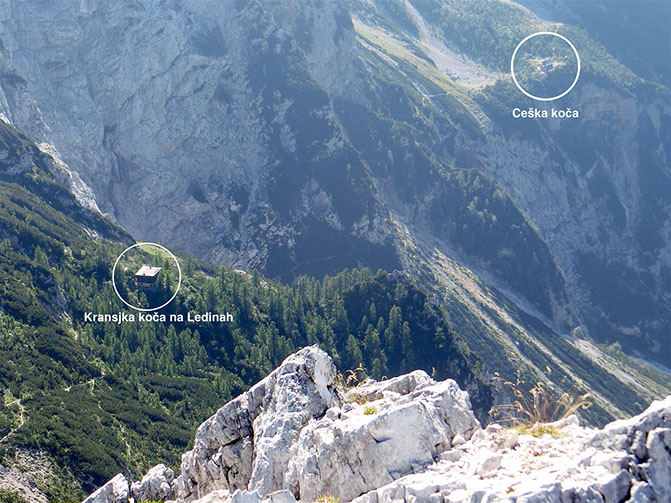 That was the crazy trail we did yesterday! Volker crossed the mountains to the other side, to Jezersko's side.Volker walked down to Kransjka koca na Ledinah from Ledinski vrh.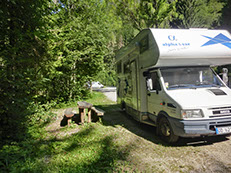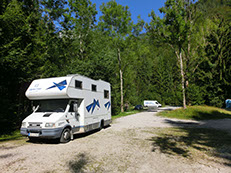 Official aire for campers at Logarska Dolina, along a river
Wednesday 17.08.2016: Udine, Italy - Kobarid, Slovenia (alt 248m): 99 km, 25ºC rain and thunderstorm
Drive from Udine, Italy, to Kobarid, Slovenia. We settled at the Kamp Koren, very nice camping with lots of information material (15,50€ pax + 4€/night electricity). As the weather was not so good, we played games, had lunch. Then in the afternoon when the weather got steadier, we took our bicycles and went up into town. N46º15'6" E13º35'13"
Thursday 18.08.2016: Kobarid: 48 km, 26ºC sunny and cloudy at the same time but very humid
Historical Trail hike (8,8km, 5 hours with lunch stop) with all the sights: Italian Charnel House which contains the bones of more than 7000 Italian soldiers killed on the Soča Front. From here, a path leads to the ancient fortified hill of Tonocov Grad, then descends through the remains of the Italian Defence Line, past cleared trenches, gun emplacements and observation posts. Before crossing the Soča over a 52m footbridge , we had lunch at the Restaurant Lazar from the campground (33€, Volker had the roasted lamb and Julia palatčinka). Then we went to the Kosjak Waterfall.
Friday 19.08.2016: Kobarid - Bovec (alt 432m): 21 km, cloudy 25ºC, some rain during the rafting
Today I was greeted with lots of beautiful presents and many birthday cakes! In the afternoon we went rafting on the Soča river. It was beautiful but the water was too cold to swin in. After that we drove to Bovec where we settled at the aire of the Kanin cable car (20€ 24h, 30€ 36h) not active at the moment) and had delicious filet steaks at home. N46º19'58" E13º32'21"
Saturday 20.08.2016: Bovec
Julia had a very good massage with Andrea and her husband (4 hands' massage). After that Volker did the Soča walk taking the 11:30 bus and walking back to Bovec (6 hours, 26km, 200m ascent, 600m descent). Julia rested from her strenuous massage and then walked up to Bovec and bought some sausages for dinner. We had the pleasure of seeing an acrobatic airplaine and glider while enjoying Volker's delicious grill.
Sunday 21.08.2016: Bovec, Slovenia - Valbruna Val Saisera P6, Italy (alt 1000m): 50 km, cloudy (morning), heavy rain and thunderstorm (rest of the day)
After another good massage treat with Andrea and Marjan, we drove through the Passo del Predil to Tarvisio in Italy and on to the Valbruna Valley. We decided to drive until the end of the road and stay in this beautiful place which was recommended to us by a fellow camper traveller (P6, normally costs 8€/24h, but machine doesn't work ;). Just a few minutes after our arrival it started to rain and there were beautiful waterfalls on the mountains around us. These waterfalls were gone on the next day when the weather became dry. N46º27'23" E13º28'10"
Monday 22.08.2016: Valbruna Val Saisera P6: sunny and cloudy 18ºC
Hike up to Rifugio Fratelli Grego (1389m) and then to Peak of Jôf di Sompdogna at 1890m (pretty hard, 6h20', 950m ascent, 9km). We enjoyed very much the panorama and the quietness of the whole area.
Tuesday 23.08.2016: Val Saisera Valbruna, Italy - Lake Bled, Slovenia (alt 530m): 138 km, sunny 28ºC
Drive to Bohinjsko jezero Lake where we tried to get on the Avtokamp Zlatorog near Ukanc but at 14:30 it was already completely full. Already on our way through Bled we noticed the area was very crowded with tourists. We were lucky to find space at the Bled Camping (11,40€ pax + tax + electricity) . Upon arrival there was a "snake" alarm, there was a big poisonous snake (at least that was what an employee told us it was), but they couldn't get it! Well, we went for a walk along the lake and had a beer at a bar and then dinner -you will not believe it, there was Feijoada Brasileira!- at the restaurant from the campground. N46º21'41" E14º4'45"
Wednesday 24.08.2016: Lake Bled - Zgornje Jezersko (alt 900m): 66 km, beautiful weather, sunny 25ºC
We actually had planned to drive further to Logarska Dolina but after a beautiful drive along the river Kokra we got stuck at the beautiful place Zgornje Jezersko, a place which name I won't probably remember for long... We went to the very helpful T.I.C. (Tourist Information Centre) where we got some good hiking ideas. We drove down to the lake Planskarsko jezero where there is a really nice restaurant at the lake. We parked at the parking next to the restaurant, had a good lunch at the "Gostišče ob jezeru" (22,70€) before walking the Thematic Trail through the Ravenska Kočna Valley (3 hours, 8km, 140m ascent). After that we had to have a drink and enjoy the lovely view from the restaurant at our parking. Very quiet place, just the church is unnerving. N46º24'15" E14º30'55".
Thursday 25.08.2016: Zgornje Jezersko (alt 900m)
Hike to the hut "Ceška koča" at 1543m and then further to the hut Kransjka koča na Ledinah (6 hours, 7,5 km, 900m ascent, difficult). This was the most challenging tour we ever did with rock climbing through very steep cliffs, but it was fun. We had some typical food up the hut, like Jota s kislim zeljem in mesom (sour cabbage with Kranjska klobasa -a delicious sausage) and Kslo mleko (a kind of fatty yoghurt). In the evening we still went for dinner to the lake restaurant and had a kranjska klobasa (a portion consists of 2 sausages, so it was ideal to share it) and sirovi štruklji z drobtinami (Topfenstrudel with crumbs) (all very good, 16,20€). Overnight at the same place as last night.
Friday 26.08.2016: Zgornje Jezersko - Logarska Dolina (alt 756 m): 73 km, sunny 25ºC
Drive through Austria -with border and document checking!- to Logarska Dolina with a short stop at the cave of Šikanc the poacher. Logarska Dolina Country Park (Krajinski Park Logarska Dolina) entrance fee for van/camper: 8€. Volker did a really long hike up to Ledinksi vrh at 2108m, then down on the other side to Kransjka koča na Ledinah where we were yesterday (1600m total ascent, 6 hours, 12,3 km) while Julia only walked to the Rinka Waterfall (Slap Rinka). Drive to the official parking aire for campers outside of the park (no facilities, just the river 10€/night) N46º25'12" E14º38'45".