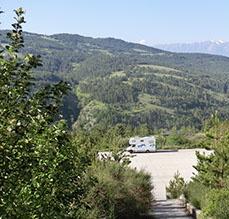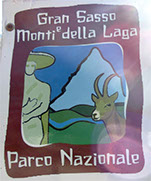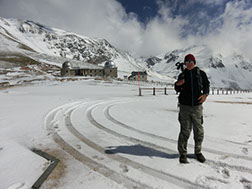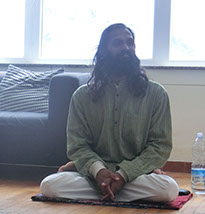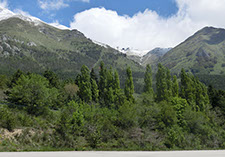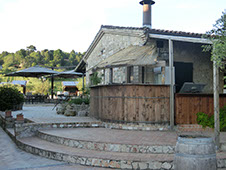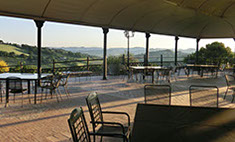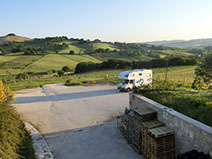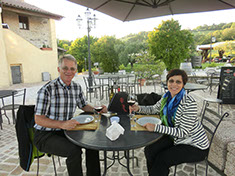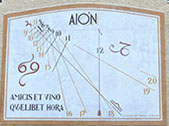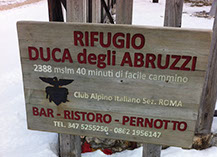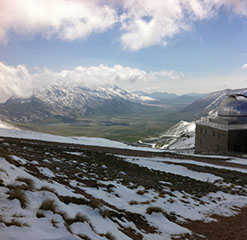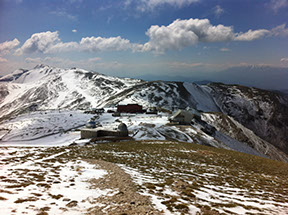 Oh, of course, "facile" -easy-!
I was very lucky to be able to join for a short time a workshop with a guru on Campo Imperatorio at 2117m
Azienda Agricola Moroder in Montacuto, Ancona where we stayed overnight and had dinner with delicious wine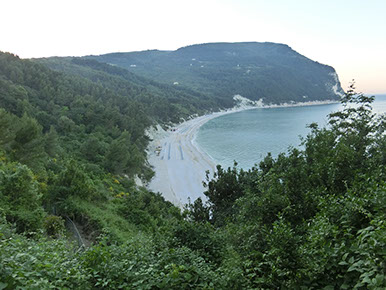 Sirolo Beach, view from our campground
View from town centre of Sirolo. Our campground is hidden below the trees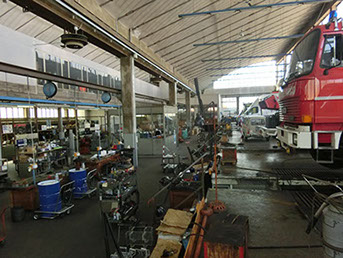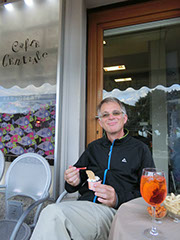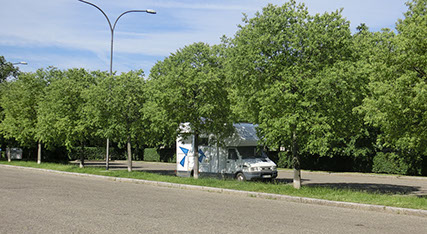 Overnight stay in Bologna, very quiet, next to the baseball fields
Pentecost Sunday 15.05.2016: Bisceglie - P.N. Gargano: Mattinata: 131 km, rain and heavy thunderstorms
Drive to Mattinata where we found a Sosta Camper Eden Park (13€ all incl.) almost along the beach. Lunch at the Funni Campeggio (46€). Rest of the day relaxing in our camper and Julia updating the website. N41º42'23" E16º4'2".
Monday 16.05.2016: Hike to Monte Saraceno (260m): sunny and hot in the sun but cold when shade + wind
Hike to Monte Saraceno (300 m ascent, 8,4 km, 3h15') from our aire, walking along the pebbles beach up the stairs and the wonderful trail up to the necropolis from the Daunier -a population coming from the north-eastern part of the Balkan peninsula- who settled in the Gargano since the 9th century BC. We walked back through the Porta Daunia, a trail carved by these people. We stayed at the same aire Eden Park.
Tuesday 17.05.2016: Mattinata (Gargano in Puglia) - Pescasseroli (Abruzzo - alt. 1200 m): 309 km, 14ºC rain
Drive from Mattinata (Pugia) to Pescasseroli in the Abruzzo mountains with a stop at Lidl in Sant Salvo and Barrea. Camping in Pescasseroli 20€/night. N41º48'32" E13º46'16"
Wednesday 18.05.2016: Pescasseroli: sunny 16ºC warm in the sun
Long but spectactular hike to Refugio di Iorio, then along the crest of Costa del Ceraso, then to Valico Monte Tranquilo (19,7 km, 7,5 hours, 990 m ascent). Dinner with grilled salmon and red wine from Sicily (Nero d'Avola).
Thursday 19.05.2016: Pescasseroli - Pacentro - Sulmona (alt 380 m): 111 km, 10ºC in the mountains, 16ºC in Sulmona, very cloudy
Drive to Sulmona where we had lunch at Il Vecchio Muro (40€) with delicious spaghetti con cacio e pepe (with cheese and pepper) served in a crusty parmesan basket. The city's fame stems from Ovid, a Roman peot who was born here in 43 BC. It is also known for its confetti -the almond sweets, not the wedding paper. Drive to Pacentro, a village set on a knoll above the Sulmona plateau in the foothils of the Parco Nazionale della Majella, that remains authentic because it's not in the standard tourist circuit. Very interesting was the House of Marlurita (free)! Back to Sulmona where we stayed on the parking at the trail head to the Freedom Trail (Sentiero della Libertà), a historic long-distance hiking trail in the Apennines. N42º2'9" E13º56'33"
Friday 20.05.2016: Sulmona - Capestrano - Fonte Cerreto in Parco Gran Sasso e Monti della Laga (alt 1084 m): 90 km, 13ºC in F. Cerreto, rain & storm
Volker made the surprise for me to drive to the Terme Papoli where I had a fango (healing mud) package and 25 minutes of massage (60€). Drive to Capestrano, a hill town that was also touched by the earthquake in 2009 and there are a lot of construction work going on. Lunch at the Restaurant Il Castello (very good, wine 27€). We then continued to Fonte Cerreto. We settled at the big parking lot overviewing the whole region, and especially the snowy mountain with the cable car that goes up to Campo Imperatore. Seeing all this snow, we decided we will go up with the cable car instead of driving up tomorrow. N42º25'27.2" E13º31'39.6
Saturday 21.05.2016: Fonte Cerreto - Montacuto F.A. (Ancona): 183 km, from 12º- 26ºC sunny
Volker had asked the day before at the Funivia (cable car) booth when the first cable car runs up to Altiplano Campo Imperatore (alt 2117 m) would go up and the lady told him at 9am. Campo Imperatore is a high windspwept plateau 27km long that is knowns as Italy's "Little Tibet". Corno Grande 82912m) is the highest peak of the Apennines. So we walked up the stairs to the entrance at 8:45 and ... there was a schedule where the first cable car went at 8am, at 8:30am, 9am crossed and 10am instead (15€ /pax return)! So we had to wait for the 10am. It is a very modern cable car which carries 100 people at a time, is very wind steady (no wonder it was working the day before although we had heavy storms!). Up Campo Imperatore there was such a freezing strong wind and snow everywhere that we immediately ran into the Hotel Medice and had a cappuccino. Volker went for a short walk and when he came back, Julia was joining a group who had come to take part to a guru expanded breathing session. Unfortunately I don't know the name of the guru, but he was very interesting and I was sad to have to leave for our noon cable car going down, as the next one would be only at 3 pm. We drove towards Ancona and on the way stopped at the Shopping Sasso where Julia exchanged one of her Decathlon trousers and took the opportunity to do some shopping. After 2 hours we drove to the FA (Fattore Amico = Italian France Passion) Azienda Agricola Moroder in Montacuto. We were surprised to find a nice place with a really pleasant restaurant in and outside. The "aire" is ok but not level, you are surrounded by wine hills which is nice. We had a good dinner at the restaurant with a special delicious wine Vino Monte Conero (41€) and bought the same bottle for home. N43º34'55" E13º33'01"
Sunday 22.05.2016: Montacuto (Ancona) - Sirolo (Ancona): 19 km, 25ºC, sunny and warm
Drive to the Camping Internazionale at the Adriatic coast, reachable by a curvy and steep road (24€/night with electricity, very nice, clean, with restaurant and access to the beach -with stairs). There is someone waiting for you when you arrive at the campground who shows you the way to your site with a golf cart. We were able to do our laundry (2 washing machines, 4€, and 1 dryer, 3€). N43º34'55" E13º33'01"
Monday 23.05.2016: Sirolo CG Internazionale: rain and thunderstorm, 19ºC
A relaxing day with some phone calls to potential parking places where we can leave our camper for 74 days as we are returning to Bologna on 7 August 2016. In the evening we walked up to Sirolo centre and had an ice cream and aperitif.
Tuesday 24.05.2016: Sirolo CG - Bologna: 258 km, 25ºC, sunny and warm
We had to wait until 10am to leave from the camping because of road works up in Sirolo, and the road was specially freed for us when we managed to come up the steep and curvy road (not easy, at one point the back wheels went through!) to Sirolo. We drove to the parking near the airport that we chose to leave or camper in until August and negotiated the price with them (325€) and drove to the Shopping Centre nearby with an Ipercoop. We had a crema di caffè and then drove to Iveco where we were lucky that they did the annual inspection on the spot. After over three hours, they were very conscientious (214€). We then found a wonderful place to stay overnight at the parking for the baseball fields. But before finishing the day we wanted to have a good Italian dinner and we walked to Osteria Tato e Vino on Via Sebastiano Caboto 2a, but they had no place if we had not reserved (it is highly rated in TripAdvisor and was so near our site). Now we tried to made a reservation for Sunday 7 August 2016, but they will close, so we are waiting for a confirmation. Well, then we walked a few meters further and found the Ristorante Pizzeria Dall'Ospite and had tortellini al ragù (= bolognese sauce in Bologna, but with more meat and less tomato). (34€). Walk back to our "aire": N44º30'14" E11º16'59"
Wednesday 25.05.2016: Flight from Bologna to Brussels (Julia) and to Frankfurt (Volker)
We spent the morning preparing everything to leave our camper 2,5 months (74 days, price negotiated 325 €) alone at "Area Parking 1" (+39-051 403 174). We had an early lunch with gnochetti with vegetables at 11:25 and managed to go be at the airport at 13:10. Volker's flight left at 14:40 and Julia's at 15:40.